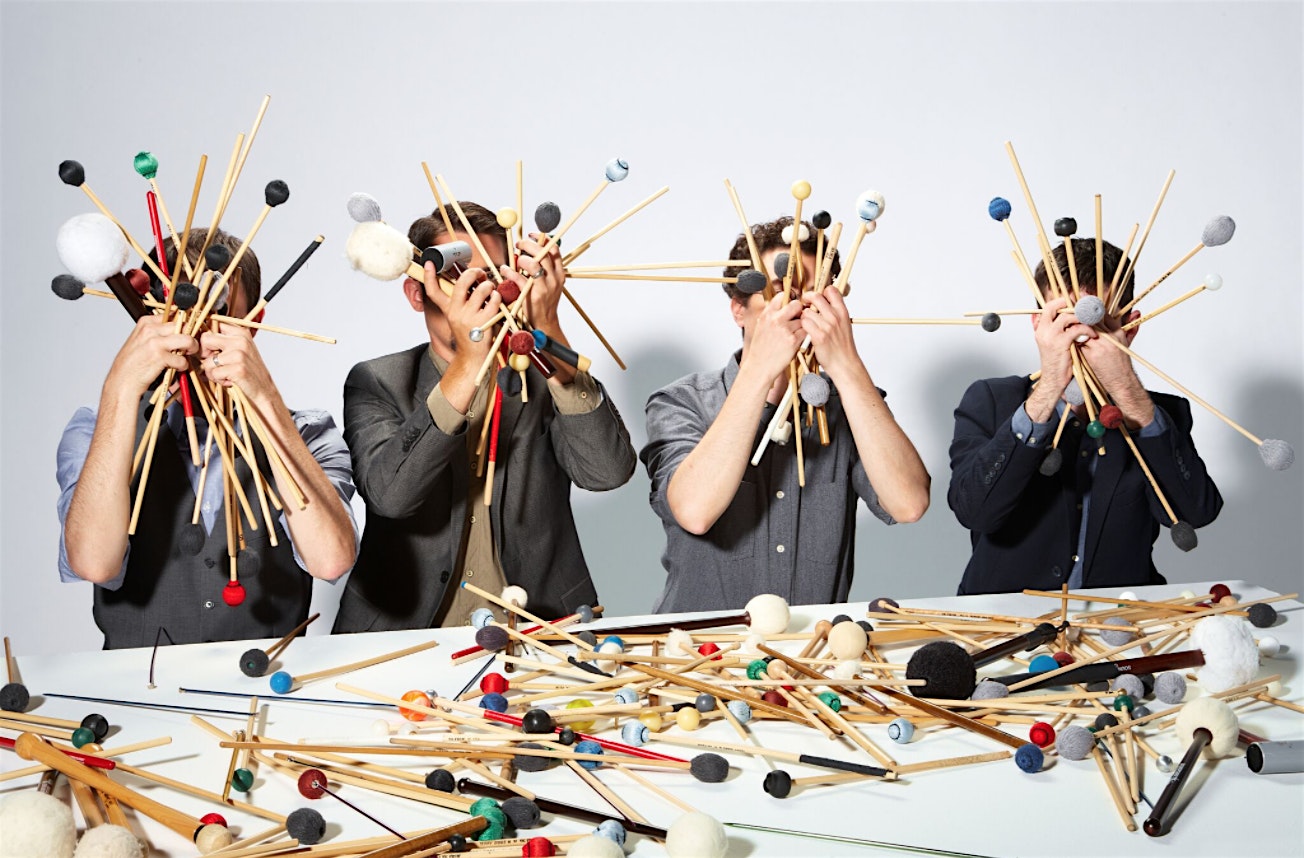 About this Event
THIRD COAST PERCUSSION
Facebook | Instagram | Website
"Virtuosity and deft, precisely timed wit" -Washington Post
"One of the country's finest new music ensembles" -Chicago Reader
About the Show:
Doors 6:30pm / Show 7:30pm
The classic children's book and Academy Award-nominated film, Paddle to the Sea, is the focus of a new project and album from Grammy-winning Chicago quartet Third Coast Percussion that looks at our relationship to the bodies of water that connect our lives. Third Coast Percussion composed a new score to be performed live with the film, which tells the story of a Native Canadian boy who carves a wooden figure called Paddle-to-the-Sea and sets him on a journey through all five Great Lakes, the St. Lawrence River, and finally to the Atlantic Ocean. Paddle to the Sea underscores the geographic, economic, and cultural connections in our shared waterways, and it also asks us to consider the human impact on the waters that help us transport our goods, provide our electrical power, bathe ourselves, cook our food, and quench our thirst.
The performance includes music collaboratively composed by the four members of Third Coast Percussion as an updated sound track for the film, as well as the other water-themed works that provided inspiration to the quartet as they composed this music. These include works by American composers Philip Glass (arranged by Third Coast Percussion) and Jacob Druckman, as well as music from Zimbabwe's Shona people, shaped by Third Coast Percussion under the tutelage of master mbira player Musekiwa Chingodza.
--- 
  Third Coast Percussion is a Grammy Award-winning, artist-run quartet of classically-trained percussionists hailing from the great city of Chicago. For over ten years, the ensemble has forged a unique path in the musical landscape with virtuosic, energetic performances that celebrate the extraordinary depth and breadth of musical possibilities in the world of percussion. The ensemble has been praised for "commandingly elegant" (New York Times) performances, the "rare power" (Washington Post) of their recordings, and "an inspirational sense of fun and curiosity" (Minnesota Star-Tribune). The four members of Third Coast are also accomplished teachers, and since 2013, have served as ensemble-in-residence at the University of Notre Dame's DeBartolo Performing Arts Center. 
---
This concert is produced in partnership with the Chicago Maritime Museum.
This project is supported by a grant from the National Endowment for the Arts, with additional support from the Elizabeth F Cheney Foundation, and is made possible through a collaboration with the National Film Board of Canada. 
 Paddle to the Sea was commission by the Cleveland Museum of Art, the Meany Center for the Performing Arts at University of Washington, ArtsLIVE at University of Dayton, and the University of Notre Dame's DeBartolo Performing Arts Center.
Performers
Date and Time
Location
Refund Policy