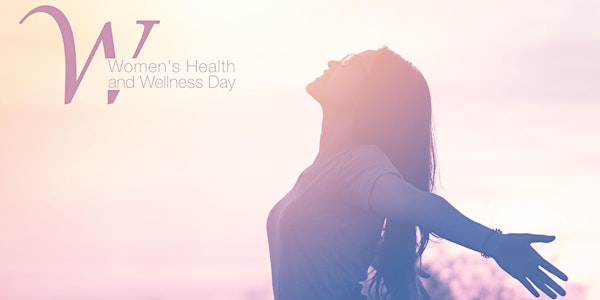 Third Annual Women's Health and Wellness Day
When and where
Location
District Architecture Center 421 7th St, NW Washington, DC 20004
Refund Policy
Refunds up to 1 day before event
Description
---
Join us in our 3rd Annual WHWD and experience a community of women, educators and healthcare providers coming together to honor ourselves as women while we learn, share knowledge and connect with ourselves and our bodies. You will leave this unique experience feeling more connected and inspired and part of new community of like minded women to help lift you up!
The event will include presentation-style learning opportunities as well as experiential classes (like yoga, pilates, mindfulness and essential oils). We have 21 female speakers with three rooms of programming occurring simultaneously. Our third annual WHWD will consist of the following three tracks: General Wellness Track, Experiential/Movement Track and a Postpartum Track. This is a day long experience where you can choose to take any classes from our three tracks. Personalize your experiece by choosing to stay one track all day or bounce around and see what feels right! This event speaks to all women!
This year's event will include FREE 15-minute private discovery sessions with ITR Physical Therapy, Postpartum Wellness HD Pyschology and Nayo Wills, MD from the Kaplan Clinic. Once you order your ticket you can schedule this on our website. Spots are limited to be sure to order your ticket and schedule your Free sessions today!
You deserve to take this time to learn and experience what our team has to teach you. Come and enjoy this day where we, as women, come together to take care of each other and our health in a sacred atmosphere of support, love and honoring every part of ourselves.
Previous participants had this to say about their experience at WHWD:
"So many women worry about what is going on within their pelvis, but have so few opportunities to explore or articulate their questions much less learn the info presented today. THANKS"
"Good job and please do it again next year!"
"It was so amazing to hear from a wide variety of strong women."
"This event is so encouraging and empowering"

"Loved all the sessions I attended"
Please take couple of minutes and look at highlights from last year's event:
https://www.youtube.com/watch?time_continue=11&v=Cp6CPB6F22s
To get a good sense of the space at the District Architecture Center take a look here.
Jennifer Chu, MS, PT, WCS spends two minutes describing WHWD here.
---
GENERAL WELLNESS PRESENTATIONS
Karen Durana
Full Body Presence

Come open the day of Women's Health by understanding your role in today's world as well as how you can go about reclaiming your power and yourself – so you can make a positive difference in the world, walking the soul path you came here to walk. You were born at this time in history for a reason – perhaps because of the role we are meant to play in the healing of the planet and that starts with each one of us. Karen will share her "how to" skills for being fully present so you can enjoy this day to the fullest and leave it with a full inner energy reservoir as well as a lot more information about living in a healthy, thriving life
Joan Loveland, MD

Women's Health Across The Ages: Striving to Thrive
What daily practices maximize health & optimize wellness? Learn the current medical recommendations that can help guide your preventative health habits.
Susan Moore, MS, RD
Functional Medicine: How To Make This Work For You
My work is about deeply listening to you. We will explore your challenges around food, problem solving and help you take charge of your eating. Together we will lay the foundation for you to develop a personalized plan that gives your body what it needs to thrive.
Check out Jennifer's Interview with Susan and learn a littie more about functional nutrition.
Rita Naomi Moran, PT
Reclaim Your Life: Mindfulness and Mindful Movement for Healing and Recovery
Join Master Healer, Yoga Teacher, and Lymphatic Physical Therapist, Rita Naomi in her talk on how to use the principles of Mindfulness and Mindful Ease Based Movement to self regulate the physical body and mind. Participants will leave with a handout and a short experiential exercise on how to facilitate greater calm and ease in everyday life.
Rachel Rubin, MD
Below the Beltway: Having Great Sex At Any Age
Great Sex at Any Age: Sexual health is an important aspect of general health. Learn how hormones, muscles, and brain chemistry can affect sexual function and how we treat various sexual problems in both men and women.
Laura Purcelll Verdun, MA, CCC/SLP
Your Voice: Find It & Use It!
Powerful speaking skills are a valuable tool in a woman's professional and personal life. Tips will be introduced to make you a more impactful speaker. Features of speaking which interfere with impact, as well as purposeful features which will insure you and your message are received as intended, will be addressed. You too can find your voice!
Olya Walker, LFMT
Finding Our Voices: Healing from Sexual Trauma
Women are constantly bombarded with messages about how they should or should not express their sexuality and should or should not respond to sexual harassment and harm. We are even given conflicting messages by families and society about what actually constitutes sexual harassment, yet all of us know when we feel violated, uncomfortable or hurt. In this workshop, we will talk about ways to embrace the wide range of feelings we have when either ourselves or someone we love have been harassed or harmed with the hope of healing and restoring our power.
Nayo Wills, MD
Demystifying Detox
If you have been tempted to detox, or you have tried with less than optimal results, join Dr. Nayo to discuss the ABCs of detoxing, its pitfalls and its benefits when done right.
Objectives:
-To help attendees to understand some of the signs and symptoms that indicate a detoxification program might be helpful
-To help attendees understand how to introduce some safe and simple detoxifying foods and supplements into their regime
-To help attendees understand why working with a Functional Medicine Physician may be beneficial to leverage all the health benefits for vitality and wellness
-To help attendees to be aware of the pitfalls of doing a detoxification program without a comprehensive assessment
Enjoy Jennifer Chu's Interview with Dr. Nayo last month about Functional Medicine and Detoxification.
POSTPARTUM SERIES
Jennifer Chu, MS, PT, WCS and Ellicia Jacobs, PT, DPT
After The Baby: What They Didn't Tell You About Expecting Part 2: What To Do About It
Having a baby is truly a miraculous event. Along with the addition of our little one to our family, we also are left dealing with the physical effects of both the pregnancy and the delivery. This talk will offer you some tools to facilitate healing for effects of both c sections and vaginal deliveries. Come and learn how to help your body find its way to a full physical recovery.
Kim Hawley, MA, MPH
The Holistic Guide to Better Sleep for Babies and Toddlers:
Much of our parenting advice around sleep relies on outdated ideas about how babies and toddlers should act and sleep, rather than coming from what we know is biologically normal. The emphasis is on controlling behavior, disconnection, and pushing independence- something at odds with many parents' instincts. There's a better way! You can improve sleep for your entire family while focusing on connection and what is biologically normal. If you're concerned whether you are doing enough to support your little one's sleep development and overwhelmed by all the conflicting information you here, then you'll love this talk that bridges the art and science of age appropriate sleep. Come learn 5 cultural myths that stress parents out and discover calming, evidence-based information to build your confidence around nighttime parenting and improving sleep for your family.
Amy Heard, PhD
Relationships, Intimacy & Sexuality: Staying Connected As Your Family (& Body) Grows
Relationship experts recognize that having a child is one of the most impactful changes that couples experience. This talk will discuss how couples can use well-founded principals and techniques to stay connected in this time of personal and couple transition
Enjoy Jennifer's Interview with Dr. Heard about her practice and her talks for WHWD.
Nicolette Horbach, MD
After The Baby: What They Didn't Tell You About Expecting
Every pregnant woman has devoured the well-known guide "What to Expect from Expecting" and anticipates childbirth as a wonderfully miraculous experience. But for some women, childbirth can alter the function of muscles, nerves and ligaments in the pelvis causing problems with urinary and/or bowel function, prolapsed organs and/or impaired sexual function. Women who experience these adverse effects must learn to cope with their symptoms and are often frustrated or angry because they never knew about the potential impact of childbirth on their bodies. This talk will address the following questions: 1) how does childbirth and delivery affect our pelvic structures and what problems can occur; 2) who is more likely to experience these adverse outcomes; 3) can women do anything to avoid these problems; 4) do future pregnancies make the problems worse; and 4) what treatment options can eliminate these problems if they occur?
Claire Sandberg
Postnatal Yoga Class
The deepest intention of this class is for you to find and foster connection to yourself. Claire will guide you through simple breathing practices to calm your nervous system and promote healing. We'll explore the connection between the breath and the deep core, and move and stretch out the tension that can come from holding, feeding and caring for your baby. Come and join us and see how the practices of yoga can support your body, mind and soul in the postpartum phase.
Tina Sito, PT
Post Partum Exercise Class
Whether you are newly postpartum or years down the road, this class is for you. This class will be helpful if you are struggling with diastasis, incontinence, or prolapse. This will also be of interest if you are someone who just wants to learn how to safely return to daily activity or resume an exercise routine. The instruction will help you train your abdominals to become more functional and you will learn proper posture, body mechanics and breathing. Education will be provided on how to relax a tight pelvic floor and strengthen a weakened one.
Rosalie Zuniga, LICSW, LCSW, PMH-C and Elena Terminiello, LICSW, LCSW
What to *Really* Expect When You Are... Postpartum
All too often we spend so much time preparing for and looking after our new babies, that we as parents start to feel drained. Come learn ways you cannot just survive the postpartum time, but really thrive in it! Our presentation, "What to *REALLY* Expect When You Are…Postpartum," could be a lifesaver.
Find out about things to consider when in recovery and healing afterbirth. We also discuss postpartum anxiety and depression. Receive resources, tips, and guidance in creating a functional postpartum plan! You may have a birth plan, but your postpartum plan is also invaluable. This class covers:
· Motherhood and your changing identity
· Postpartum Blues: What's normal, What's not
· The developing attachment relationship between you and your baby
· Mobilizing resources for support
· The necessity of self-care
· Creating the basics of a schedule with a newborn
· Question & Answer session
Enjoy Jennifer's Interview with Rosalie about the many effects of having a baby and how that can affect our lives.
EXPERIENTIAL SERIES

Jen Burns

Creating Community Through Movement
Join us as we explore movement as a powerful form of communication, connection, play and healing. Learn 3 simple skills to "listen" and communicate with others through movement, including how to create a playful connection without having to know any "moves." Touch is optional. No partner required. No dance/movement experience needed. Anticipate levels of connection and fun you may not have experienced before.
Jennifer Chu, MS, PT, WCS
Body Mind Tools To Help You Heal and Connect To Your Inner Wisdom
Are you dealing with chronic pain, stress and feelings of overwhelm? Are you looking for ways to calm you body and live life in a more fun, peaceful and easy? Then this class is for you! In this class you will be taught tools to help you reconnect with your body and tap into your inner wisdom. These tools will help you calm your upregulated nervous system and allow you feel your emotions and physical discomforts in a safe way without overwhelm, aiding your body to heal.
Margaux Craig, PT, DPT
Beginning Pilates Mat Class
Learn the fundamentals and principles of Pilates and how these are used to support low back and pelvic structures. Focus will be on appropriate contraction of abdominal muscles and pelvic floor muscles as well as the use of breath through a beginner mat series. All levels of experience welcome.
Amy Heard, PhD
Mindful Awareness: Awakening to Curiosity and Compassion
This gentle guided practice is open to all who are wondering about, new to, or experienced with mindfulness. We will explore how curiosity and compassion can be an essential part of staying present to whatever arises, and will briefly discuss some of the proven benefits of a regular mindfulness practice.
Rebecca Krispin
Essential Oils 101
Join Rebecca Krispin, Essential Oil Educator with doTERRA Essential Oils, for a talk on the Physical and Emotional benefits of using essential oils as well as how to safely and effectively use these powerful gifts from nature. For whatever stage of your life you are in, essentials oils can help you live your BEST life which is what you deserve!
Rita Naomi Moran, PT
Yoga For The Lymphatic System
Join Master Healer, Yoga teacher and Lymphatic Physical Therapist, Rita Naomi in a gentle eased based yoga class. This class is designed to facilitate lymphatic flow and to reduce toxicity, stress, and unease in every day life. All levels of movement ability welcome
Lauren Starace, PT, MSPT, PYT-c, RTY-c
Pelvic Floor Yoga Class
Using breath and movement, become more aware of what your pelvic floor is doing and where it is positioned. Learn how much your breath and pelvic floor really are linked discover movement that can help you better connect to your pelvic floor. This will be a gentle, all levels class, where you can explore within your own body, breathing and moving freely, to mindfully improve your relationship with your pelvic floor.
---
Each participant will receive a Goody Bag as thank you for being a part of this amazing day. Come and bring your friends to enjoy this amazing day learning and celebrating you!
Current Raffle Items Include (much more to come!):
Free Mona Lisa Session with Bloom Ob/Gyn ($800 value)
Renew, Recharge, & Rejuvenate Spa Gift Basket
Books
dotERRA Essential Oils
Free Physical Therapy Evaluation or Treatment with ITR Physical Therapy
Free One Month Membership for DC Fit4moms
Free One On One Yoga Experience with Claire Sandberg
Yeti Water Bottles
Zi Collection Necklace (Paparazzi luxury line)
Free 1 hr Functional Nutritional Consultation with Susan, Moore, RD
Gift Certficate to Head Space From MotherNation
---
Thank you to our Gold Level Sponsor
The Kaplan Center For Integrative Medicine in McLean, VA
Incorporating the best elements of conventional and alternative medicine, The Kaplan Center's goal is to provide an integrative approach that attends not only to our patient's physical symptoms but also addresses the root causes of pain and illness, including problems of the mind and spirit that may be contributing to the disease process.
At Kaplan Center, you'll find professional expertise, strong communication between you and your provider, and a high level of collaboration among the members of our medical team in caring for you. The result: We put you back in charge of your life, helping you to attain optimal health
---
Thank you to our Bronze Level Sponsors
Jennifer LaFollette
Beautycounter
www.beautycounter.com/jenniferlafollette
Adrienne Prentice
Mother Nation
Christiane Poppwell
Purium
Marie Skeeter
Utopia Fashion Jewels
paparazziaccessories.com/270930
---
Thank you to our In-Kind Sponsors:
Baresnacks
Michelle Kain
Fit4Moms
Faith Ramirez, RN
NoVA BirthPartners
Flynn Millard O'Neill, FNP
Stork Childbirth Education
---
FAQs
Are there ID or minimum age requirements to enter the event?
Particpants need to be at least 18 years of age to attend this event. However, please feel free to bring your baby so you can learn and enjoy some of our Post Patrum Series of lectures and classes.

Can I bring my baby to the event?
Yes! Nursing babies who are not yet crawling are welcome to the event. There is a private restroom where you can breastfeed with a chair and an outlet. We have also been told you can chill your breastmilk in the refrigerator in needed. Unfortunately, we are unable to offer child care for older babies and children.
What should I wear to the event?
No need to dress up for this event. Come in your most comfortable clothes, especially if you plan on particpating in any of the experiential classes.
What are my transportation/parking options for getting to and from the event?
The Disctrict Architecture Center is metro accessible from multiple lines/stops:
METRO RAIL (www.wmata.com)
Archives-Navy Memorial-Penn Quarter (Green line, Yellow line)
Exit to the 7th St NW and head west on Indiana Ave NW toward 7th St NW. Turn right onto 7th St NW and the destination will be on your right.
Gallery Place-Chinatown (Green line, Yellow line, Red line)
Exit to the 7th St NW and F St NW and then head south on 7th St NW toward F St NW. Destination will be on your left.
Judiciary Square (Red line)
Exit to the 4th St. between D & E Sts and head south on 4th St NW toward Indiana Ave NW/D St NW. Turn right onto Indiana Ave NW/D St NW toward 7th St NW. Turn right onto 7th St NW and the destination will be on your right.
Metro Center (Red line, Blue line, Orange line)
Exit to 11th and G Sts NW and head east on G St. NW toward 11th St NW. Take the 1st right onto 11th St NW. Take the 2nd left onto E St NW and then turn right onto 7th St NW. Destination will be on your left.
For those of you who prefer to drive here are two parking garage options (there are others close by and in the area as well):
InterPark
616 E Street, NW
E Street (between 6th & 7th Streets)
STREET PARKING: PAY TO PARK (MULTI-SPACE METER)
Days: Monday through Saturday
Times: 7 a.m. to 10:30 p.m.
Limit: 2-hr
Accepts Credit Cards
What can I bring into the event?
Please bring your eventbrite ticket. Please wear clothes so you can move around and even exercise comfortably. If you are going to participate in our experiential yoga or pilates classes be sure to bring a yoga mat. We are unable to provide enough yoga mats for all participants. We strongly suggest you also bring a full water bottle so you stay hydrated. There are many food options and restaurants near by for lunch (12:00-1:00 p.m. or snack options (lunch is not provided).
How can I contact the organizer with any questions?
Please email us at info@itrphysicaltherapy.com with any questions.
**While some of these sessions specifically address bodies of those who have given birth, all sessions are intended to affirm us regardless of our experiences with birth or the body parts we were born with. We hope that all those who identify as women or non-binary will benefit from this program.**
**Please be advised that audio and visual recordings will be taken during this event for Women's Health and Wellness Day's marketing and promotional purposes. By entering this event, you consent to being photographed and to the use of your image and likeness. Thank You!**