Description
WISC Graduate Research Symposium
Empowering Self-Advocacy

The WISC Annual Graduate Research Symposium (WGRS) celebrates the work of Columbia University's women graduate students in the science, technology, engineering, and math (STEM) fields. As women in STEM progress in their careers, they face many difficulties, ranging from unconscious gender biases to a lack of female role models. To encourage fruitful conversations on these matters, this year's symposium is themed "Empowering Self-Advocacy" - as we believe it's important to empower women to speak boldly about their science, even though scientific theories are never fully 'proven'.
The symposium is designed to encourage discussion across an array of STEM disciplines by sharing diverse research and placing it in a broader context and engaging in cross-disciplinary networking. A selection of talks and poster presentations highlighting the work of graduate students will form the crux of the event.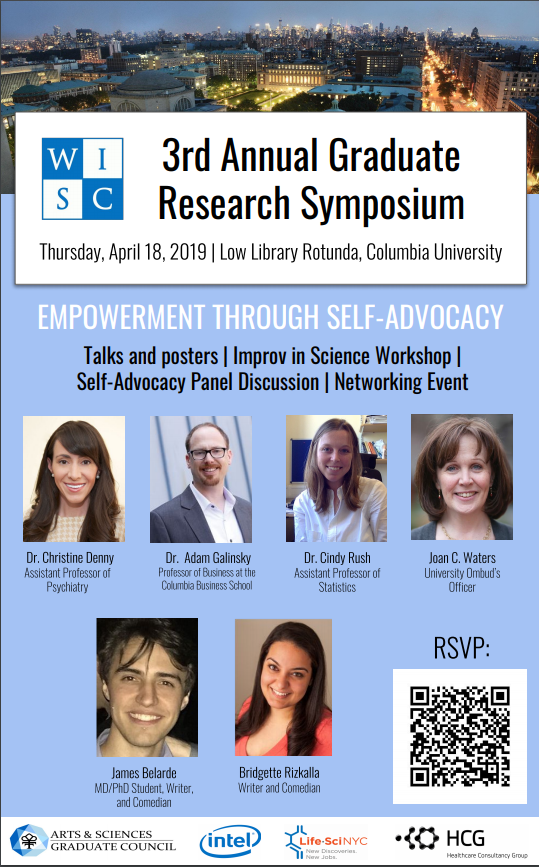 Registration Requirements:
You need to have a valid Columbia University ID
Both men, women, and gender non conforming individuals are welcome to attend as audience
Poster and talk presentations are restricted to people who identify as women
Open to graduate students, postdocs and faculty [

not

open to undergraduates]
For more information, please visit https://womeninscienceatcolumbia.org/symposium/.