Third Annual Outdoor Festival at Noble View Outdoor Center
Description
Registration is now closed! You may still attend but are not quaranteed lunch! for the Third Annual Outdoor Festival at Noble View Outdoor Center, 635 S. Quarter Rd., Russell, Mass. 01071. Saturday, September 15, 10am to 4pm. This is a memorable event for adults and families and a great opportunity to explore this amazing and popular 358-acre facility that has been connected to our chapter since 1930.
New This Year: Climbing Wall all morning.
Guided hikes leave from the flagpole from 10am to 11am (whenever a groups collects).
KIDS ACTIVITIES throughout the morning including various nature games in the field.

#Hike50Challenge BINGO with prizes throughout the morning.

11am--Joe Sarnelli of Small Planet Dancers will be doing an interactive poi dancing demonstration.
11:30am--

AEIOUke members will be hosting a

free beginner uke lesson @ 11:30 (reservation requested if a uke will be needed. Email Heather at squareroot123@gmail.com). Suggested age is 10 and up.
10am-noon: Fix-a-Flat Table--
Learn how to change a tire and fix a flat on your bicycle. Meet Brant and Janine, who run our Berkshire Chapter biking outings and bike club. If you want the opportunity to practice these skills yourself, bring the front tire of your bike. If you have any questions, contact Brant and Janine at
bicycling@amcberkshire.org
NOON-Lunch--BBQed Burgers or Veggie Burger--Be sure to register so we know how much food to prepare.
2pm--Raptor Presentation--Be sure to bring blankets or folding chairs for lunch and the presentation.
All day--Berkshire Mountain Search and Rescue will display their equipment and answer questions. Maybe you want to volunteer to be a member?
Highlights:
A celebration of all things outdoors: guided hikes, nature walks, climbing wall, live music throughout the day, kids activities. In the afternoon Erin O'Connell, from the Environmental Services of Connecticut, will give a presentation on raptors with three live birds--two screech owls and a red-tailed hawk. Lunch will be provided, with a vegetarian option.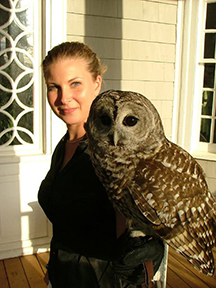 All Day:
Live music at various times throughout the day outside at the North Cabin.
Learn about the history of Noble View, explore the facilities and learn how you can volunteer to help with their plans for the future.
Berkshire Mountain Search & Rescue Team will have their equipment on display and will take applications for new members.
Learn about the Appalachian Mountain Club Berkshire Chapter and meet our leadership and members.
Silent Auction of hiking and outdoor items, new and used, to benefit Noble View.
You will receive a detailed schedule of events closer to the event date.
Looking for volunteers: Contact Bess Dillman at elizabeth.dillman@gmail.com. Need help with the preparation for the event. On the day: Need help with set up, parking, lunch coordination, end-of-day take down and clean up.
Bring a blanket and/or folding chair for the BBQ and Raptor Presentation.
Noble View will hold a "silent auction", like last year, since it was such a popular part of the Fall Festival. We are looking for donations of either new, or slightly used, in-good-condition items, that are related to hiking, camping, paddling, etc. Check you closets and garage! For more information and where to bring the items contact Barb at: v.barb@comcast.net; or Frank at: fevans6568@aol.com; or Nate at: natemnyc@gmail.com.
Still have questions or having trouble registering? Please contact Bess Dillman at: