Join us for our 3rd Annual "Our Basel" in the age of Crypto and NTF's Edition
About this event
Each year The Roots Collective highlights local artists during one of the highest grossing art events in South Florida.
Our Basel is for local Miami community members just as much as Basel is for tourists. We always stay true to our community, finding ways for them to support the arts and participate in the Buy Black Art Movement.
This year we are excited to introduce NFTs to our programming by collaborating with Black NFT Art, Tech Hustle Culture, and Disrupt Art who are making sure Black & Brown artists don't get left behind while revolutionary NFT technology creates new forms of wealth and ownership for artists.
Join us for a night of art, education, relationship building, and artist empowerment!
Host: Roots Collective
Sponsors: Tech Hustle Culture, Disrupt Art, Black NFT Art
Artist Performances: Latasha, King Hoodie, Heno, Ibn
Speeches: Rob Richardson of Disrupt.Art (introduced by Iris Nevins of Black NFT Art)
About The Host
Roots is a community centered organization focused on group economics and Black empowerment.
https://www.rootscollectivemarket.org/
About The Sponsors
Disrupt Art is a curated NFT marketplace where Artists, Activists, and Allies intersect to revolutionize the social impact of Art, Music, Fashion, and Film.
https://disrupt.art/
Black NFT Art is a media & community brand empowering Black people in the NFT space through content, promotion, and events.
https://www.blacknftart.co/
Tech Hustle Culture is a community org producing digital and physical experiences and content for a curated network of creative-professionals. We help folks connect, learn, build and grow together while exploring creativity within and outside of professional contexts.
techhustleculture.com
By registering you are agreeing to the Covid-19 Waiver Below.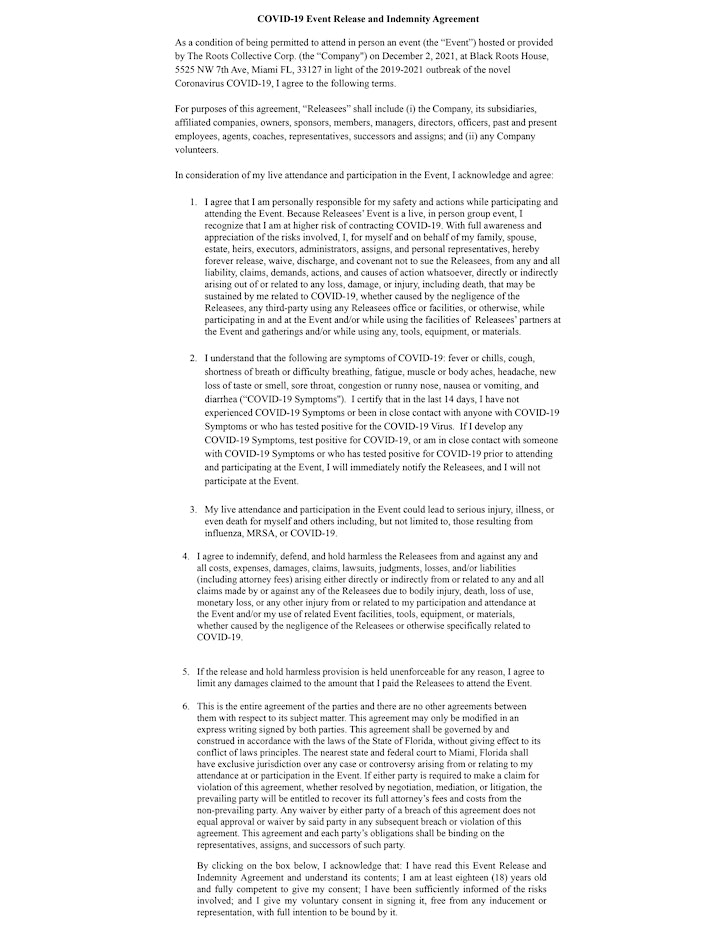 Organizer of Third Annual "Our Basel" Art Basel
The Roots Collective is an organization of ambitious visionaries dedicated to the economic growth, social awareness, and self-sufficiency of black and brown communities nationwide. Since our inception in 2015, we have displayed the innovativeness of black ownership while emphasizing the power of the black dollar in order to secure financial liberation amongst our peoples.

Our platform to push our mission forward consist of 3 main entities:

Roots Clothing: A clothing line dedicated to expressing, informing, and celebrating black beauty.

Roots Black Marketplace: A monthly black and brown specific marketplace geared towards business owners to promote, grow, and expand their businesses to the community.
Roots Printing: A cost-effective one stop shop for all marketing and promotional materials.
As the Roots Collective continues to grow, we vow to rebel against this broken system designed to keep communities of color financially oppressed and dependent. It is our responsibility and privilege to boldly empower and provide platforms for our community to flourish for generations to come.