Description
Be a part of the future of freight, logistics and manufacturing in the St. Louis region. For the past two years, the annual Freight Summit has been the premier event for industry experts, business leaders and elected officials to learn about innovative trends, new economic partnerships, and the bi-state region's growth in the global freight and logistics marketplace.
Join us on Thursday, May 24, for the 2018 Freight Summit Luncheon to:
Participate in this public-private collaborative

Take advantage of the networking opportunity to advance your role in the manufacturing and logistics industries

Be a part of making the St. Louis Region...Your Gateway To The World
---
New Tours Added!
Aids to Navigation and Channel Maintenance – U.S. Army Corps of Engineers and United States Coast Guard
Tuesday, May 22nd, 11:30 a.m. - 2:00 p.m.
Learn about river dredging management and tour U.S. Coast Guard and U.S. Army Corps of Engineer vessels. This tour will provide an educational opportunity and allow attendees a "behind the scenes" look at some of the Corps' and Coast Guard's day-to-day operations and missions.
Riverboat Tour of St. Louis Region's Freight Assets and Opportunities
Thursday, May 24th, 7:30 a.m. - 10:00 a.m.
A riverboat tour on the Mississippi River will highlight key freight assets and opportunities that position the St. Louis region as a global freight and logistics hub. A breakfast buffet onboard the riverboat is included in the tour.
Thank you to our Leader Sponsors: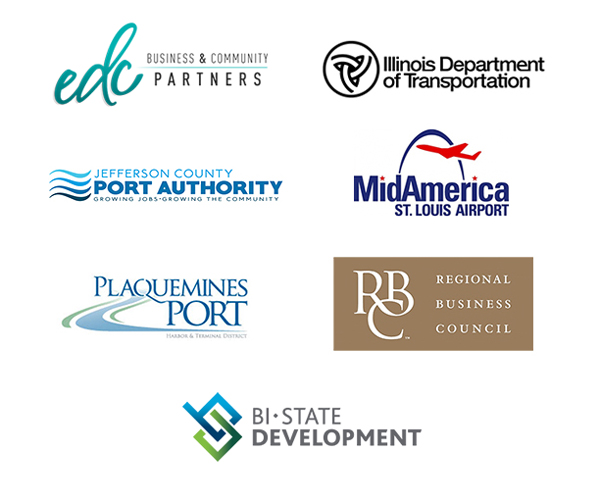 Thank you to our Innovator Sponsors:
Union Pacific Railroad
Thank you to our Collaborator Sponsors:
America's Central Port
Clayco
The Jerry Costello Group
Crawford, Murphy & Tilly, Inc.
Lashly & Baer, P.C.
Sheet Metal Workers Local Union 36
SMART, the International Association of Sheet Metal, Air, Rail & Transportation Workers
Southern Illinois Builders Association
TranSystems
Werremeyer Creative