THIRD ANNUAL EMBRACING POSSIBILITY FOR MENTAL HEALTH AWARENESS: ARE YOU HAP...
Sales Have Ended
Ticket sales have ended
We're sorry, this event is completely sold out and a waiting list is not being maintained. Tickets are no longer available. Join our email list for information about our upcoming events. Thank you! Jewish Family Services of Greater Hartford jfshartford.org
Sales Have Ended
Ticket sales have ended
We're sorry, this event is completely sold out and a waiting list is not being maintained. Tickets are no longer available. Join our email list for information about our upcoming events. Thank you! Jewish Family Services of Greater Hartford jfshartford.org
Description
TARA'S CLOSET PRESENTS EMBRACING POSSIBILITY FOR MENTAL HEALTH AWARENESS: ARE YOU HAPPY? ON THURSDAY, MAY 16, 2019 AT KINGSWOOD OXFORD SCHOOL.
Please join us for an unforgettable evening discussion highlighting the importance of mental health. This year, we are turning the conversation to happiness and how we can help combat stress and anxiety.
1 in 5 Americans will experience mental illness in his or her lifetime; it is a reality of life that affects us all. If you or someone you know has struggled with symptoms of mental illness, this evening is for you. Together, we can alter the narrative, stop the stigma, and change lives.
*THE MEET &GREET DINNER RECEPTION IS SOLD OUT.* YOU MAY STILL PURCHASE GENERAL ADMISSION SEATS FOR THE MAIN EVENT.
At the Meet & Greet Dinner Reception, Liz Zieky, owner of Coco Lily, will bravely share her story about her son Connor's journey to be "normal" while living with anxiety leading to his tragic accidental overdose.
Use mobile view to automatically select the "Best Available" seat. Use desktop view to select available seats on the seat map or "Best Available" seat.
---
FEATURED SPEAKER
LAURIE SANTOS, PROFESSOR OF PSYCHOLOGY, YALE UNIVERSITY, FEATURED IN NEW YORK TIMES, NBC NIGHTLY NEWS AND THE TODAY SHOW
Dr. Santos' entertaining and compelling "monkeynomics" experiments demonstrate that primates — our closest animal relatives — have much to teach us about our own economic decision-making. Both monkeys and humans know a bargain when they see one, tend to spend rather than save, and allow context and risk aversion influence choice — often irrationally. From her research, Santos speaks to how we are biologically programmed to be motivated by sex, to be deeply influenced by other people — and to repeat our mistakes. And while Santos often uses subjects from the animal kingdom to help explain our sometimes-illogical behaviors, she also provides advice on how to engage our uniquely human faculties to counteract evolution, choose more wisely, and live happier lives. Dr. Santos was appointed Head of Silliman College on July 1, 2016 to a five year term. She obtained her Ph.D. in Psychology from Harvard. She is a professor of Psychology at Yale University, where she serves as Director of the Comparative Cognition Laboratory as well as the Canine Cognition Center, a research facility that studies how dogs think about the world. She teaches one of Yale's most popular undergraduate courses, Sex, Evolution, and Human Nature. Her numerous awards for science, teaching, and mentorship include the Stanton Prize from the Society for Philosophy and Psychology for outstanding contributions to interdisciplinary research. Dr. Santos' scientific research is widely published, and she and her work have been featured in numerous media outlets, such as The New York Times, The Wall Street Journal, The Economist, The New Yorker, New Scientist, Smithsonian Magazine, and Discover Magazine, as well as on History Channel, NPR and NOVA. She was named one of Popular Science Magazine's "Brilliant 10," and TIME magazine "Leading Campus Celebrity"; her TED Talk has well over a million views.
MODERATOR
ELIZABETH VARGAS, ANCHOR, A&E INVESTIGATES & AWARD-WINNING LONGTIME ANCHOR, ABC NEWS
With her signature candor and insight, Elizabeth Vargas gives audiences a behind-the-scenes look at today's live news reporting and ever-evolving media. She shares her experiences breaking some of the biggest stories and reporting from the front lines around the world, from Hurricane Katrina, to the war in Iraq, to the crisis in Beslan, Russia, and back to the White House. Vargas also bravely discusses how alcoholism has affected her life and career, and why she chose to publicly share her struggle with the disease and her ongoing recovery.
Emmy Award-winning journalist Elizabeth Vargas has traveled the world covering breaking news stories, reporting in-depth investigations, and conducting newsmaker interviews. She is the host of "A+E Invesigates." She most recently co-hosted the hit newsmagazine show "20/20" and previously served as co-anchor of "World News Tonight," anchor of "World News Tonight Sunday," news anchor and frequent co-host on "Good Morning America," correspondent for "20/20" and "Primetime Thursday," and was the co-anchor of "Primetime Monday."

During the historic Iraqi elections in December 2005, she reported extensively for "World News Tonight" from Baghdad on both civilian life in Iraq and American military involvement there. She has interviewed leaders from around the world including President Bush from the oval office in the White House. Vargas has also anchored ABC News coverage of live, breaking news stories including the deaths of President Ronald Reagan and John F. Kennedy, Jr., and covering Hurricane Katrina's devastation from the U.S. Gulf Coast. Her story on the hero NICU nurses of Hurricane Sandy was part of the ABC News' Peabody Award winning coverage. Vargas won an Emmy in 2000 for Outstanding Instant Coverage of a News Story for anchoring live coverage of the Elian Gonzalez case. She joined ABC News from NBC News, where she was a correspondent and anchor, primarily for "Dateline NBC" and "Today." Also at NBC, she served as a correspondent for the newsmagazine "Now With Tom Brokaw and Katie Couric" as well as substitute anchor for the weekend editions of "NBC Nightly News."
In 2016, Vargas released her memoir, Between Breaths: A Memoir of Panic and Addiction. The book details her struggles with anxiety and alcohol, and tells a powerful story of healing and coping. Vargas graduated with a bachelor's degree in journalism from the University of Missouri in Columbia, Mo., where she began her broadcasting career as a reporter/anchor for KOMU-TV.
Currently the co-anchor of ABC's 20/20 with David Muir, Vargas was credited by The New York Times
for reinvigorating the newsmagazine format with her "intellectually brave" reporting.
TEEN SPEAKER
From middle school through high school, Sophie struggled every single day. She was confused about her horrific thoughts, bullied by her peers about her "strange" behaviors, and felt ashamed of herself. But yet, she persisted. Through years of therapy, medication, the support of her family, and finding her inner strength to fight anxiety, Sophie found hope and happiness. In this groundbreaking book, written for teens by a teen, Sophie paints a vivid image of the reality of living with anxiety, but also gives the readers tips, tools and techniques for managing their own struggles. Sophie's honesty and humor shine through on every page, inspiring teens (and those who love them) to take charge of their mental health – and their lives. Sophie offers practical advice to teens, parents, and professionals on how to talk about anxiety, how NOT to talk about anxiety, when to ask for help, and so much more.

Sophie Riegel is the Valedictorian of her high school and will be attending Duke University in the fall. She is a passionate mental health advocate and strives to make a difference in the lives of those around her. She is the president of the board of directors of Here.Now., a Jewish mental health advocacy organization. In addition, Sophie is an All-American racewalker. She lives in New York with her parents, twin brother, and rescue dog, and she plans on writing a second book in the near future.
EXPERT, Q&A
EVAN FOX, MD graduated Michigan St University with a BS in Zoology, thinking he was going to become an Equine Veterinarian. After further contemplation, he chose to go to medical school at the University Health Sciences, Chicago Medical School where he became interested in the relationship between the brain and the body. As a consequence, he moved to Connecticut where he completed a Residency in Psychiatry and a fellowship in General Hospital based Psychiatry with a special interest in Oncology. He is the Director of Consultation Psychiatry at Hartford Hospital, Senior consultant to the Palliative Medicine Consult Service, Chairman of the Ethics committee, Physician Chair of the Schwartz Rounds at HH, Psycho-Oncologist for the Hartford Healthcare Cancer Institute, Assistant Medical Director of the Behavioral Health Network, Hartford Healthcare and has a special interest in significant phenomenology including how and why individuals die and paradoxically, improving the quality of life for all.
---
THANK YOU TO OUR SPONSORS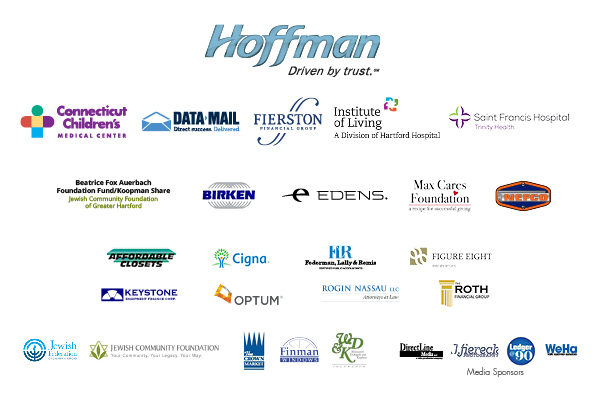 ---

EMBRACE-A-CHILD. EMBRACE-A-FAMILY.
The financial and emotional strain on a family can be overwhelming when faced with ongoing challenges of mental health. The Embrace-A-Family initiative is an opportunity for an individual or a group of people to work together to help alleviate these barriers and subsidize basic human needs, for a JFS client family who is less fortunate. Become a JFS Embracer.
For more information about how to support JFS mental health clients, please visit our website. To make a donation by phone, call 860.236.1927. Or click here to make a donation online.
---
FAQs
Is there a suggested age for attendees to the event?
We recommend audience members are 16+.
How can I contact the organizer with any questions?
Jewish Family Services can be reached during regular office hours, Monday through Friday. Please contact us by email or call 860.236.1927.
What's the refund policy?
All sales to the event are final. Tickets are non-refundable and non-transferable.
Do I have to bring my printed ticket to the event?
Yes. You may print your ticket from the confirmation email or download the ticekts using the Eventbrite app for android or iphone.