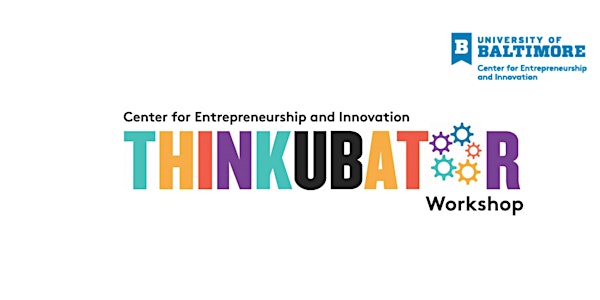 Thinkubator with guest speaker Cyrus Etemad-Moghadam
Join The University of Baltimore's Center for Entrepreneurship and Innovation for a ThinkUBator Workshop lead by Cyrus Etemad-Moghadam
About this event
Event Description
This workshop is about product development.
About the Presenter
Curious about every new object, technology, device and tool requires breaking down: How does it work? How was it made? Why this, and not that? So when becoming an astronaut was no longer in the cards, the next best thing was mechanical engineering.
After spending their formative years in the defense industry, an after-hours consulting job resulted in a full-time position at a telecom. Cool! No more right angles, no more grey, olive green or desert beige! Later, the boom in optical networking landed him a gig at a start-up in Canada, where they became the Director of Engineering.
A trip with their CEO, a serial entrepreneur, resulted in a revelation: he could be an entrepreneur too. It was time to take their expertise in development and launch a business of their own.
He started RPM Tech in my basement in 2006. Today, the company employs a group talented engineers, technicians and model makers who conceptualize, design, prototype, test and produce products for a broad range of industries, with customers in the US, Canada and Europe. We innovate, solve problems and make things work. He has accumulated extensive experience in design and development working with startups, small businesses, entrepreneurs and large corporations.
As importantly, he has lived the ups and downs of building a sustainable business and am passionate about sharing the knowledge I have acquired. He is also passionate about their team – they are the reason for my company's success.
The Center for Entrepreneurship and Innovation
About the Workshops
The CEI sponsors programming throughout the year focused on entrepreneurial learning and growth. Our weekly thinkUBator Workshop series has one goal: to provide CEI member companies with the knowledge and resources they need — access to seed capital, finding potential partners, hiring employees, marketing do's and don'ts, etc. — to transform their big ideas into a big deal, as quickly as possible.
About the Center
The University of Baltimore Center for Entrepreneurship & Innovation directs support and assistance to UB students and alumni interested in building or growing an enterprise. We do this through support, culture, events, education and research, and connecting with the business community. Meet with one of our counselors to discuss launching or growing your business. Visit us at www.ubalt.edu/cei for more information.
Zoom Meeting
https://ubalt.zoom.us/j/92021833679
Meeting ID: 920 2183 3679
Passcode: 1234