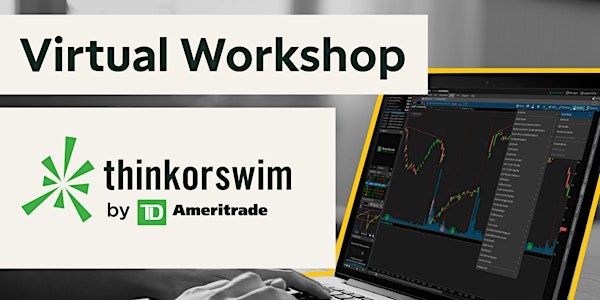 thinkorswim® Platform Virtual Workshop
Join us for this three-part virtual workshop series focused on learning how to use the thinkorswim® by TD Ameritrade desktop platform.
About this event
Each of these virtual workshop sessions will be 90 minutes in duration, with a bonus Q&A session on day 4 to help reinforce the learning outcomes from the series. We look forward to having you to join any or all of the sessions of interest.
An introduction to thinkorswim® by TD Ameritrade trading platforms
Overview of features and functionality, how to download and login for both Live Trading and paperMoney®
Become familiar with platform layout and functions, including charting, order entry and other popular features
Build confidence in using the thinkorswim platform for your investing and trading
Part 1 of 3: thinkorswim Platform: Overview and Customization
Tuesday, September 6th| 7:00 - 8:30 PM
In part one of this three-part series you'll get an overview of the thinkorswim trading platforms. Session one is designed as an introduction for new users to thinkorswim, starting with an overview of the platform where we explore the layout of tabs and sub-tabs within the software. We'll also demonstrate how to change settings and appearance to customize your workspace.
Key Takeaways:
Overview of the thinkorswim platforms, available on desktop, mobile and web
Downloading & login to Live and paperMoney® accounts
Have a working knowledge of the software layout and tabs, and how to customize the platforms appearance to your personal preferences.
Learning Outcome: After this session you will understand the different thinkorswim platforms available, know how to download the platforms for login, and build a foundation for more features and functionality of the software in coming sessions.
Part 2 of 3: Charting Features and Functions
Wednesday, September 7th | 7:00 - 8:30 PM
Now that you have an understanding of the platform layout and structure, we'll show you some of the unique and interactive features thinkorswim allows when evaluating a company's fundamentals and earnings. We'll also take a deeper dive into the Charts tab, highlighting important features and functions to help you get the most of the platform.
Key Takeaways:
Learn how to locate & view company financials in the Fundamentals section on the Analyze tab
Take a deep dive into the Charts tab, learning how to utilize the drawing tools, add and customize studies and indicators, and adjust the charts appearance
Save time by learning how to save styles and study sets for future use
Use the chart to setup price alerts, providing notifications on movements you want to know about
Learning Outcome: After this session you will have an understanding of where to find key company financial details and a working knowledge of the various charting features available on the platform.
Part 3 of 3: Order Entry and Positions Overview
Thursday, September 8th | 7:00 - 8:30 PM
In this final session, we'll demonstrate how to execute trades on the thinkorswim platform, including stock and option order entry, trading from charts as well as customizing rules-based orders. You'll also have an understanding of how to view positions and orders in the Monitor tab.
Key Takeaways:
Learn the mechanics of placing trades in the thinkorswim platform for both stock and options orders
Overview of the Trade tab, and various products available
Understand how to modify, cancel or replace working orders
Learn to manage positions in your portfolio from the monitor tab
Learning Outcome: After this session you will have an understanding of order entry, trade management and position overview using the thinkorswim desktop platform.