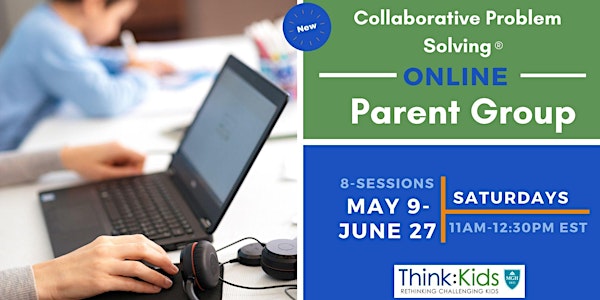 Think:Kids 8-Week Online Parent Training | Saturdays 11am-12:30pm EST
Refund policy
Contact the organizer to request a refund.
Eventbrite's fee is nonrefundable.
8 - Week Online CPS® Parent Group (Saturdays)
About this event
8 - Week Online Collaborative Problem Solving® Parent Group
8 Online Sessions | Saturdays: 11:00 am -12:30 pm EST
Online Parent Group via Zoom
Think:Kids along with presenter, Beth Holliman, MA, LPC , invite parents to learn more about Collaborative Problem Solving® (CPS), the revolutionary, evidence-based approach for helping children develop the skills they need to manage their behavior. Connecting with other like-minded adults to learn about the Collaborative Problem Solving® (CPS) approach can be an invaluable experience. Our CPS Parent Groups provide much-needed support and access to resources.
This group alone or in conjunction with additional training, enables parents to successfully implement Collaborative Problem Solving with their child.
Through this group, parents will learn why children sometimes struggle to meet day-to-day expectations. If you're putting the Collaborative Problem Solving® (CPS) approach to use with your child/partner, want to talk about your challenges and successes, or want to learn more about the approach – a CPS Parent Group can help answer questions, concerns, and provide the understanding you need to help your child develop the skills they need to be successful. Parent Group materials, breakout sessions, and opportunities for questions and answers will be a part of this highly-interactive, virtual parent group experience.
Session Dates
May 9th
May 16th
May 23rd
May 30th
June 6th
June 13th
June 20th
June 27th
ABOUT THIS COURSE: When registering, you are signing up for 8 -Weeks. Attendance is required for each day as the learning builds upon the previous session's content. This class is tailored for parents and it takes place entirely online. You will need to have email, basic computer skills and internet access with a web camera in order to participate in the sessions. Those who attend all 8-sessions will receive a certificate of participation.
One-Time Participation Fee:
Individuals: $200 USD for all 8-sessions ($25 per session)
Two Caregivers: $300 USD for all 8-sessions ($37.50 a couple per session)
During this interactive training you will:
Learn the Collaborative Problem Solving® approach to addressing conflicts in a way that reduces challenging behaviors, improves relationships, and teaches critical skills.
Practice addressing problems before things become escalated between you and your child.
Connect with other parents in a compassionate and non-judgmental setting.
About Your Think:Kids Parent Group Trainer:
Beth Holliman, MA, LPC, has worked with children and families in a variety of different settings over the past 20 years including residential treatment, foster care and outpatient services.
Beth has a master degree in Counseling Psychology and is a Licensed Professional Counselor in the state of Oregon. She is passionate about Collaborative Problem Solving and teaching the CPS model not only to agency staff and providers, but also to parents and caregivers. Beth served as the Director of Crisis Psychiatric Services for over decade at a community non-profit before stepping into a role at Oregon Health & Science University. She is currently the Child and Family Acute Care Coordinator for the Child and Family Behavioral Health Unit with the Oregon Heath Authority.