Thinking Positive About the Future for Young Adults with Autism & LD

Tuesday, November 3, 2015 from 6:00 PM to 8:00 PM (PST)
Event Details
Empowering presentations aboard the Queen Mary featuring Dr. Michael McManmon and a panel of experts.
Featuring free panel presentations by several expert guest speakers who work with the Autism and Learning Differences community and young adult transition; offering advice on the key stages of transition to adulthood including: letting go, adjusting to college, finding success in the workplace, and achieving independence.
Agenda:
4:30 – 5:30 – Cocktail Hour (optional)
5:30 – 6:00 – Registration / Vendor Hall and Networking Lounge Open
6:00 – 6:30 – Keynote by Dr. Michael McManmon
6:30 – 8:00 – Panel presentations and Q&A
Non-Hosted self-parking is $18.00 per car
About the Presenters:
Dr. Michael McManmon, Ed. D.: Founder of College Internship Program; author of "Made for Good Purpose" and Autism and LD: An Active Learning Teaching Toolkit
Matthew Asner: Director of Corporate Development at Autism Speaks
Yudi Bennett: Director of Operations & Co-Founder of Exceptional Minds
Joan Blank: Therapeutic Riding Instructor and Equine Specialist, founder of DreamCatcher.
Alex Plank: Autism advocate, filmmaker, actor, and the creator of Wrong Planet
Tracy Jalaba, OTD, OTR/L: Faculty member at the University of Southern California
CIP Student Ambassador Alex R will also be sharing his transitional journey.
Visit our website to learn more about each panelist.
Additional resources for the ASD/LD population will be provided.
---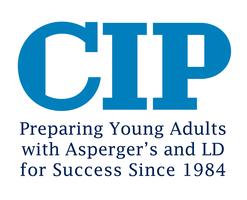 CIP's comprehensive curriculum and cutting-edge approach to developing real-world skills expands the foundation on which young adults with ASD and LD can build happy and productive lives. Learn more about CIP.
Have questions about Thinking Positive About the Future for Young Adults with Autism & LD?
Contact CIP Long Beach
Thinking Positive About the Future for Young Adults with Autism & LD