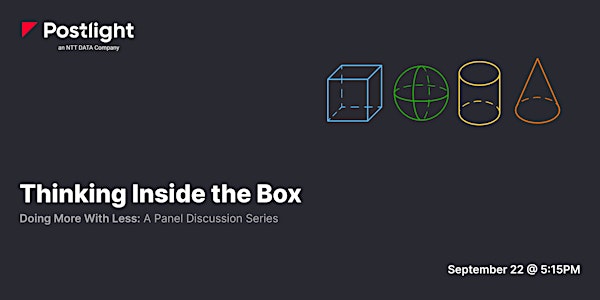 Thinking Inside the Box
A discussion on how designers and stakeholders can ensure success while working inside a box of limitations.
When and where
Location
Postlight 101 5th Avenue New York, NY 10003
About this event
Doing More With Less: A Panel Discussion Series
Constraints are an expected part of product design. They can slow teams down, balloon budgets, and compromise innovation. So how can designers and stakeholders ensure success, while stuck inside a box of limitations?
Join Postlight on September 22nd for a moderated discussion with an expert panel of seasoned design leaders who will share their stories, strategies, and successes in overcoming constraints. Moderated by Postlight's head of product design, Natalie Kurz, this session – the second in a four-part series titled Doing More With Less – will explore ways to empower designers to deliver high-quality outputs in a sea of limitations.
This panel's topics include:
What questions to ask to identify, understand, and mitigate constraints
How to learn fast and respond quickly to unfamiliar roadblocks
Strategies to help balance multiple constraints, while still achieving high project quality
Livestream:
Prefer a virtual experience? Register here to tune in via Zoom.
Recording Disclaimer: Your attendance, whether virtual or in-person, confirms your consent to the livestreaming, recording, and further distribution of this event through any channel deemed fit by Postlight.
Schedule: Doors open at 5:15pm with light refreshments!
6:00pm - 6:45pm: Live Panel Discussion
6:45pm - 7:00pm: Live Q&A
Meet the panel:
Eduardo Ortiz is Chief Executive Officer and a founding owner at Coforma, an agency that crafts creative solutions and builds technology products that elevate human needs. Eduardo was most recently Executive Creative Director at the US Digital Service. He has over 19 years of experience as a software engineer, UX designer, and information architect. He co-founded Project100, a women-led, women-focused organization that helped elect 100 progressive women candidates to Congressional office in the 2018 elections. He also co-founded BKUX, one of the fastest growing design communities in New York and a local leader for the Interaction Design Association (IxDA). Before co-founding Coforma, Eduardo was Design Director at Ralph Lauren, where he oversaw the replatforming effort for their ecommerce properties, and led the team that made the platform accessible to all. He cherishes working as an advocate and helping to bring a sense of normalcy to those in need.
Jodi Leo is the Chief Delivery Officer at Nava, a public benefit corporation which emerged from the effort to help rebuild HealthCare.gov after its troubled launch. She is responsible for marshaling the company's core capabilities in engineering, design, project, program, and product management to deliver better, simpler public services to all people. Previously, Jodi spent 15 years deep in the delivery environment with users, teams, and stakeholders. She shipped improved user experiences and achieved numerous industry awards, improved regulations, plus earned two patents and a challenge coin from the Department of Veterans Affairs Digital Services team. Jodi is a professor at the School of Visual Arts Masters Interaction Design, where she trains future digital services talent, and is a critic at the Rhode Island School of Design.
Matthew Marco is a Senior Director of Product Design at Nasdaq, where he has overseen the design of Nasdaq.com since 2019. Over his 20-year career, he has led strategy and design engagements in industries including fashion, beauty, media, entertainment, health care, financial services, higher education, and government – past clients/employers include General Motors, AB InBev, Melissa & Doug, IFC Films, Optimum, the U.S. Department of State, and the U.S. House of Representatives.
Todd Hulin is a versatile design leader with a background beginning in architecture, winding through interaction design and animation, leading ultimately to user experience and product design leadership in a variety of industries. He's crafted digital stories at MTV, the New York Times, Microsoft, CBS, JPMorgan Chase, and others, leading teams of designers, researchers, architects -- most recently launching Peacock, NBCUniversal's streaming service. Along the way, Todd had forays in novel writing, animation direction, teaching at SVA and the New School, and co-founding a music licensing startup for independent artists. He once illustrated a comic book presentation for the CEO of Coca-Cola, with a hidden easter egg drawing of his sister. He has a passion for the delightfully useful digital products of our age, built by teams of diverse contributors with unique voices.
Covid Precautions (subject to change):
All attendees must provide proof of vaccination on arrival or prior to the event
All attendees are highly encouraged to submit a proof of negative within 24 hours of the event
Postlight will have rapid tests available onsite
Upcoming Event Dates:
10/20/22: Doing More With Less – Digital Strategy Edition
11/17/22: Doing More With Less – Engineering Edition