Description
With 95% of the world's consumers living outside of the United States, leveraging international markets to grow your business can make good business sense—if it's done correctly. So whether you're taking international backers for your Kickstarter campaign or proactively pursuing international sales, understanding the complexities and layers that international sales inject into the equation is critical to success.
Join us for a free, four-session series designed to give you the tools to assess opportunities and to manage the added logistical, financial, legal, and cultural aspects of an international transaction. Each is self-contained, so while we encourage you to attend all of them, you are welcome to attend the specific sessions that fit your schedule or interests. Please note that you will have to register for each session individually.
Breakfast and coffee served starting 8:00am; sessions will start promptly at 8:30am and end no later than 10:00am, though attendees are welcome to stick around for networking afterwards. All four sessions will take place at Ascender, located at 6401 Penn Ave, Floor 3, in the Village of East Side plaza, adjacent to Bakery Square. Free parking is available in front of the building, and additional directions will be included in reminder emails sent 48 hours before each event. If you have any other questions, you may contact Kenny@ascenderpgh.com.
---
1. Introduction to Global Trade – The Value of International Sales and the Complexities of Crossing Borders
Wednesday, June 21
SPEAKERS:
Lyn Doverspike, Director, U.S. Commercial Service Pittsburgh
Steven Murray, Senior International Trade Specialist, U.S. Commercial Service Pittsburgh

TOPICS INCLUDE:

Exporting as a sales and growth strategy
The impact of international sales on early-stage companies
The not so obvious differences between domestic and international sales
International trade resources available to companies
---
2. Getting Paid + Shipping and Logistics – The International Perspective
Wednesday, July 12
SPEAKERS:
Edward Schick, Vice President, Trade Financial Group, The Huntington National Bank (Member of Western PA District Export Council)
Chas Watson, President, RL Swearer Company (Member of Western PA District Export Council)
LeeAnne Haworth, Senior International Trade Specialist, U.S. Commercial Service Pittsburgh

TOPICS INCLUDE:
Calculating the landed cost of an export
Incoterms and how they can be used as a risk mitigation tool
Documentation required in an export transaction
---
3. Protecting Your Company & Brand Abroad – IPR, Export Regulations, and Other Legal Considerations
Wednesday, August 2
SPEAKERS:
Erin McBride-Lovas, Export Compliance Manager, Carnegie Mellon University
Susanna Cook, Director & Chair, International Business Group, Cohen & Grigsby (Member of Wester PA District Export Council)
Bruce Chiu, Director, Cohen & Grigsby
TOPICS INCLUDE:
Export controls and the associated obligations of U.S. exporters
Protecting your company and brand overseas
Identifying and complying with foreign regulations
---
4. Sales & Marketing – Competitive Positioning for the Global Market
Tuesday, August 22

SPEAKERS:
Damon Claus, Managing Director, Castus Global
LeeAnne Haworth, Senior International Trade Specialist, U.S. Commercial Service Pittsburgh

TOPICS INCLUDE:

Identifying target markets
Developing an international pricing strategy
Choosing the right channel mix
Building a global digital brand
---
This free series is brought to you by the U.S. Commercial Service, in partnership with Ascender.

The U.S. Commercial Service is the trade promotion arm of the U.S. Department of Commerce's International Trade Administration. U.S. Commercial Service trade professionals in over 100 U.S. cities and in more than 75 countries help U.S. companies get started in exporting or increase sales to new global markets.
Ascender is a hub for Pittsburgh's "starters" and "builders," offering a wide range of services and opportunities, including startup incubation, coworking space, and accessible programs for entrepreneurially-minded individuals from all backgrounds.

Thank you to the District Export Council for making this series possible, and free to participants.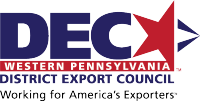 Thank you to the following Startup Global Steering Committee members for their support: