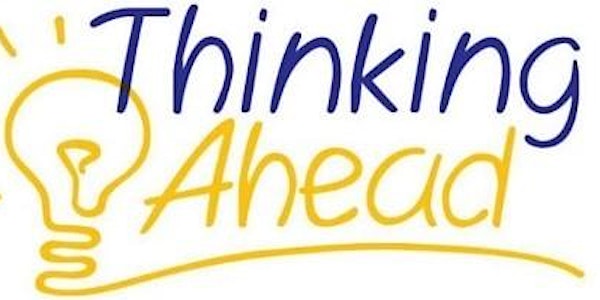 Thinking Ahead Conference & Resource Fair
When and where
Location
Nolan Ryan Center 2925 TX-35 Loop Alvin, TX 77511
Description
Thinking Ahead is a free conference and resource fair hosted by the Arc of the Gulf Coast. This conference brings together expert speakers that focus on improving the quality of life for individuals with disabilities and the people who support them.

Coffee, breakfast and light refreshments provided.
Session Descriptions:
KEYNOTE: Vision for My Child – A Joyful Reminder of Successful Student Outcomes - Special Education Boss - Karen Mayer-Cunningham – has been advocating on behalf of children for over 20 years. Deemed the "LeBron James" of the special education world, Karen is relentless in getting the services and resources your child needs to succeed in the classroom. Her unlikely journey as an advocate began in an effort to get needed services for her own son, but along the way, found a calling to resource families she had discovered.
SESSION 1: (CHOOSE ONE)
1. Successful Advocacy - Navigating the IEP Process, Presented by Karen Mayer-Cunningham...Session Description coming soon...
2. Introduction to Function - Learn concepts in understanding the functions behind your child's problematic behavior through the researched based principles of Applied Behavior Analysis (ABA). Highlights include the research and validity of ABA, identifying functions of a child's behavior and take home strategies on how to apply ABA principles in the home, schools and community. Presented by Shelley Hydye, M.S., BCBA – Regional Clinical Training Coordinator, Positive Behavior Supports Corp of Houston
3. Transition from Childhood to Adulthood - Session Description coming soon...
SESSION 2: (CHOOSE ONE)

1. Alternatives to Guardianship and Supported Decision Making - This presentation will cover all less restrictive alternatives to guardianship including supported decision making, powers of attorney, release of information, and limited guardianships. This presentation will also cover necessary estate planning including special needs trusts and ABLE accounts – as well as benefits that young adults need to apply for on their own after they turn 18. There will be a question and answer period at the end of the presentation and an opportunity to sign up for an upcoming Disability Rights Texas supported decision making legal clinic. All legal services offered via the clinic are pro bono (free of charge). Presented by Cicely Reid, Pro Bono Coordinator and Staff Attorney,Disability Rights Texas
2. Create Meaningful Opportunities for Communication with CoreVoice or any AAC Device & Practice with Alexa - Learn how to use CoreVoice on any AAC device to engage kids during playtime, transitions, and while reading books. Learn meaningful ways to help your child communicate and even practice learning with Amazon Alexa. "Speech Device Practice," Come see CoreVoice and Alexa in action! Presented by Ashley Warwick,MS CCC-SLPCentral Speech, LLC
3. Creating a Master Plan - What are your child's strengths and weaknesses and how do they affect the ability for your child to learn? What steps do you take to help your child meet their goals? What are your long-term goals for your child? Learn the rules to the game in advocating for your child. You will learn tips on knowing supplemental programs, why schools say no, accommodations and comparison of a Master Plan vs an IEP. This session will empower you to move your emotion for your child to advocacy. Presented by Tenika Combs, Founder and CEO of Got Advocacy?
SESSION 3: (CHOOSE ONE)
1. Employment and Social Security - This workshop provides basic tools for young people with disabilities and their families to prepare for entry into the workforce. Discussion includes: Addressing development of skills related to job tasks and building future employment options including employment objectives in the IEP, basic information about Social Security – changes at age 18, and basic information about Job Placement and Supported Employment. Presented by Norine Jaloway-Gill, MSSW– Imagine Enterprises
2. Me, Empowered! - A high school student will share her personal journey towards self-advocacy. By sharing her story, Myah will give parents and educators alike a unique perspective on the pros and pitfalls she has encountered while communicating her needs and preferences in the classroom, in ARD/IEP meetings, and even at home. She will discuss the impact of parent and teacher support in her growth. Myah really enjoys an engaged audience and questions are highly encouraged! Presented by Myah TenBrink, Self-Advocate
EXHIBITORS/VENDORS:
Autism Moms Are Beautiful
Baylor College of Medicine
Cardinal Autism Services
Central Speech Solutions, LLC
CreatED by Ed Artisan Wooden Notestands
Disability Rights Texas
Galveston-Houston Families Exploring Down Syndrome
Got Advocacy?
Gulf Coast Self-Advocates
Hegwood Law Group
Imagine Enterprises
Montague Career Services
New York Life
Postive Behavior Supports
Special Education Boss
STRIVE Program
TEAM Project
Texas Made Soaps
Vic's Knitz