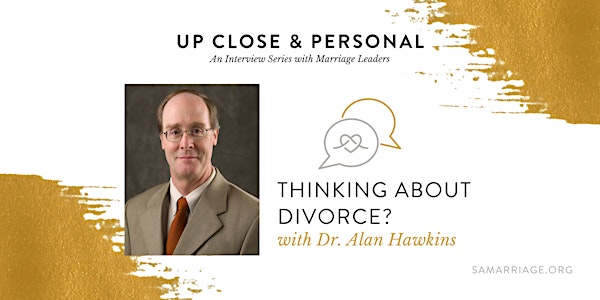 Thinking About Divorce?
Up Close and Personal Series with Marriage Experts
About this event
THINKING ABOUT DIVORCE?
Ever wonder what's really going on in marriages and families today? How normal is thinking about a divorce? What does it mean? Does thinking about divorce have to lead to getting one? Do you wish you had a research-based, proven guide to share with couples considering divorce?
Dr. Alan Hawkins is a professor and a researcher. His award-winning work focuses on educational interventions and public policies aimed at preventing unnecessary divorces, and helping couples to form and sustain healthy marriages and relationships.
In Dr. Hawkins words.... "The truth of the matter is that a good marriage and a good divorce are similar in that they both require those involved to be kind and considerate to each other. Both take hard work and require each partner to bring his or her best self to the process. When the hard work is done right, the investment pays off."
Dr. Hawkins believes expectations for marriage have been rising. "Our marriages are super relationships that are supposed to be everything. Some people have the most incredible marriages, but others do not, and especially when they have not been putting a lot of energy in," he said. "Systems without energy fall apart; it's the natural state of the universe. That's the way things go if you are not giving your relationship enough attention and energy."
We'd love to have you join us as we learn from, and get "Up Close and Personal" with, Dr. Alan Hawkins.
--------------------------------------------------------------------------------------------
About Dr. Hawkins:
Dr. Alan Hawkins has been a professor in the Brigham Young University School of Family Life since 1990. In 2012, he received the university's prestigious Karl G. Maeser Research Award and held the Camilla E. Kimball Endowed Professorship of Home and Family Living from 2014-2019. In 2003-2004, he was a visiting scholar with the Office of Planning, Research, and Evaluation, Administration for Children and Families (U.S. Department of Health & Human Services), working on the federal healthy marriages initiative. He has served twice as the Chair of the Utah Marriage Commission. He also served on the National Divorce Decision Making Project, which documented the prevalence of couples experiencing divorce ambivalence and whether intervention affected marital outcomes.
He published Should I Try to Work it Out: A Guidebook for Individuals and Couples at the Crossroads to Divorce, which became the curriculum for the class couples with minor children are required to take before their divorce can be finalized in Utah. The guidebook has been recently updated and re-released.
--------------------------------------------------------------------------------------------
The vision of the San Antonio Marriage Initiative is the restoration of family, by strategically investing in marriage, for the strengthening of communities and the glorification of God. All of the information provided on our website should be interpreted as an effort to fulfill that vision. Opinions expressed by speakers and presenters at San Antonio Marriage Initiative events are not necessarily those of the San Antonio Marriage Initiative. Our events and communications are intended to be educational and informational in nature and are not to be considered professional counseling nor are they intended to replace the services provided by trained professional counselors and therapists. If a link takes you to a site other than samarriage.com (or any page found at that web address), then we are not responsible for the information or content at that linked site. By accessing our website, you agree that any disputes you have with San Antonio Marriage Initiative will be submitted to the conflict reconciliation procedures of Peacemaker Ministries. San Antonio Marriage Initiative is not affiliated with Peacemaker Ministries.