Description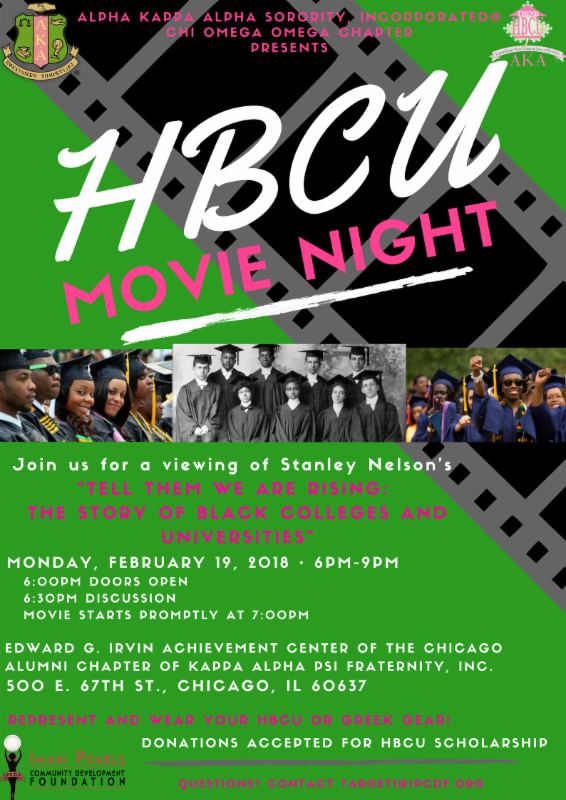 Please join the Imani Pearls Community Development Foundation and Alpha Kappa Alpha Sorority, Inc. - Chi Omega Omega Chapter for HBCU Movie Night! We will be viewing Stanley Nelson's Tell Them We Are Rising: The Story of Historically Black Colleges and Universities (HBCUs). This documentary examines the impact that HBCUs have had on American history, culture, and national identity.
A haven for Black intellectuals, artists and revolutionaries—and path of promise toward the American dream— Black colleges and universities have educated the architects of freedom movements and cultivated leaders in every field. Established over 150 years ago to educate formerly enslaved African Americans who were barred from public schools, HBCUs were for a century the only option for African American students to obtain a college education. Since colleges were desegregated in the 1950's, HBCUs remain unapologetically Black spaces of learning for students who choose them.
Donations will also be accepted in support of scholarships awarded to students attending an HBCU in fall 2018. You can also give your donation NOW through PayPal using ipcdftreasurer@gmail.com.
So, come out and bring a college bound student, HBCU supporter, or someone simply interested in learning about HBCUs. Don't forget to RSVP below!