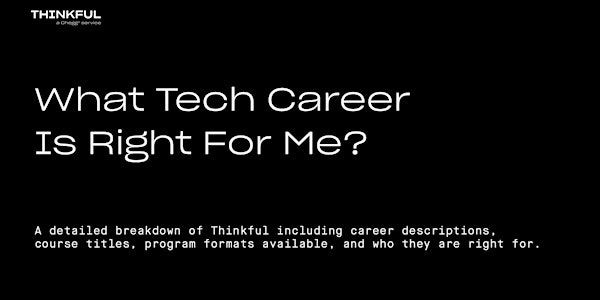 Thinkful Webinar || What Tech Career Is Right For Me?
Considering a career change into tech? Explore what role might be a great fit for you and learn how to successfully break into your new dream job.
About this event
Note: This webinar is a replay of a previous session.
It can feel intimidating to change careers in today's world of big tech, but if you find the right path, the payoff can be life-changing. Along the way you'll ask important questions — What career is right for me? What job suits my skills and personality? Where do I even start? Join us as we dive into these questions and many more during this in-depth webinar that takes a look at some of today's top tech careers.
At Thinkful, we've seen students change their entire trajectory after several months of learning, mentorship, and career coaching. We want you to feel confident taking your next career step, so we're breaking down all of the information to find out what next role could be a great fit for you and how to successfully break into that field faster than you might have thought possible.
What you will learn:
What it means to land a job in tech
The benefits of learning part-time vs. full-time (we offer both!)
An overview of our course topics
Our mentorship program and career support
Long-term student outcomes
What's next
How to join us: Once you register with Eventbrite, you will receive an email with the links to the live webinar from BigMarker. If you do not receive your link, please email virtual@thinkful.com.
Sponsored by Thinkful:
Thinkful is a tech bootcamp equipping people with the education and network to launch new careers and take their place in the world's next workforce. Every course comes with a personal mentor who's experienced in the field, as well as career coaches and an academic success manager. To find out more schedule a call HERE