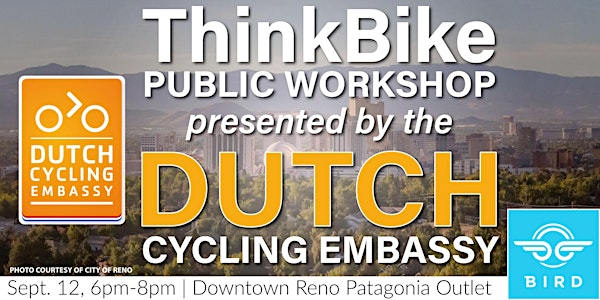 ThinkBike Public Workshop by the Dutch Cycling Embassy - Day 1
Public portion of ThinkBike by The Dutch Cycling Embassy. Designed for the public to learn about bicycle inclusive mobility.
When and where
Location
Patagonia Outlet 130 South Center Street Reno, NV 89501
About this event
The Dutch Cycling Embassy will be in Reno, Nevada at the McKinley Arts & Culture Center September 12-14 and available to the general public from 6pm-8pm during the 3 day workshop. Anyone interested in learning about urban mobility, road safety, emission reductions, the economics of cycling, social inclusion, and health is encouraged to join. Time is subject to change. Location will be at Patagonia Outlet, 130 S Center St, Reno, NV 89501.
Day 1 Events are scheduled to include a movie screening of Together We Cycle, a panel discussion, and a public conversation of cycling in Reno. Beer, wine, and snacks will be available. Gear giveaways from Patagonia and other vendors. Attendees are highly encouraged to ride a bike to the venue. Thank you to Bird for their Presenting Sponsorship.
The Netherlands has the highest bicycle use in the world, and the Dutch Cycling Embassy is committed to sharing their knowledge in policy and solutions to facilitate cycling worldwide.
From Lucas Harms, Managing Director, Dutch Cycling Embassy:
In 2020, the COVID-19 pandemic fundamentally changed the way we look at cities; offering a unique window of opportunity to rethink, redefine, and reallocate urban streetscapes and the way they are used. Everywhere in the world, pop-up bike lanes have been implemented to provide more space for cyclists; offering a reliable means of maintaining mental and physical health, but also to provide an alternative to public transport. However, it is of the upmost importance these changes are thoroughly considered and carefully implemented, to avoid common mistakes and adverse effects. The big question is how to move from temporary solutions to permanent ingredients for successful urban transformation?
An overarching lesson is we learned not to be afraid to experiment: the Dutch tried a lot of different things since the 1970s—willing to overhaul streets and overhaul them again if that didn't work. In this process we also learned that simply copy-pasting treatments from one city or locality to the other can easily result in failure. To overcome these missteps, the Dutch Cycling Embassy offers our help and guidance in implementing Dutch-style solutions; working together to adapt them to your geographical, social, and cultural context. To do so, we organize tailor-made ThinkBike Workshops® and bring experts from our public-private network to see what solution fits best and how to implement it to gain maximum benefits. In this booklet we provide you with examples of ThinkBike Workshops® we have hosted since 2011 in more than 40 global cities, and the changes for the better they have triggered. From Paris to the Philippines, and from Finland to Santo Domingo, it shows…
The pandemic has shown us cities need more resilient and equitable mobility—not only to weather the COVID-19 crisis, but also to prepare for the climate crisis, and to provide an accessible answer to the deepening inequality in many urban areas. As EU Vice-President Frans Timmermans expressed: the bike has a fantastic and romantic past, but also a glorious future, and can play an important and decisive role in reshaping public spaces. The Netherlands learned first-hand that cycling is not only a very humble mode of transportation but also very powerful transformational tool, which makes cities more sustainable, more safe, more social, more wealthy, more healthy, and more happy places to live!
Lucas Harms
Managing Director
Dutch Cycling Embassy