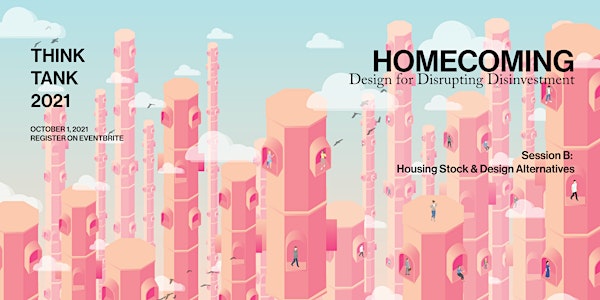 THINK TANK 2021 | HOMECOMING: Housing Stock & Design Alternatives
What mistakes do architects make when working to design housing for disadvantaged communities? How can we avoid these pitfalls?
Refund Policy
Contact the organizer to request a refund.
About this event
Housing Stock & Design Alternatives
Resilience Through Reinvestment
This symposium will focus on ways architects and designers can re-center disadvantaged communities while designing developer-based housing projects.
First, at 2:00 CDT, we'll hear from LHB Corp's Todd Rhoades, who will share his experiences designing housing for underprivileged communities in the Twin Cities.
Then at 3:15 CDT, following a Q&A and brief intermission, we'll hear from a panel of developers and designers from around the Midwest who will discuss how disinvestment can negatively affect multifamily projects at all scales; the lingering effects of the pandemic and how it has affected federal, state, and local priorities regarding incentives for designing public housing; and finally, opportunities for reinvestment and partnership among developers, designers, and communities to facilitate future growth.
Speaker & Panelists
Keynote
Todd Rhoades, AIA
Design Coordinator @ LHB Corporation
Panelists
David Block, AIA, AICP
Director of Development @ Evergreen Real Estate
Kevin Zeppernick
Principal & CEO @ Thrive Companies
Scott Farbman, AIA
Innovation Lead + Building Performance Analyst @ dbHMS+
Stephen J. Ortego, AIA
Principal Architect + Owner + Founder @ SO / Studio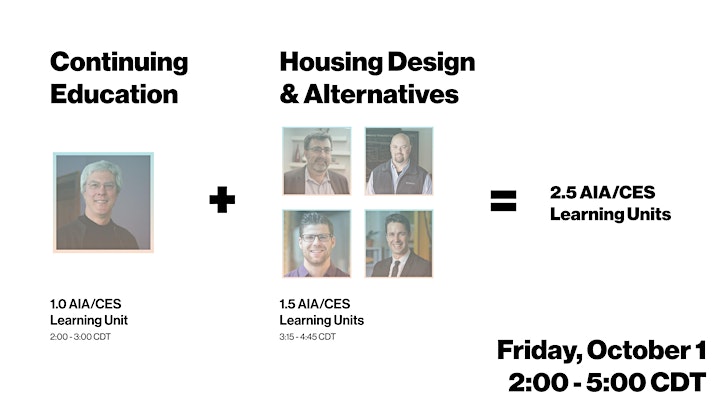 About Think Tank
The basis for Think Tank 2021 comes to us from the theme of the 2021 Chicago Architecture Biennial, The Available City, curated by David Brown. The Available City began as an inventory of vacant, city-owned lots across Chicago-- currently numbering more than 13,000 sites concentrated on the city's South and West sides. Over more than a decade of work, Brown developed his research into an ongoing urban design proposal that connects community residents, architects, and designers to work together to create spaces reflecting the needs of local neighborhoods.
The Available City represents a summation of the design process, which our Think Tank team recognized as an appropriate launching-point for the lenses of this year's topic: disinvestment, disruption, and design. Disinvestment is the recognition of a problem; whether it is an inequality in the status quo, an active intent to harm or disenfranchise, or simply a broken context that requires a fix. Disinvestment represents the problem, whatever it may be. Disruption occurs when a new element is introduced to the context: in this case, the designer. The process of disrupting the status quo is an acknowledgment of a problem; someone has arrived on the scene and has determined that things cannot continue unchecked. In many cases, disruption can be as simple as a conversation that elevates an aggrieved party to the level of equal. Design is the physical manifestation of a solution; after disruption occurs, the new element (the designer) joins with the existing elements (the users) to create a remedy (the design). The design is an attempt to repair, restore, or recreate something that was once disinvested in by others.
Our format for 2021 is simple: from 2:00 - 5:00 PM CST on four autumn Fridays three weeks apart, a different Legat studio will be playing host to a keynote speaker, followed by an intermission and a panel discussion with 3-5 experts (including the keynote speaker).
With Think Tank 2021, our goal is to invite experts in their fields who understand the current market and can highlight our blind spots as designers. We seek to understand where our users feel their needs have been unmet, and what solutions we can provide to them to mend these overlooked gaps. Whether it's in the growing field of wellness-based design or in an established segment like playful and early childhood learning, we want to understand where the people who live and work in our buildings feel left behind.