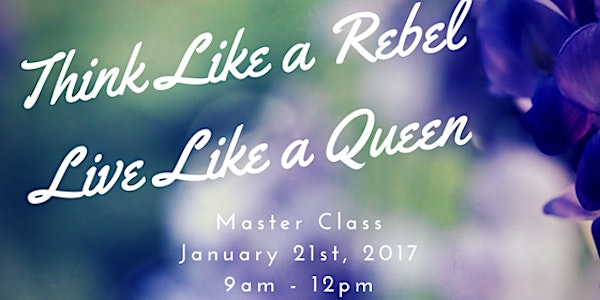 Think like a Rebel - Live like a Queen
Location
Aloft Buffalo Airport
4219 Genesee Street
Buffalo, NY 14225
Description
Presented by: Christine Mathieu, B.Msc. - Wealth & Personal Empowerment Coach
Guest Speaker: Nikia Sweet, Credit Accountability Specialist
This is it ladies ... 2017 is around the corner and it's time for you to "right" your finances, straighten your crown, and align your life with true wealth. But in order to wear your crown high and proud, you've got to learn how to think like a rebel first.
During the Master Class you will:
* put an end to your financial struggles by learning how to define your own value and honor your Spirit

* identify and transform the core beliefs that are holding you back from financial freedom

* learn how to clean up and catch up on your post-holiday bills, credit, and finances for greater peace of mind

* formulate your personal Archetypal Wealth Plan for 2017 to secure your position as Queen

A light Continental Breakfast will be served along with refreshments.

REGISTER NOW to secure your spot and SAVE ...
(Limited spots available at the Early Bird discount rate)

Together, let's think like rebels and live like Queens!
See you there!
Refunds...
72 hour notice of cancellation must be received in order to qualify for Full Refund...Cancellation requests must be emailed to info@christineamathieu.com OR call 716-913-8285 and leave a voicemail message. (texts and other "messaging" do not qualify).
No credits or transfers.