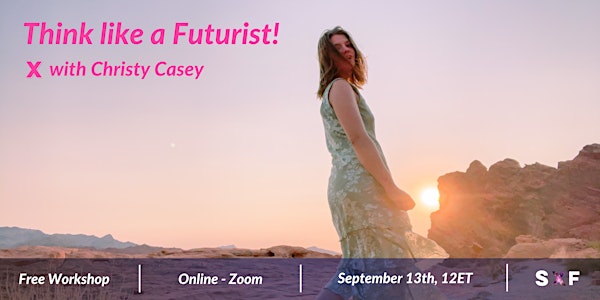 Think like a Futurist!
Workshop to learn new methodologies to think about the future as part of the short films competition program storiesxfuture.com/visions22
About this event
StoriesXFuture: Visions22 is a non profit futuristic short films competition that envisions new futures (10 years from now) where technology becomes humans best ally to build a better future.
We are doing this because we believe that we can't be what we can't imagine, therefore, in order to effectively co-design a better future, we should unify our visions.
As part of the resources offered by the program, we organize a series of free online workshops open to anyone to gain some skills to think about the future.
This particular workshop, will be two hours, led by immersive performer and futurist, Christy Casey, where you can expect to learn the essentials of strategic foresight to increase your team's capacity for innovation, risk mitigation, adaptability, resilience, and more.
According to the Institute for the Future, people who think about the future regularly vote more often, save more for retirement, make better health decisions, and care more about long-term challenges like climate change. Neurobiologically, our brains think of our future selves in the same way we think about a stranger. Therefore, making decisions that benefit our future selves is essentially an act of empathy, and one of the best ways to cultivate empathy is through storytelling.
Learn more about StoriesXFuture:Visions22 --> www.storiesxfuture.com/visions22
About Christy Casey: As both a storyteller and an award-winning futurist trained by the School of International Futures, your facilitator, Christy, brings a unique approach to foresight, infusing it with storytelling to make complex ideas more relatable and actionable.