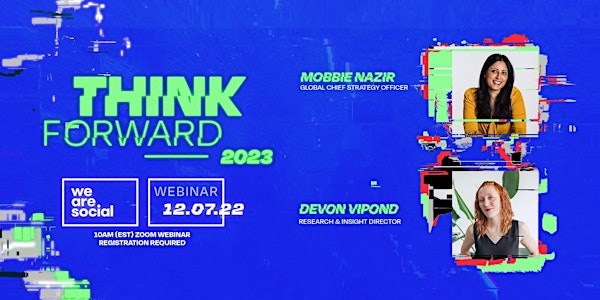 THINK FORWARD 2023: North America Webinar
Think Forward 2023: Fragmented Futures
About this event
Think Forward 2023 is almost here.
To mark the release of eighth edition of Think Forward, you're invited to join us on Wednesday, December 7th at 10am (EST) as the brains behind the report will take a deep dive into the trends that are set to shape the digital landscape over the next 12 months.
We're almost at the end of 2022 and we thought we'd be living our life in the metaverse and using our crypto wallets to pay brands in virtual malls. But, the reality is looking a lot different, with 2022 quashing the vision of the 'future of social' as any singular world- instead, it has many worlds.
The future is now less like looking through a telescope, and more like looking through a kaleidoscope: many diverse fragments, not one single vision.
In this fragmented space, every user is carving out their own way, own niche, their own world. Brands have learned best practices for a world that's polarized, but what about a world that's atomized?
As the many paths of the internet fan out, this serves up an infinite number of worlds. With these worlds come infinite opportunities to sink – or to swim.
Let's help you navigate the fragmented future.
Meet our speakers:
Mobbie Nazir, Global Chief Strategy Officer, We Are Social
Devon Vipond, Head of Research & Insight, We Are Social
Reserve your spot today!