"Think Bing" Film Screening hosted by Southbay magazine + The Golden State...
Description
***THIS EVENT IS SOLD OUT***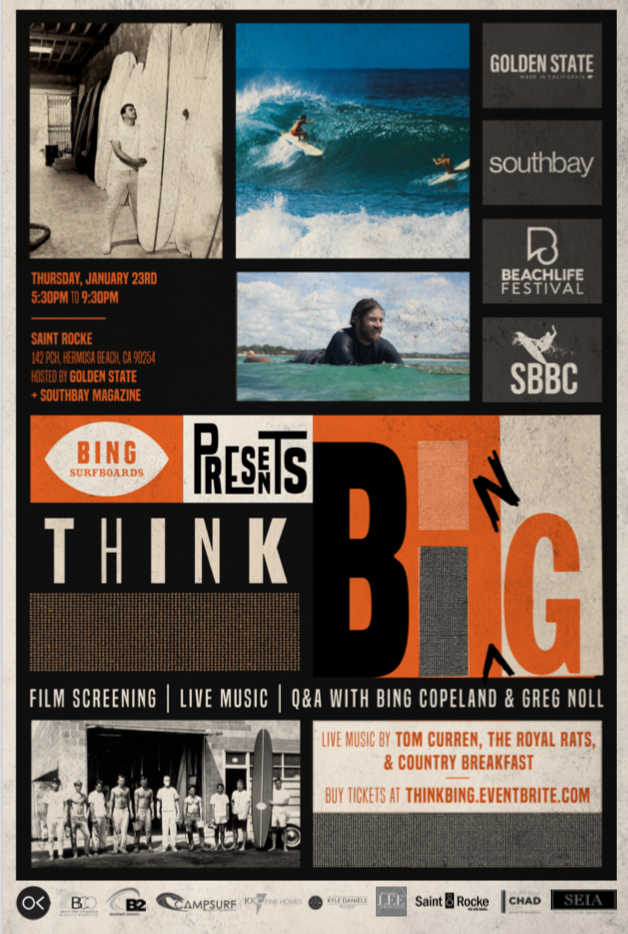 About the film:
The South Bay. Where names like Dewey, Noll, Doyle, Hap, Velzy and of course Bing Copeland are woven deeply into the fabric of our community. This past year marked the 60th anniversary of Bing Surfboards so we are rounding out the year with a film premiere here in Hermosa Beach where it all began to pay homage to one of the South Bay's greatest forefathers.
This 45-minute feature film will take viewers on the journey through the life of Bing Copeland and Bing Surfboards from the 60's in Hermosa Beach all the way to present day, the Calvani's and how Bing has become one of the leading surfboard brands globally.
Schedule:
5:30 – Doors
6:00 – Live Music w/ Country Breakfast
7:00 – Q&A with Greg Noll + Bing Copeland
8:30 – Film concludes
8:40 – The Royal Rats & Tom Curren
Thank you to our sponsors:
Beach Cities Orthopedics & Sports Medicine