Description
1-DAY LIVE WORKSHOP SESSION YOU'LL DISCOVER:


The exact steps to profit from your passion
What obstacles are stopping your from making more money and how to soar past the blocks to start bringing in more income.
How to get organized so you can increase income
How to take immediate action without being overwhelmed with fear or guilt.
How to add systems to your daily routine to streamline productivity.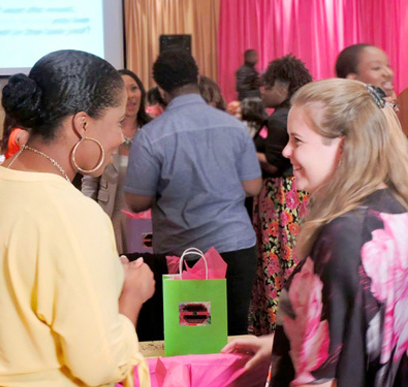 We're going to show you how to Think Big, take control of your life and discover fulfillment & Success like never before. This year the success tour is about speeding up your success, knowing exactly what small tweaks you must adapt to get big results.
Join us on tour and discover what social media has to do with your bottom line, learn the secret to overcoming stagnation in your marketing methods, getting the insider's scoop on how you become one of those people who have an overload of sales, clients, collaborations and offers!

What will you walk away with?
• A fun, exciting day of answers and insight
• Insider strategies–I'm showing you the exact way I manifest more in my business and personal life and…
• A step by step breakdown of Ariana's social media methods so that you can leave there and duplicate our processes right away.
• Six-figure strategies, ideas and actionable steps you can move on immediately and get results.

Oh yeah and if you're not clear on what to do next, what really makes money and how everything is going to work for entrepreneurs in 2017… Then for that alone, you need to grab your ticket and one for a friend, so you're not left out feeling fuzzy about your future and clueless about the new techniques tools in order to Succeed and play big!
Don't be left on the outside when you can be an insider who Thinks big, plays big and lives big.

Your business can have a bigger cash flow, bigger sales and bigger pay days when you attend the Think Big Success Tour 2017



WHO WILL BENEFIT MOST: entrepreneurs, creativepreneurs, mompreneurs, womenpreneurs, menpreneurs, coaches and consultants High-Potential Current and Future Executives, Business Owners. Stylists, bloggers, doctors, and other professionals. Do I have to have a business to attend the tour? We literally get this question every single day and the answer is no. While the tour stands as one of the most impactful events for small business owners, bloggers and creatives, you don't have to have an LLC to reap the benefits. All you need is a heartfelt desire to want to do better, become more and make a difference – and we will take it from there. Do you have a 1000 ideas but don't know how to convert them into a profitable business? Start with us at the next stop.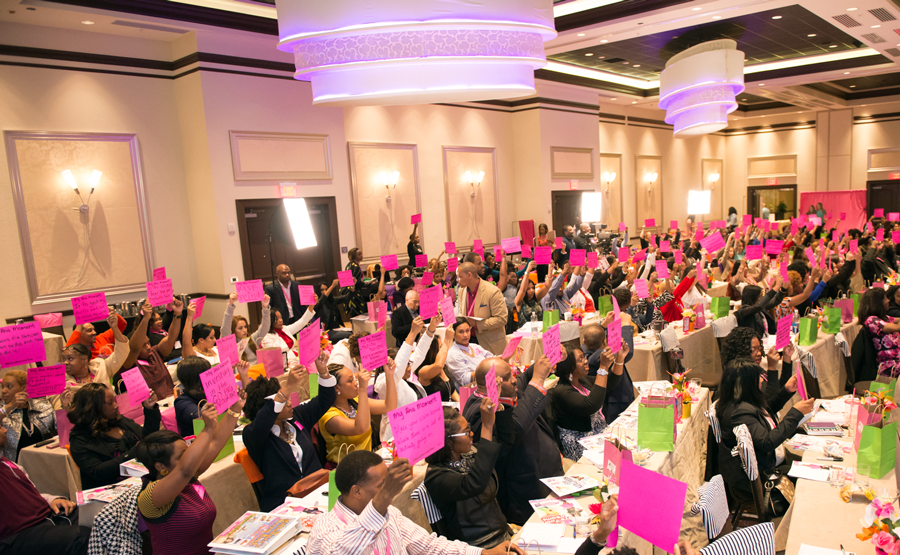 PREREQUISITES
• Ability to deal effectively with chaos and complexity.
• Conscientiousness.
• Desire to succeed.
• Emotionally fit.
• Open-minded.
• Risk-taker.
• Determination.
• Strong leader.
Team player.
Will to Win.

LIMITED SEATING: Please know that seating for this event is intimate and extremely limited...and seats are available strictly on a first come first served basis.

COST
• Regular Registration: $97 USD per Person.
• Registration includes all training materials and light refreshments.
Participants are responsible for their own travel, food, and lodging.

WORLD-CLASS SPEAKERS
Mother and daughter duo, Stacia Pierce and Ariana Pierce have taken on the entrepreneurial world together through their efforts in beauty, life and career coaching. They are experts in business and social media. Together they will help transform your business or ideas into tangible profits with a clear plan and all the tools needed to fulfill your dream life.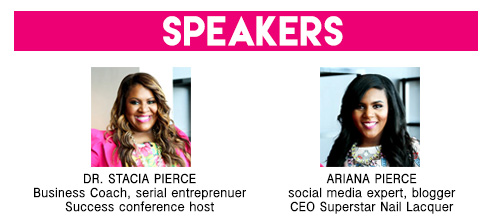 ATTIRE
Business casual.

DETAILS

Whether you've been in business for years and aren't making the money you desire, or you're at the idea stage – we'll help you with what to do next.
Don't miss your divine appointment to discover how to flourish in 2017
You'll feel loved, rejuvenated and empowered when you leave.
You'll stop wasting time and money trying to make old, outdated methods work in your business and life.
You'll finally leave with a solid plan to start achieving what you set out to do this year. So…
If you need marketing that speaks to your ideal client and converts…
If you need answers to how to Go Big in your business and life…
If you need to get away and be empowered to manifest your business dreams in 2017…
Then you owe it to yourself to meet us on tour. The excitement and energy is contagious. You'll finally leave with a solid plan to leverage what you were taught that day and take action. You'll also be equipped with a step by step process to think bigger and get to your next level of success.