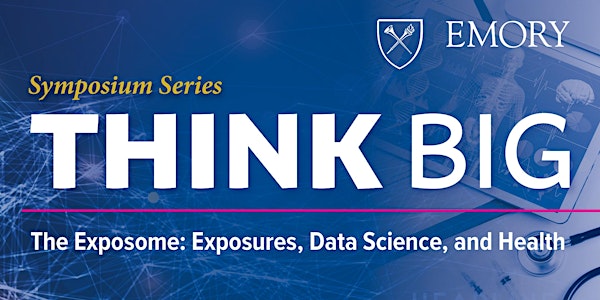 THINK BIG Symposium Series
When and where
Location
Emory University Rollins School of Public Health 401 Rollins Way Claudia Nance Rollins Building, Auditorium Atlanta, GA 30322
Description
*** CHANGE IN SCHEDULE ***
Due to the threat of freezing rain and ice, Emory is delaying opening until 12:00 noon on Monday, January 8, 2018. We must therefore alter our plans. We will be holding an abbreviated event starting at 12:30.
12:30 Introduction-Jim Curran and Gary Miller
12:45 Mike Snyder-Stanford University
1:30 Alison Motsinger-Reif-NC State
2:00 Discussion and wrap up-Lance Waller and Gary Miller
2:30 beat traffic
We will be scheduling a follow up meeting with our speakers from Emory and Georgia Tech.
Be careful in the morning.
Full program details are available on the Symposium website: http://thinkbig.emory.edu
Plenary Speaker: Michael Snyder, PhD
"Big Data and Health"
Stanford W. Ascherman Professor and Chair, Department of Genetics
Director, Center for Genomics and Personalized Medicine
Symposium Speakers: Alison Motsinger-Reif (North Carolina State University), Miriam Vos (Emory), and Melissa Kemp (Georgia Tech)
Exposome Data Sciences Workshops include case studies on: spatial data (Yang Liu, Emory), systems biology (Eberhard Voit, Georgia Tech), and cross-omics (Karan Uppal, Emory)
*Consider going "fragrance free" for HERCULES events: https://emoryhercules.com/news/fragrance-free/*