ThingsCon Salon Cologne: Objects, Materials, People.
When and where
Location
Die Wohngemeinschaft Richard-Wagner-Straße 39 50674 Köln Germany
Description
ThingsCon Salon Cologne v.1: Objects, Materials, People
ThingsCon is headed for Cologne with its first Salon coming up in April!
With ThingsCon we are creating a space for the exploration of a responsible, human-centric Internet of Things, a platform for the presentation of different approaches and projects and an opportunity for discussion. For the first time, ThingsCon will hit Cologne. For our first edition we will be joined by Iohanna Niceboim, David Grieshammer, and Alice Rzezonka.
Iohanna Nicenboim is a design researcher, focused on connected objects and their interactions in everyday life. Her practice often overlaps design, social science, and data; showing a critical and provocative approach towards technology, and the way it relates to society. She is currently working as a researcher at the TU Delft at the Connected Everyday Lab with Elisa Giaccardi. Her background is in Industrial Design from Bezalel Academy in Israel, and Digital Media Design from the UDK in Berlin. She received the 2015-16 Internet of Things Award for the Best Design Fiction project; as well as an Artis Grant for professional development, and the Polonsky Best Design Prize for her BA final project. Her work was presented at international exhibitions and conferences, such as FutureEverything and Transmediale. twitter: @iohanna_ed
David Grieshammer is an independent Interaction and UX Designer and a creative technologist. He works and explores interfaces for automotive systems, clinical interfaces and interactive applications alike. His focus lies on concept design, development and research on the intersection of humans and objects, intermediate objects, and physical computing. He is a lecturer for Interactive Design and Public Interest Design KISD Cologne, and Wuppertal University.
twitter: @LSA232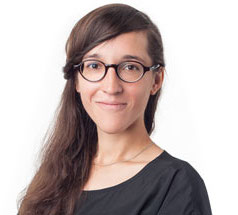 Alice Rzezonka is an assistant researcher and lecturer at the school of design and art of the University of Wuppertal. She works with students in the field of interactive media and is writing her PhD thesis on "in-forming material: new materials and informing processes". She investigates what design potential new materials (e.g. smart materials) offer in interaction processes. Her main interest is the interaction of information and material: how can information be conveyed through materials and, on the other hand, how does this process affect the information in turn. She will give a short intro into this topic and her progress status.
A huge Thank You to our friends at Denkwerk making the first ThingsCon Cologne Salon possible:

About denkwerk:
denkwerk is an owner-operated, award-winning digital agency with offices in Cologne and Berlin. We are a team of 180 thinkers and doers from 19 nations, with a proclivity for complex problems and simple solutions. Together we are on a mission to make the digital world more sensible, more beautiful, and more functional.
We will be with our friends at Die Wohngemeinschaft from 6pm on. Stay tuned right here and over at twitter for more! We look forward to seeing you there!
One more thing: ThingsCon Cologne will be a back-to-back event with an open workshop for citizens, exploring desirables futures for their everyday life in their family, as well as in Cologne, Europe. The outcome will be stories, prototypes, and artifacts - and will be presented hot off the press at our evening session!
If you want to learn more head right here and please feel free to join us. You're invited and we're happy to have you!