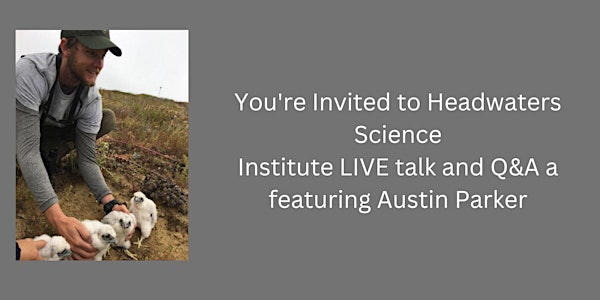 Things Worth Saving: Wildlife Stories From Around the World
Join us for a Special Virtual Presentation and Q&A with Austin Parker, President of Pelecanus.
By Headwaters Science Institute
Date and time
Thursday, March 30 · 5:30 - 6:30pm PDT
About this event
In this presentation, Austin will discuss stories of wildlife conservation around the world and the people dedicated to saving them.
Austin is an endangered species wildlife biologist in southern California and Resource Advisor for federal wildland fires. After working in conservation in Jamaica, Costa Rica, and Chilean Patagonia, Austin began working on habitat conservation and wildlife biology in southern California. Among other certifications, he holds US Fish and Wildlife recovery permits for California gnatcatchers, El Segundo blue butterfly, and Palos Verdes Blue Butterfly. He earned a Bachelor's degree in Environmental Studies from the University of San Diego and Master's degree in Biology from Miami University of Ohio via San Diego Zoo Wildlife Alliance and Project Dragonfly. He is Co-founder, President, and Podcast Host for Pelecanus, an environmental non-profit focused on the conservation field while aiming to show, through podcasts and video series, that not only is there something that can be done, it is being done by dedicated scientists who have made conservation their life.