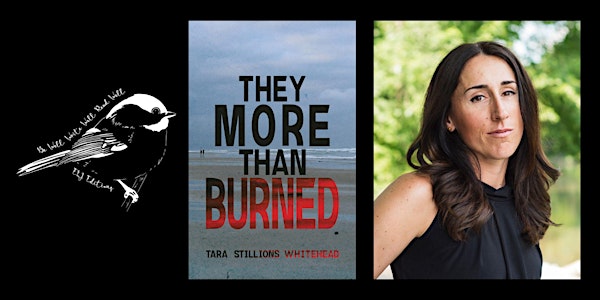 They More Than Burned by Tara Stillions Whitehead - Virtual Book Launch
ELJ Editions is excited to host this virtual launch for Tara Stillions Whitehead's THEY MORE THAN BURNED!
Date and time
Thursday, March 23 · 4 - 5pm PDT
About this event
Join us for a reading and Q & A celebrating the release of They More Than Burned by Tara Stillions Whitehead!
About the Book
Already listed on Small Press Distribution's best seller and recommended reading list, They More Than Burned is a novel in prose and script. Spanning twenty years and 2,900 miles of turn-of-the-millennium Southern California and present-day Central Pennsylvania, They More Than Burned explores the complicated process of translating memory to page and screen. Using film scripts, imaginary interviews, and a splash of speculative fiction, Stillions Whitehead creates a metaphorical archive of loss and hope for a generation unified by post-9/11 disillusionment. A feminist protest against Hollywoodized renderings of addiction, displacement, and recovery, They More Than Burned presents an anti-narrative condemning the industry's gross exploitation of personal trauma, suggesting that more than truth and integrity are at risk.
About the Author
Tara Stillions Whitehead is a filmmaker and writer from Southern California living in Central Pennsylvania. She is the author of the 2023 Aspen Words Award Nominated book The Year of the Monster (Unsolicited Press 2022) and the hybrid book/concept album Blood Histories (Galileo Press 2021). Her work has been nominated for Best of the Net, Best Small Fictions, the AWP Intro Journals Award, and the Pushcart Prize and has appeared in places like The Rupture, cream city review, Fairy Tale Review, and Cutleaf. Her essay, "The Mother Must Die and Other Lies Fairy Tales Told Me" was selected as notable in Best American Essays 2022, edited by Alexander Chee. She is Assistant Professor of Film, Video, and Digital Media at Messiah University.
Praise for THEY MORE THAN BURNED
"Whitehead spins epic stories of addiction and recovery in tiny spaces, recovered memories and lives over 20 years and 2,900 miles. The book's closing lines define its resonance: 'You will pick it up and hold it to your chest. You will scream my name.' Readers of this collection will do the same—hold the words close and remember her name." – Amy Barnes, author of Child Craft
"They More Than Burned is an incendiary archive: a collection of jagged memories that tumble and catch one another in the light, an unwinding a spool of film on fire. Whitehead narrates the fire of a burning world—Southern California wildfires, the burning of the Twin Towers, a house set ablaze and filmed—but the real fire in question throughout this book is the passion of this woman who, at sixteen, began to film a generation as it emerged in the shadow of these fires, a product of the gritty Southern California reality where parents are in prison, boys go from being anarchists to soldiers overnight, and going back to the beginning is painful because that's when everyone was still alive. To bring their lost faces to light, she persists refusing to be dimmed by exploitative Hollywood bosses, sleazy post-me-too producers, and addiction and its terrible consequences...
"Southern California's Gogol, Whitehead records the diary of not a madwoman, but a woman made mad. Watch as Whitehead burns it down, and rejoice at the power of her will and the power of her words." – Katie Farris, author of Standing in the Forest of Being Alive
"They More than Burned is a gritty and experimental book of prose where the light penetrates just enough through the darkness to let us know that if you look hard enough, through the cracked lens, there is a chance to venture out of the maze of the mind. Whitehead writes with pain—fed by pain—to gather a sense of clarity, and in this clearing, there is a gleam. She paves no roads for us to follow, for this amazingly unique array of words leave no traces—just ghostly memories inserted into the spectrums of time." - Shome Dasgupta, author of Cirrus Stratus
"Tender and unsparing, They More Than Burned feels a little like finding love at the end of the world." – Lannie Stabile, author of Something Dead in Everything
"Tara Stillions Whitehead's hot burning intensity brings the reader close—her breath is on every page of They More Than Burned—and we feel it, taste her desert air cardamom in every word. The direct speech, the second person, the way amber is so close to ember…Whitehead gratefully spares nothing to push us back at times, to let us have our heads while hers is spinning a sunrise a minute as she keeps the smallest heartaches in motion. Darkness, shame, grief, lust, and anger never had it so good." – Barrett Warner, author of Why Is It So Hard to Kill You?
Purchase the book at ELJ Editions or Amazon. (Book is on backorder and will become available to order through B&N, Bookshop.org, and at your local bookstore after 3/23.)