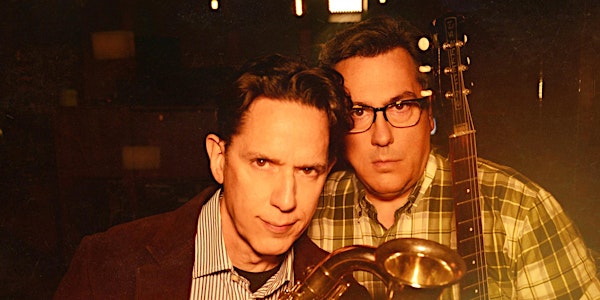 Event Information
Performers
Location
The Academy of Music Theatre
274 Main Street
Northampton, MA 01060
In honor of the album that made them an international act, TMBG is celebrating Flood's 30th anniversary by performing it in its entirety.
About this event
The They Might Be Giants show scheduled for March 27th at the Academy of Music in Northampton has been rescheduled to Sunday, September 18th. All tickets will be honored for the new date. If you have any questions or concerns or cannot make the new date, please contact the Academy of Music box office at boxoffice@aomtheatre.com or 413.584.9032 x105. If you wish to request a refund, you may do so until March 2 by completing this form. AFTER MARCH 2ND NO REFUNDS WILL BE HONORED.
REQUIRED: The Academy will hold all shows at full capacity.
THEY MIGHT BE GIANTS PRESENT 30th ANNIVERSARY FLOOD SHOW
In honor of the album that made them an international act, They Might Be Giants is celebrating Flood's 30th anniversary in 2020 by performing the album, in its entirety, on stages in select cities across the US. The show is "an evening with" and TMBG will play two full sets with their barnstorming live band featuring the show-stopping Curt Ramm on trumpet. How will it be presented? In sequence, in reverse sequence, alphabetical, or mixed into additional repertoire? It could be different on any given night. But, in addition to Flood, the song selection in the "evening with" show will span the band's entire career from early favorites to brand new tracks, as well as the live improvisations that have become a highlight of TMBG shows.
ABOUT FLOOD
Before Alternative Rock, when rock dinosaurs still roamed the earth, They Might Be Giants crawled out of the primordial performance art scene of the Lower East Side and on to the college rock scene with a series of breakthrough songs and best-selling albums. Vaulted into the national scene by a series of highly creative videos, the band ultimately garnered the attention of the powerhouse major-label Elektra Entertainment. Collaborating with British hit-makers Clive Langer and Alan Winstanley, as well as emerging indie engineers Roger Moutenot and Patrick Dillett, the band embarked on an album that would leave their lo-fi roots behind in exchange for a sonic adventure to be called Flood. Embraced by critics and audiences alike, the 19-song album would go on to go platinum and garner a clutch of timeless favorites for the band including "Birdhouse in Your Soul," "Your Racist Friend," "Istanbul (Not Constantinople)," "Particle Man," "Dead," and many others.
SOME MORE GOOD NEWS IN BAD TIMES FROM THEY MIGHT BE GIANTS
In August, TMBG offered up a special limited edition benefit t-shirt with 100% of profits going to RAICES, a Texas legal team aiding separated families and detained minors seeking asylum in the US. Over the course of a wild month, the TMBG fan community raised $60,000. In the last days of the fundraiser, John Flansburgh accidentally auto-filled an email address meant for a Jeff on the band's road crew with Jeff Lawson, the founder of Twilio, who had hosted the band at a company event a few years back. Jeff mentioned he was encouraged by the band's effort to raise money to end this harrowing episode and he offered to match any funds raised by the band. This, in turn, led to a whole new wave of interest on social media, ultimately bringing the total money raised to $200,000. (Yes, the band raised $200,000 for a very good cause by selling t-shirts!)
This show is for ages 16+
Performers
Date and time
Location
The Academy of Music Theatre
274 Main Street
Northampton, MA 01060
Refund policy