Description

Red Bull Thre3Style gives highly skilled DJs a global platform to showcase their skills, battle and gain notoriety by rockin' the dance floor.
Unlike other DJ battles that are based on solely technical aspects, Red Bull Thre3style has a creative and original format that seeks to find the DJ that has best perfected the true art of rockin' the party. Competing DJs are given 15 minutes and the challenge to play three different genres of music while keeping the crowd rockin' on the dance floor. A panel of music industry judges will select the winners based on track selection, creativity, mixing skills, stage presence and crowd reaction. Whoever is named best on the decks gets bragging rights, a prize purse, and advances to the next step on the road to the world finals.
Event schedule, updates and music from past competitions can be found at http://www.redbullthre3style.com/usa.
Participants
Born, raised and still residing in Brooklyn, DP One has spent most of his life immersed in Hip Hop. As a DJ, b-boy and even occasionally lacing the mic with some rhymes as an emcee, he puts an immense amount of effort into keeping Hip Hop moving in a positive direction. Besides spinning at parties and b-boy jams around the NYC area as an active member of the Heavy Hitters and Turntable Anihilists, he serves as a resident DJ of two internet radio shows, and has toured internationally with notable artists such as Lauryn Hill, Estelle, John Legend, J-Live, Q-Unique and Wordsworth. He has also been involved in various high-profile events such as the first Red Bull BC One battle in North America, which was held in NYC and hosted by KRS One.
Obey City
Brooklyn-based producer/DJ, Obey City combines elements of R&B , house and hip-hop to create a lush and hybrid club sound. Obey (pronounced oh-bee) first and foremost represents Astro Nautico, the Brooklyn-based digi-label/blog/party that he co-founded in 2009 along with Kuhn and Paul Jones. He has played for crowds across the US and in Europe and is currently working on a debut EP for LuckyMe to be released in 2013.
Esquire | twitter | soundcloud
Hailing from Brooklyn, NY, DJ Esquire has 18+ years of DJ experience consisiing of live performances, radio shows, various clubs/lounge residencies and countles DJ competitions in the US, Canada and Euripe. Esquire has performed on the same bill with acts such as Run-DMC, Kanyes West, Metallica, Pearl Jam, M.I.A., Chris Rock, DJ Tiesto, etc. DJ Esquire recently won the 2012 DMC U.S. Supremacy Championship. The prestigious competition took place at Le Poisson Rouge in NYC on 6/23/12.
Zeke | twitter |
This versatile Sagittarius is becoming his own enterprise as each day passes. He was born and rased in the home of the Wu-Tang Clan, Park Hill Projects of Staten Island, New York. He managed to persevere and become both a college graduate and an aspiring entertainer. DJ Zeke's versatality has allowed him to become a headlining DJ for many eventsa across the east coast. Zeke states, "when a person can apply their passion to their lives, it becomes more play than work, and only then can a person become whole... Being a DJ is also being both a student and a teacher. You learn to incorporate the various styles of performing while also being given the opportunity to leave your own impression on the lives you encounter."
Austin Millz | twitter | soundcloud
Young Producer/DJ from Harlem, New York. Armed with a PC and an impeccable ear, he taught himself how to use Fruity Loops and first began producing in his teenage years. He also proved himself to be more digital - as a musician he played the saxaphone. After a short production hiatus to attend and graduate from Penn State University, Austin made his return to the game. At the top of 2012, he released his debut instrumental beat tape, which got notoriety from the internet blogs and influential bloggers and landed a ton of media outlets such as Complex Mag.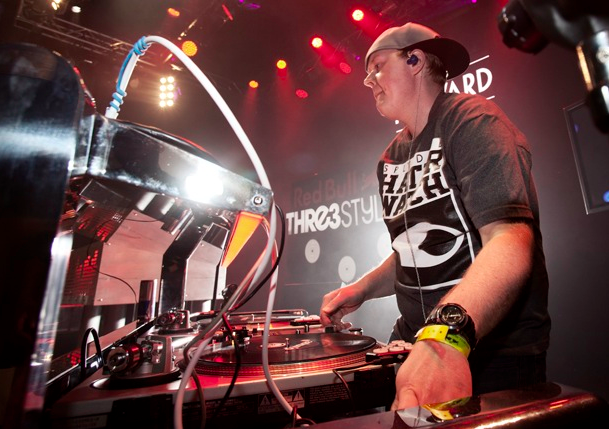 Judges
mOma | web | soundcloud
Statik Selektah | web | twitter
Host
Venue
Le Poisson Rouge
158 Bleecker Street New York, NY 10012

Doors @ 11pm
Event starts @ midnight
21+
#RB3style on Twitter
Follow Red Bull NYC on Twitter: @redbullNYC