Description
Join us for the next conference in our virtual event series - THEXCHANGE: Infrastructure. This event will explore how IT infrastructure is evolving to keep pace with digital transformation, new technologies, and processes such as the Internet of Things (IoT), Artificial Intelligence (AI), and the necessity of keeping up with consumer demands.
Register and gain access to all of these sessions: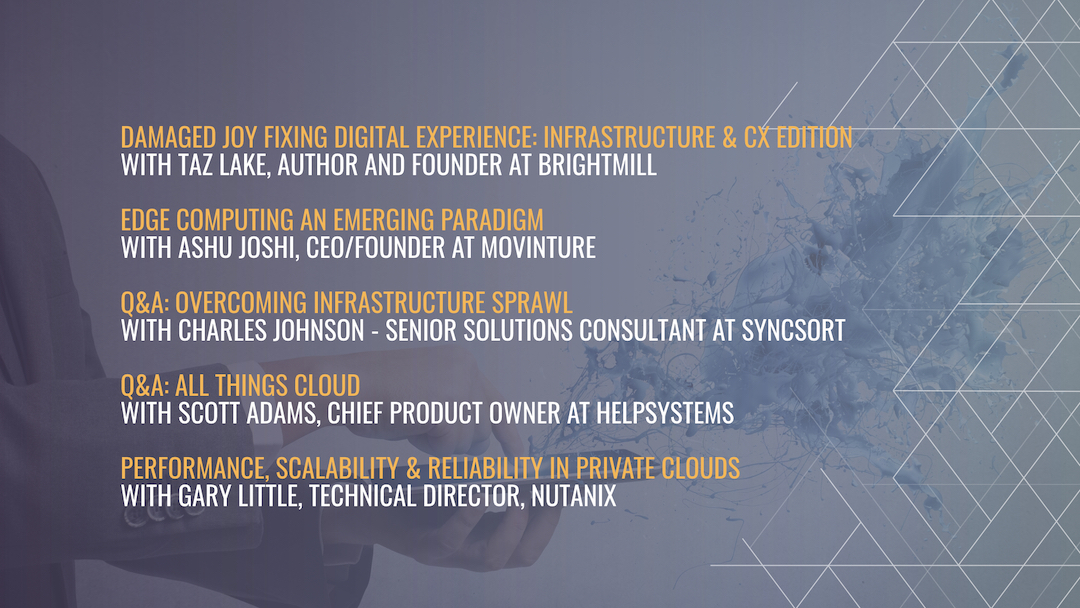 Speakers/Sessions:
Speakers/Sessions:
Damaged Joy – Fixing Digital Experience: Infrastructure and CX Edition with Taz Lake, Author and Founder at Brightmill | 10:00 AM
If you thought CX (Customer Experience) was just about a fancy retail store or a pretty website, you may be surprised. Infrastructure plays a critical role in gathering insights and building interactions with your customer. Through real-life examples, we will explore those, as well as the risks inherent in infrastructure dependencies, availability, and scalability. We will see how service delivery may be impacted and touch on the role of AI and Machine Learning in supporting infrastructure and better customer experience.
Q&A: All Things Cloud with Scott Adams, Chief Product Owner at HelpSystems | 11:00 AM
Organizations today are not just playing with on-prem and private data centers. Many are taking advantage of the benefits of working with public cloud providers for certain applications. In this session, Scott Adams will talk about IT infrastructure and how data obtained from capacity planning tools can help in their future technology purchases in the cloud.
Edge Computing – An Emerging Paradigm with Ashu Joshi, CEO/Founder at Movinture | 12:00 PM
The history of computing has gone through many phases. The early days of computer technology were dominated by physically large, centrally located mainframes, with thin terminals used by end-users. This centralized model migrated to mini-computers. The late 1980's till early 2000s saw a shift where compute and storage became decentralized (and kind of local) with Desktop PCs and smaller and more powerful servers. The last decade has moved to a centralized model where computing, storage, and network have moved to the Cloud. This session covers an emerging paradigm - Edge Computing - where elements of computing, storage, and network are being moved closer in proximity to where these functions are best performed. We are in an era where Data is the new Oil. Edge computing brings compute (and to a certain degree storage & network) closer to where the data is being produced. Think of sensors producing a deluge of data. This session will provide an overview of how Edge Computing is going to impact and benefit from machine learning, distributed computing, IoT, decentralized technologies (like blockchain and distributed ledger) and hybrid computing.
Q&A: Overcoming Infrastructure Sprawl with Charles Johnson - Senior Solutions Consultant at Syncsort | 1:00 PM
As an organization grows and evolves over time, IT infrastructure sprawl can become a time consuming and costly. In this session, Charles Johnson will explore some of the biggest causes of this sprawl and how AI and Machine Learning are being integrated into infrastructure management.
Performance, Scalability and Reliability in private clouds with Gary Little, Technical Director at Nutanix | 2:00 PM

Private infrastructure is undergoing a renaissance in design and operation. A

cloudification

of the datacenter

for want of a better word. Hyper-Converged-Infrastructure (HCI) is a key component of such transformation. In this session you will learn about HCI and the evolution of private cloud operating systems. We will show how distributed systems techniques, honed in public clouds enable

private

clouds that are high performance, scalable and resilient. Take a look under the covers to discover how the cloud is made.
---
FAQs
What's the refund policy?
There are no refunds for this event but registrations are transferable.
How will I join the event?
Instructions for joining this online event will be provided to registrants in their confirmation email. Additional information will be emailed leading up to the event.
Date and Time
Refund Policy