Sales Have Ended
Ticket sales have ended
Uh, oh! Looks like ticket sales are over!
Sales Have Ended
Ticket sales have ended
Uh, oh! Looks like ticket sales are over!
Description
These Men Want You to Succeed
Women's leadership is not just an opportunity for women. Support from the men in your organization is a critical component to success. Men also lose out when workplaces are gender-biased. How do we leverage the unique insights men offer about career experiences, engage one another as full partners in creating gender-inclusive workplaces, and create solutions rooted in a holistic understanding of how gender affects men's and women's behaviors and outcomes in the workplace? We aim to find out at this event.
We've invited Silvio M. Coccia, Director of Hospitality & Consumer Sales at Jarvis Estate, Brian Kelleher, VP of Sales and Marketing at Pahlmeyer; Michael Silacci, Winemaker at Opus One; and Larry Smith, SVP of Human Resources at Jackson Family Wines—all of whom actively support and encourage women's success in this industry—to answer some burning questions on our panel discussion. Leading the discussion: Member Joan Toth will serve as our panel moderator. Previously the President and CEO of the Network of Executive Women, Joan now leads diversity and inclusion practice at Simpactful.
Join us for an enlightening evening of lively discussion, education, and (of course) celebration for the progress women have made in their wine careers with the fabulous sparkling wine at Gloria Ferrer Caves & Vineyards.
LEARN
How other women in business have affected the male panelists' careers and how they influenced them

Some of the "unwritten" rules of success that women need to know about

Essential things women need to focus on to advance to senior levels

What communications techniques women can adopt to make themselves better understood in what continues to be a male-dominated workplace
AGENDA
6-6:30p | Sparkling wine reception and networking (bring a stack of your cards!)

6:30-8p | These Men Want You to Succeed, panel discussion

8-8:30p | Q&A, Closing remarks and wine purchases
WHO YOU'LL HEAR FROM
Joan Toth, Moderator
Joan Toth is a purpose-and-performance-driven leader, with extensive background and demonstrated success in for-profit and non-profit services in consumer-packaged goods services and related retail industries. She leads the diversity and inclusion practice at Simpactful, a consulting firm that develops real-world, actionable strategies primarily for companies in consumer goods and services and retail. For 14 years, Joan led the Network of Executive Women, the retail/consumer goods and services industry's most influential mission-driven organization. She has extensive experience in diversity & inclusion work, development of startup business operations, program and content development, and ensuring financial sustainability and long-term growth. She is adept at leading cross-functional teams and managing multiple stakeholders including boards of directors, Fortune 500 corporate partners, staff, and members, while ensuring delivery of innovation, member/customer value, strong P&L, financial stability and resources for growth.
PANELISTS
Silvio M. Coccia, Director of Hospitality and Consumer Sales, Jarvis Estate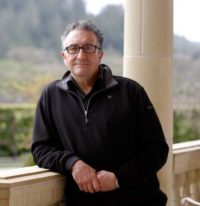 Sil began his career in the pharmaceutical industry with what is now Novartis, as a sales representative in Philadelphia. His last position at Novartis was Regional Director for the Specialty Sales Division—the first proprietary part-time pharmaceutical sales force that was comprised of 90% women.
After a two-year stint as National Sales Director for Sola Optical USA in Petaluma, Sil joined R&D Laboratories, Inc. (R&D), a small, start-up specialty pharmaceutical company based in Marina del Rey, CA as Vice President of Sales & Marketing. R&D grew over 600% during Sil's tenure, and the company was named to the Inc. 500 list of the fastest growing privately held companies for three consecutive years in 1994, 1995 and 1996. R&D was eventually sold to Watson Pharmaceuticals.
In 1997 Sil established Sonoma Marketing Consultants, Inc. (SMC) a firm that that capitalized on his experience in pharmaceuticals to provide strategic and market planning and business development services to healthcare companies. Sil left the pharmaceutical industry in 2001 to pursue endeavors in several small startups.
Sil began a new career direction in the wine industry at Benziger Family Winery and was appointed to Director of Retail Sales, a position he held until leaving in mid-2011. He continued to be a retained consultant in the wine industry until late 2012 when he joined forces with his wife, Eileen to form ESC Appraisals. Sil became an experienced and qualified personal property appraiser specializing in fine art, fine wine, antiques and collectibles.
The wine business came calling again and Sil joined Ferrari Carano, managing all retail sales operations for the main destination property, Villa Fiore, as well as for Seasons of the Vineyard on the Healdsburg Plaza and Lazy Creek Vineyards in Philo. He moved on to Jarvis Estate, a Napa based small production, ultra-premium winery in 2016 as Director of Hospitality & Consumer Sales—the position he currently holds today.
For fifteen years, Sil coached girls' basketball at Sonoma Valley High School, the last 12 as Varsity Head Coach. During his tenure the Lady Dragons won 3 Sonoma County League championships and Sil was named SCL Coach of the Year 3 times and Redwood Empire Coach of the Year twice. He has a Bachelor of Arts degree from the University of Pennsylvania in Philadelphia and completed the Secondary School Teaching Credential program at Sonoma State University.
Brian Kelleher, Vice President, Sales and Marketing at Pahlmeyer Winery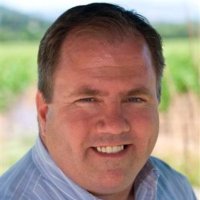 How did we know Brian would make an excellent panelist? Nearly all of his testimonials on LinkedIn were from women colleagues and clients. Jennifer Graycheck said "…he inspired me to reach beyond my comfort zone and helped me develop into a productive member of his team…He works with his team and leads by example." In addition to supporting women achieve their business goals, Brian develops sales and marketing organizational structure. He recruits, hires, trains, aligns, and manages the performance of sales and marketing personnel. He is proud to foster a motivating and competitive culture. Prior to his tenure as VP of Sales and Marketing, Brian served as Director of Commercial Sales for Pahlmeyer Winery and Wayfarer Wines.
Michael Silacci, Winemaker, Opus One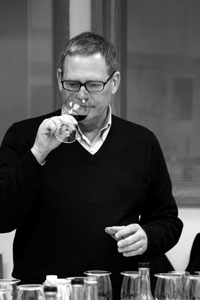 Michael Silacci didn't know what he wanted to be when he grew up. So he took a couple of years to travel through Asia and Europe to window-shop for a profession. When he arrived in France, his knowledge of French was limited to "bon voyage". Someone suggested that if he wanted to eat well, speak French, and earn some francs, he should harvest grapes. Long lunches in the vineyard and fine wine were all it took to lead him down the path to winemaking— and a life spent walking among the vines.
Assuming full responsibility for all aspects of vineyard management and winemaking, Michael was named Winemaker at Opus One in January 2004. He has been at Opus One since March of 2001, first serving as Director of Viticulture and Enology.
Prior to his current appointment, Michael spent six years as winemaker at Stag's Leap Wine Cellars, one year as winemaker at King Estate in Oregon, and six years at Beaulieu Vineyard as enologist and viticulturist. He has also made wine in France and Chile. He holds a master's degree in viticulture from U.C. Davis in addition to under-graduate degrees in enology and viticulture from U.C. Davis and the Université de Bordeaux.
Embracing a holistic vision of winegrowing as the ultimate expression of terroir, Michael ensures that the connection between viticulture and winemaking at Opus One is seamless, reflecting the philosophy of founders Baron Philippe de Rothschild and Robert Mondavi.
Opus One produces ultra-premium wines at its Napa Valley winery in Oakville, California. The 2014 vintage is distributed in all 50 U.S. States and 90 countries worldwide.
Larry Smith, Senior Vice President Human Resources, Jackson Family Wines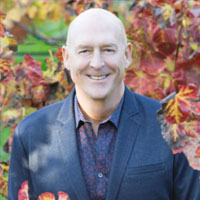 Larry was recommended to serve on this panel by a number of folks participating in a lively Facebook thread on this very topic. Many said Larry would be ideal to speak to women about leadership and advancement of their wine careers. He was gracious enough to accept our invitation. He's been the Senior Vice President Human Resources for Jackson Family Wines since 2014. Prior to his current role, he's held executive HR and Operation's roles internationally and domestically in B2B, Fashion, Branding and previously in the Wine Industry.
Prior to his corporate career, Larry served fifteen years as a U.S. Army officer with tours at the Pentagon, N.A.T.O Headquarters in Brussels and the Command & General Staff College.
Larry offers this simple HR philosophy: "To be effective in influencing others one needs intellectual curiosity, credibility, integrity, and conscious caring—traits I endeavor to demonstrate and nurture in others."
Having worked in two international companies—including a matrix organization—I have developed a management style based upon: careful listening; proactive communication; a collaborative approach to problem solving; team building through leadership; and results oriented execution.
Although my primary executive management is HR, the fact that I have managed operations in addition to human resources has provided me an extensive understanding of line management's challenges and needs, thereby giving me greater credibility with other business partners, especially in regard to training and professional development.
Lastly, I've always adapted my leadership and communication style as required by the complexity of the situation or cultural environment. To be effective in influencing others one needs credibility, integrity, and conscious caring, traits I endeavor to demonstrate and nurture in others."
We hope you'll join us for this educational and informative event!
Please arrive promptly to respect all attendees' valuable time.
Be sure to bring your own questions for our panelists.
Organizer of These Men Want You to Succeed

WINE WOMEN was formed as a 501(c)(3) non profit, professional trade organization in 2016. Its mission is to champion the advancement of women's careers in the wine industry by building strong relationships, essential business skills and leadership among members.
The North Bay organization is focused on advancing women's professional careers in the wine industry by fostering and nurturing talent, providing networking and training opportunities, as well as advocating for better opportunities for women in this industry.
For more information, visit our website at: http://WineWomen.net