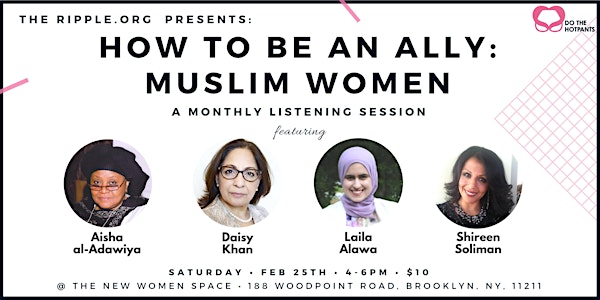 TheRipple.org Presents, How to be an Ally: Muslim Women
When and where
Location
New Women Space 188 Woodpoint Road Brooklyn, NY 11211
Description
HOW TO BE AN ALLY is a new monthly series from The Ripple!
Please join us this month as we highlight the voices of Muslim Women!
Event is open to all ages, genders and religions.
Our incredible speakers are:
Aisha al-Adawiya, Founder of Women in Islam, Inc. and represents Muslim women's Non-Governmental Organizations at United Nations forums. al-Adawiya coordinates Islamic input for the Preservation of the Black Religious Heritage Documentation Project of the Schomburg Center for Research in Black Culture.
Daisy Khan, Founder and Executive Director of WISE (the Women's Islamic Initiative in Spirituality and Equality), a women-led organization committed to peacebuilding, equality and justice for Muslims around the globe. Khan has appeared on CNN, Al Jazeera, and BBC World's Doha Debates, and has appeared in publications such as Time Magazine, Newsweek, Chicago Tribune, The New York Times, Frankfurter, and The Khaleej Times.
Laila Alawa, Founder and CEO of The Tempest, the global tech & media company changing the narrative of diverse millennial women in the world. Prior, Alawa worked at the White House and Congress, and has been quoted in nationwide outlets like The New York Times and CNN Money as a disruptive force in media.
Shireen Soliman, Artist, Designer, and Adjunct Professor at Parsons, the New School for Design, & Pratt Institute. Soliman is Chair of the Board of Turning Point For Women and Families, a community based, non profit organization addressing the needs of Muslim women and children.
---


Do you offer Financial Aid?
Yes! For those in need of financial assistance, The Ripple always offers a Financial Hardships Program. Please contact us at Finance@TheRipple.org for more information.
---


What is The Ripple?
The Ripple is an intersectional women's collective founded by Dana Suchow and Rachel Cargle,
At The Ripple, we believe that empowered women are the key to America's future.
Women have been completely disenfranchised in our society, and while not all disenfranchisement is equal, it doesn't make any single woman less valuable or worthy. Waves start from ripples, and The Ripple is about empowering women to make waves in their communities through meaningful and lasting change.
www.TheRipple.org
Please email Events@TheRipple.org if any questions.