Location
The 3rd Floor
4610 Mission Street
take a guess
San Francisco, CA 94112
Refund policy
Contact the organizer to request a refund.
Eventbrite's fee is nonrefundable.
The 3rd Floor presents cellist, vocalist, composer and improvisor Theresa Wong!
About this event
The 3rd Floor is excited to present Theresa Wong and her amazing collaborators.
Three nights of experimental , exploratory, boundary expanding music.
Thursday, June 23rd
Theresa Wong - cello & voice
Chris Brown - keyboards & electronics
Friday, June 24th
Theresa Wong - cello & voice
Kanoko Nishi-Smith - koto
Kevin Robinson - woodwinds
Saturday, June 25th
Theresa Wong - cello & voice
Gabby Wen - guqin & electronics
Sophia Shen - pipa & electronics
Doors Open at 7:00
Show at 8pm
Two Sets
Free Parking
$15 Eventbrite+tax / $20 at the door
*Masks are required to be worn in the venue for this event*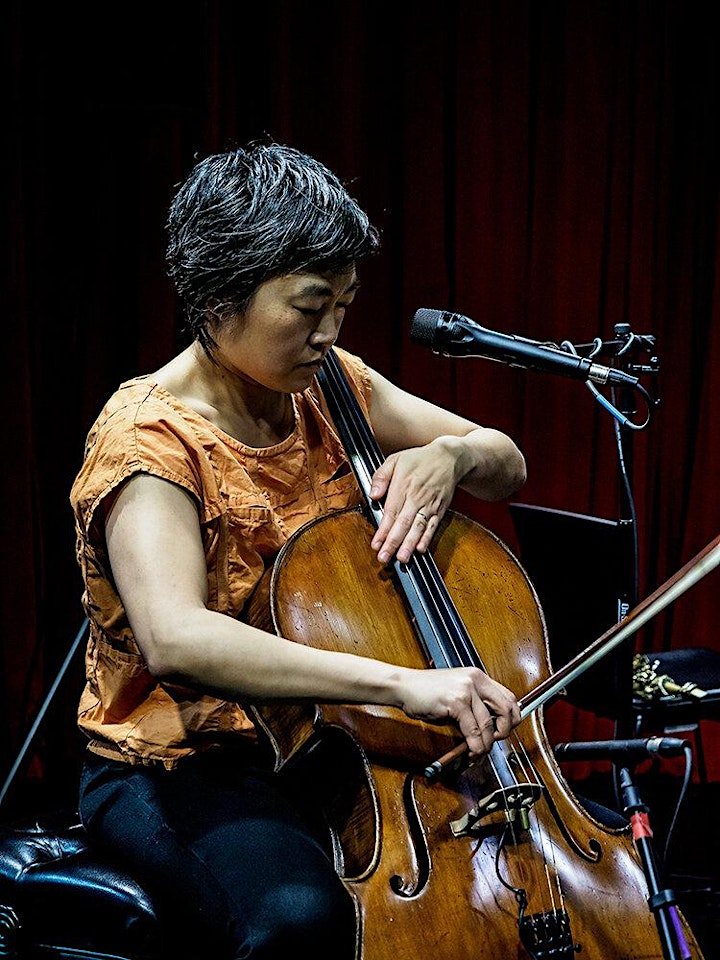 Photos by Peter Gannushkin
Theresa Wong is a composer, cellist, and vocalist active at the intersection of music, experimentation, improvisation, and the synergy of multiple disciplines. Following inquisitive paths into song forms, just intonation, and visual media, her primary interest lies in finding the potential for transformation for both the artist and receiver alike.
Her works include As We Breathe, an installed song commissioned by Long Beach Opera for the 2020 Songbook, She Dances Naked Under Palm Trees, commissioned by pianist Sarah Cahill for The Future Is Female project, and Harbors, co-composed with Long String Instrument inventor Ellen Fullman and chosen as one of Wire's top 50 releases of 2020. Her multi-media piece, The Unlearning (Tzadik), 21 songs for violin, cello and 2 voices inspired by Goya's Disasters of War etchings premiered in 2013 at Roulette in Brooklyn and was also presented at the 2016 New Frequencies Festival at Yerba Buena Center for the Arts in San Francisco. Current and past commissions include works for San Francisco Girls Chorus, McEvoy Foundation for the Arts, Splinter Reeds, Vajra Voices, and Del Sol String Quartet.
She collaborates with many singular artists, including Fred Frith, Luciano Chessa, Annie Lewandowski, Chris Brown, Frantz Loriot, John McCowen, Søren Kjærgaard, Carla Kihlstedt, and filmmaker Daria Martin. In 2018, Wong founded fo'c'sle, a record label dedicated to adventurous music from the Bay Area and beyond, featuring inaugural releases by Ellen Fullman with David Gamper and Stuart Dempster, Chris Brown, Powerdove and the Lijiang Quintet.
She has shared her work internationally at venues including Fondation Cartier in Paris, Cafe Oto in London, Festival de Arte y Ópera Contemporánea in Morelia, Mexico, The Stone in New York City and Centennial Hall in Sydney. Wong is a Civitella Ranieri Foundation Fellow and has also been an artist-in-residence at the Headlands Center for the Arts, Lijiang Studio and Yaddo. She currently works and resides in the San Francisco Bay Area.
Chris Brown composer, pianist, and electronic musician, makes music with self-designed sonic systems that include acoustic and electroacoustic instruments, interactive software, computer networks, microtonal tunings, and improvisation. His compositions are designs for performances in which people bring to life the musical structures embedded in scores, instruments, and machines.
Kanoko Nishi-Smith is a performer currently based in SF/Bay Area. Though classically trained on piano, receiving a BA in Classical Music Performance from Mills College, her recent interest has primarily been in performing 20th century and contemporary musical compositions for piano as well as for koto (Japanese 13-string zither), and free-improvisation in various different contexts, with musicians, as well as dancers, poets, and visual artists.
Kevin Robinson is a performer-composer, educator, and multi-woodwind instrumentalist who explores various interdisciplinary approaches to composition and improvisation. He is a native of Baltimore, MD, and is currently based in Oakland, CA.
Sophia Shen is an award-winning composer, sound artist, pipa performer and improviser currently based in the San Francisco Bay Area. Her music often bridges the divide between cultures and breaks boundaries between subjects. She incorporates pipa in many of her works, acoustically and electronically, as an artistic expression to facilitate cross-cultural and interdisciplinary dialogues.
Born 1995 in Toisan, Canton, raised in Shenzhen, currently live in Oakland, CA, Gabby Wen is an electroacoustic music composer and improviser, working with synthesizers, electronics, guqin, field recordings, and miscellaneous instruments and objects to create captivating auditory experiences and narratives. Gabby works towards bringing aesthetics and musical traditions that are valuable but overlooked to the forefront of the improvised music scene.
The 3rd Floor is a new arts and performance space co-organized by Clarissa Dyas & Jakob Pek. Check us out @the3rdfloorsf