Therapy, Training, Coaching, Consultation, and Services

Daily Event: 9:00 AM to 4:00 PM (CST)
Event Details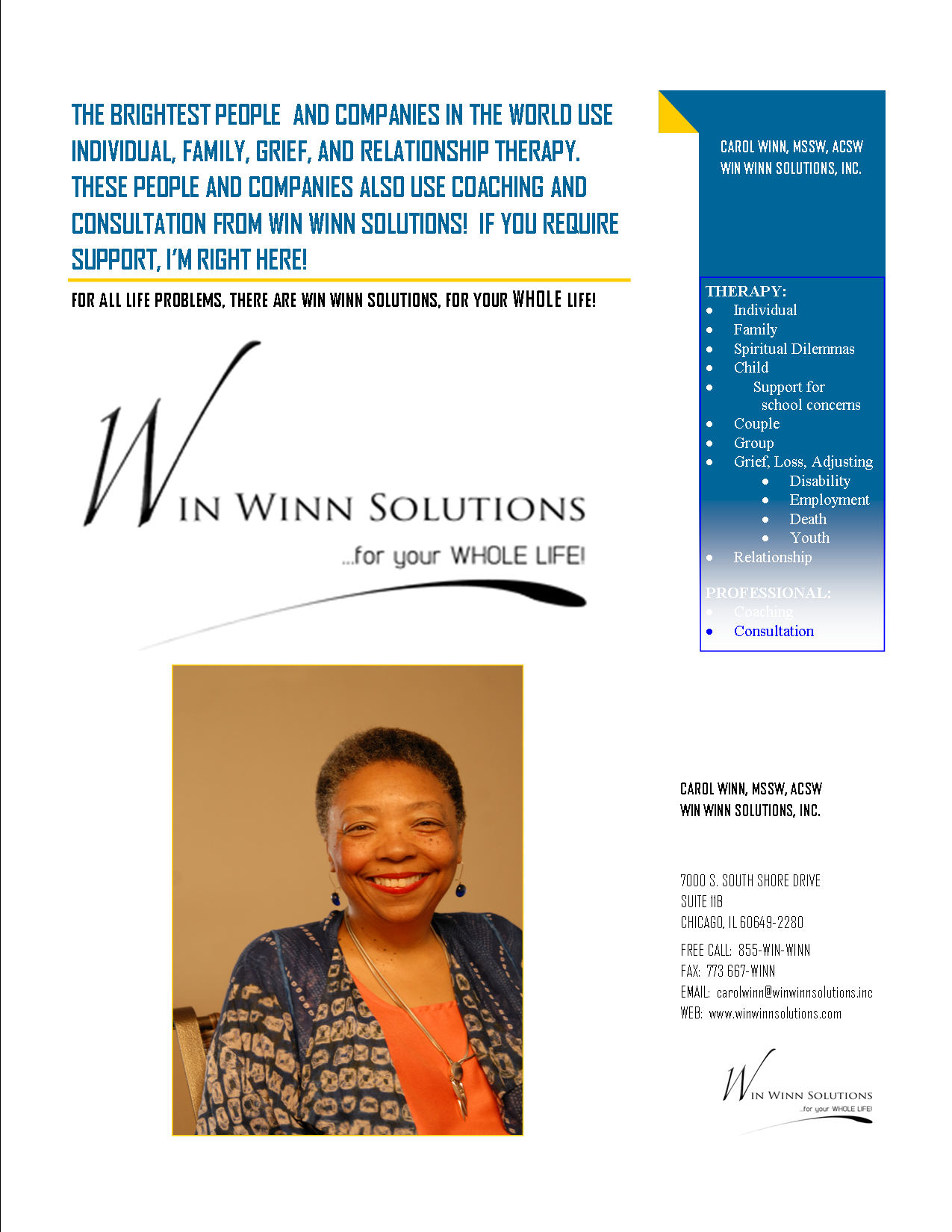 Where
WIN WINN SOLUTIONS, INC.
7000 S. South Shore Dr., Suite 11B
Chicago, IL 60649


Daily Event: 9:00 AM to 4:00 PM (CST)
Add to my calendar
Organizer
WIN WINN SOLUTIONS, INC.
WIN WINN SOLUTIONS, INC. was founded in 2001 as A SPARK SEMINARS, INC., inspired by the campfire song, "It only takes a spark to get a fire going...", which always encouraged my belief that you can create change for the good by doing something for the common good.  Social Work is such a vehicle for good, so I wanted a business that would expand Social Work to do more than what the constructs of  organizations had the time to do.                              
Therefore, WIN WINN SOLUTIONS supports the work of social services towards the highest potential of its clients and the professional staff who serve them, providing:              
1.  Staff development, for all levels
2.  Client development, for all levels
3.  Human enrichment coaching and seminars, for all people of all ages
4.  Community organization, for all neighborhoods
5. Professional integration facilitation, with all professions
A core belief of WIN WINN SOLUTIONS, INC. is that if we stay together, no matter how complex the problem or conflict, the potential for a WIN WINN SOLUTION exists, and not only that, is highly possible.
Bountiful Blessings,                                 Carol Winn, President                                       WIN WINN SOLUTIONS, INC.
Therapy, Training, Coaching, Consultation, and Services