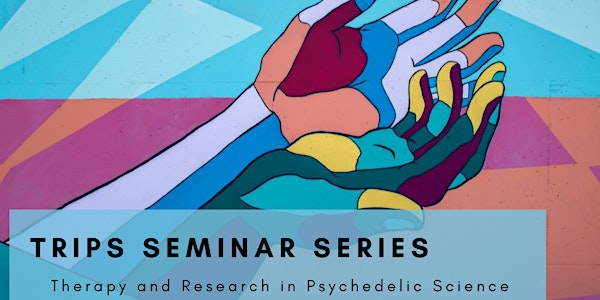 Therapy and Research in Psychedelic Science (TRIPS) Seminar Series
TRIPS focuses on educating healthcare professionals about the latest innovations in therapy and research in psychedelic science.
About this event
TRIPS seminar series hosts speakers discussing scientifically-oriented presentations and discussions about psychedelics to educate healthcare professionals. This series was created to guide healthcare providers and students preparing to be professionals towards the most relevant, pragmatic, and essential information about psychedelic-assisted therapy, changing legal statuses, and harm reduction approaches in order to better serve clients and communities.
This seminar series is a fundraiser for our clinical trial of MDMA-assisted psychotherapy for social anxiety disorder that Portland Psychotherapy investigators plan to begin in the Fall of 2021. All proceeds after presenter remuneration will go to fund this clinical trial.
These presentations are hosted through Zoom. Each presentation will be approximately 30 minutes with a 30-minute discussion afterward. Presentations will be recorded and sent to anyone who registers for the event. The recording will be available for 30 days after it has been sent to registered attendees.
Cancellation Policy: We charge a $10 administration fee for cancellations made by participants more than two weeks before the training event. For cancellations within two weeks of the training event, we will refund 50% of the tuition after subtracting the administration fee. Alternately, participants may elect to apply 100% of their tuition to a future TRIPS training event. No refunds will be given after training events.
Upcoming Events:
____________________________________________________________________
May 13th, 2022 - Implementing Culturally-Attuned & Anti-Racist Psychedelic Therapy: Impact over Intention with Jamilah R. George, M.Div, M.S. (Rescheduled from December 2021)
As the field of psychedelic science continues to expand, psychedelic-assisted therapy is gaining an evidence base for its potential to treat a range of mental disorders. However, psychedelic science runs the risk of inflicting harm upon Black, Indigenous, and people of color (BIPOC) if it becomes widely accessible without acknowledging and dismantling the cultural insensitivities and historical exclusion embedded within it. This presentation will first briefly review the field of psychedelic science as it relates to limitations regarding cultural attunement and humility. It will also highlight the legacy of racism and exclusion of BIPOC in both the historical and present context of psychedelic treatment. Finally, the presenter will explore the implementation of treatment approaches that are intentionally culturally attuned and anti-racist as informed by an emotional harm reduction and social justice lens. *Note: Attendees are strongly encouraged to engage in discussion as much as possible and come prepared to practice transparency and vulnerability in a safe space designed to facilitate psychedelic therapy that is more accessible and equitable for everyone.
Jamilah R. George, M.Div., M.S. (pronunciation: Juh-MEE-luh), a native of Detroit, MI, obtained dual bachelor's degrees from the University of Michigan and her master's from Yale University. She is now a Clinical Psychology Ph.D. candidate at the University of Connecticut with a concentration in indigeneity, race, ethnicity, and politics (IREP). Jamilah also served as a study therapist of the Multidisciplinary Association for Psychedelic Sciences (MAPS) phase 3 clinical drug trial examining the efficacy of MDMA-assisted psychotherapy for treatment-resistant posttraumatic stress among people of color. She holds leadership positions in several professional organizations, including Chacruna's Racial Equity and Access committee. Her research interests include obsessive-compulsive and related disorders, PTSD, the psychological effects of discrimination and racial trauma on people of color, and the neurological underpinnings of these disorders. Jamilah is also a Health Policy Research Scholar with the Robert Wood Johnson Foundation. Her passion for social justice and health equity fuels her work as she advocates for the mental and holistic wellbeing of socially disenfranchised groups, including women, people of color, impoverished domestic and international communities, and the intersections therein.
___________________________________________________________________________________________________________
June 10th, 2022 - Embodying Values: Training Culturally Competent Psilocybin Services Providers with Claudia Cuentas, LMFT & Diana Quinn, ND
This session will explore principles that have become central to the conversation around psychedelic mainstreaming: equity, access, and cultural competency. In order for the psychedelic field to fulfill its potential for collective healing, it is essential that we begin by equipping providers with the foundational skills. By training providers to embody cultural humility, historical awareness, and anti-racism, we can shape a more just and equitable psychedelic future. 
During our time, we will cover how we are embodying these values at Alma Institute, with a focus on:
Decolonizing therapeutic approaches
Non-extractive approaches to working psychedelic medicine
Ethics and practical aspects of creating access
The role of ancestral and generational healing
Claudia Cuentas, LMFT (she/her) is a Peruvian artist, a researcher, an educator, and a therapist (LMFT), specializing in the treatment of healing trauma, cultural identity, and decolonization of healing. She is trained in Somatic Experiencing, Drama Therapy and Expressive Arts Therapy and holds an MA in Counseling Psychology. She also has extensive studies in Indigenous healing practices from her native Aymara and Quechua lineages of South America. Claudia started her journey as an educator and advocate of art as a tool for healing and liberation. In becoming a therapist at the California Institute of Integral Studies, she focused on serving immigrant communities, families, and children. She has worked with undocumented families, refugees, the homeless population, and women survivors of violence, especially dealing with PTSD. She has completed parts A and B of the Multidisciplinary Association for Psychedelic Studies (MAPS) MDMA Therapy Training Program and is also trained in the use of Ketamine for trauma recovery. She continues to participate in ongoing training and education on the intersectionality of generational trauma, plant medicine science, eco-informed therapy, somatic/nervous system healing and indigenous knowledge. Claudia currently has a private practice in Portland, Oregon, and is the Cultural Director of Alma Institute, focusing on providing Psilocybin assisted therapy training programs to underserved and underrepresented communities in the field ( www.AlmaTraining.org ). She is also guest faculty at Lewis & Clark University. Claudia is committed to continue providing ethical, educational, and integrated work to support indigenous, black, brown, and immigrant communities to heal and thrive. She is also a recording musician, a singer-songwriter, and the founder of the Canta Colibrí Project.
Diana Quinn, ND (she/her) is a naturopathic doctor with a focus on integrative mental health, somatics, and mind-body medicine. Her work is grounded in healing justice, a framework that aims to intervene on generational trauma and bring collective healing practices to transform the consequences of oppression. Her clinical work has centered care of marginalized communities, including people of color, the 2SLGBTQIA+ community, and low-income populations, for over 15 years. Dr. Quinn is the Training Director at Alma Institute, a psilocybin facilitator training and mentorship program in Portland, Oregon. She is a member of the Board of Psychedelic Medicine and Therapies where she serves as co-Chair of the Diversity, Equity, and Access Committee. She is a former recipient of the Source Research Foundation Community Grant and BIPOC Award, and now chairs the Community Grant program as a member of the SRF Board. She serves on the Chacruna Institute Racial Equity and Access Committee, teaching in the Diversity, Culture and Social Justice in Psychedelics course. Dr. Quinn is a graduate of the CIIS Psychedelic-Assisted Therapies and Research certification program and provides support to psychedelic-assisted therapy training programs at CIIS and Naropa University. She serves on multiple advisory boards dedicated to building ethical integrity, equity, accessibility, and structural competency in the field of psychedelics.
___________________________________________________________________________________________________________
September 9th, 2022 - Topic: Ibogaine with Thomas Brown
Details TBD.
___________________________________________________________________________________________________________
More dates will be announced soon!
Previous Events:
December 11th, 2020 - Ethical and Legal Considerations in Providing Psychedelic Integration Therapy with Brian Pilecki, Ph.D. and Jason Luoma, Ph.D.
January 8th, 2021 - What's It Like to Trip? The Patient Experience in Psychedelic-Assisted Therapy with Brian Pilecki, Ph.D.
February 12th, 2021 - Returning From All: Integrating 5-MeO-DMT Experiences in Psychotherapy with Rafael Lancelotta, M.S.
March 12th, 2021 - What does Psilocybin-Assisted Therapy for Depression Look Like? A Clinical Case Presentation based on a Recent Clinical Trial from Johns Hopkins with Alan K. Davis, Ph.D.
April 9th, 2021 - Ketamine 101: An Introduction to Ketamine-Assisted Psychotherapy with Gregory Wells, Ph.D.
May 14th, 2021 - Research on MDMA and Psychedelic-Assisted Therapy: An Overview of the Evidence for Clinicians with Jason Luoma, Ph.D.
June 11th, 2021- Becoming a Psychedelic-Informed Therapist: Toward Developing Your Own Practice with Nathan Gates, M.A., LCPC
September 10th, 2021- Cultural Considerations in Psychedelic-Assisted Psychotherapy with Terence Ching, PhD
October 8th, 2021- Psychedelic-Assisted Therapist Training: Current Perspectives and Look Forward with Dr. Elizabeth Nielson
November 12th, 2021- Psychedelic Research: Implications for Palliative Care and End-of-Life Existential Distress with Anthony Bossis, Ph.D.
January 14th, 2022 - Psilocybin-Assisted Therapy of Major Depressive Disorder using Acceptance and Commitment Therapy as a Therapeutic Frame with Jordan Sloshower, MD, MSc
February 11th, 2022 - Drug-Drug Interactions Between Psychiatric Medications and MDMA or Psilocybin with Aryan Sarparast, MD
March 11th, 2022 - MDMA-Assisted Therapy and Social Anxiety Disorder: The Role of Self-Transcendence in the Treatment of Social Anxiety with Jason Luoma, PhD
Additional events for 2021 will be announced as they are scheduled. If you would like to stay up to date on information about TRIPS, you can join our newsletter here.