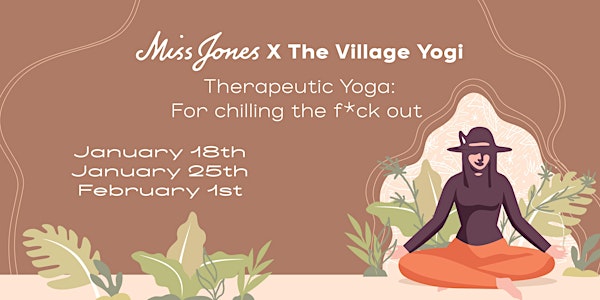 Therapeutic Yoga For Chilling the F*ck Out
Join Miss Jones and the Village Yogi as we take you on a therapeutic journey, integrating cannabis education into your yoga sessions.
About this event
Package Includes:
3 Online Yoga Sessions
$75 Gift Card to Miss Jones
50% off any Miss Jones X Scoria Yoga mat
Package Price: $100
Online Class Sessions: January 18th, January 25th and February 1st
Class Time: 7:00 PM - 8:00 PM
Class Details:
Each participant will be sent a unique Zoom link prior to the start of our online classes. Classes will be lead by Instructor Heather Jones, The Village Yogi. Heather will take participants through Hatha and Vinyasa yoga practices.
Prior to each class, a Miss Jones employee will host a short cannabis education session - highlighting and breaking down different forms of cannabis use, sciences of the plant, and all the ways cannabis can be used in your life. Yoga mat giveaway ($100 value) each class!
About Heather:
Heather has been practicing yoga for over 15 years. Her training has included traditional Hatha Yoga, Vinyasa Yoga and various kinds of Restorative, PreNatal and Meditation training. Heather has her Yoga Therapist certification which has greatly enriched her life and practice. Heather prides herself in trying to keep classes creative and fun and always aims to find solutions for all types of issues people walk into her studio with. "I don't teach the same way, every day, for every class or every person. Sure, yoga can be challenging but laughter and light heartedness are just as important, in my opinion, as perfecting your Downward Dog."
About Miss Jones:
Miss Jones Cannabis Outposts are an award-winning Cannabis dispensary and the recipient of the Retailer of the Year and the Marketing Innovator of the Year 2021. We procure a wide variety of high-quality products and accessories for the novice to most experienced cannabis user. Shop comfortably at home right from your couch or in-store at any of our local Outposts.
Learn More: https://missjonescannabis.com/