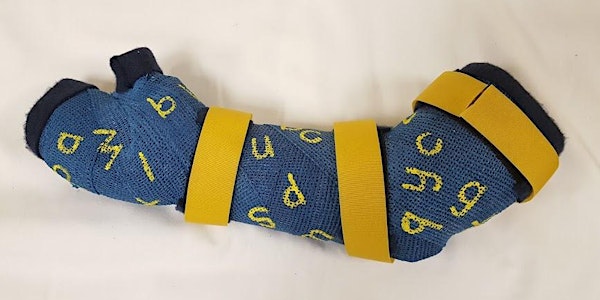 Therapeutic Casting and Splinting for the Upper Extremity I
When and where
Location
Marymount University Physical Therapy Program 4040 N Fairfax Drive Arlington, VA 22207
Refund Policy
Refunds up to 30 days before event
Description
Therapeutic Casting and Splinting for the Upper Extremity I
Techniques to improve joint alignment for function
---
March 14, 2019
Instructor: Amanda Hall, PT, MPT, PCS, ATP
Hosted by

: Marymount University, Arlington, VA
8 contact hours
---
*Optional registration for Therapeutic Casting of the Lower Extremity I 3/15-3/17. Please see https://tcue-1-2019.eventbrite.com for details.
Course Description
This course will provide the practitioner with the knowledge base and practical skills for use of casting materials to manage common upper extremity impairments in the pediatric population through therapeutic casts and splints. Participants will learn to identify appropriate candidates for casting, problem solve which materials and techniques are appropriate for various clinical presentations, and evaluate progress. The course will emphasize the importance of the use of the therapist's manual intervention before and during casting to maximize therapeutic effects. Attendees will learn to align casts for optimal function. The course will include multiple opportunities to learn and apply hands-on practical skills which will can be carried over to the clinical setting after course completion.
Course costs includes casting material cost for multiple hands-on labs using a variety of casting materials. Participants will receive a detailed manual with guide to assessment, selection of casting materials, step by step instructions, and recommended competency assessment.
Audience: occupational therapists/OTAs, physical therapists/PTAs.
Registration is limited, early registration is recommended.
Prerequisites: None. This class is appropriate for clinicians without casting experience, or for those with casting experience who are looking to expand their repertoire of techniques and materials as well as expand their castings to include a manual therapy approach.
Course Objectives
Course Objectives:
At the conclusion of the course, participants should be able to:
Discuss candidate identification for serial casting using the ICF model, including rationale, assessment, considerations, precautions, and contraindications.

Contrast various materials used for serial casting and splinting, with their different properties and benefits for use for varied therapeutic goals.

Describe a variety of casting techniques that might be employed depending on patient presentation and goals.

Apply a therapeutic serial cast of the upper extremity.

Fabricate an upper extremity therapeutic splint with appropriate joint alignment, padding, and use of casting materials.
CEU Information: This course has been approved by the Maryland Board of Occupational Therapy for 0.8 CEUs and meets the crieteria for 8 contact hours for Virginia and the District of Columbia. The Alaska APTA has granted 0.8 CEUs.
Schedule
8:30-9:00am Registration
9:00-9:30am I. Lecture: Casting Framework, ICF Model with a manual therapy lens: serial casting, use of casting material for UE splints: indications
9:30-10:00am Manual therapy techniques in preparation for casting
10:00-10:30am Lab: Casting techniques
10:30-10:45am Lecture and demonstration: Casting Materials and Tools
10:45-11:00am UE Serial casting demonstration
11:00-12:30am Lab: Serial Casting of the UE in pairs: partner 1 leads
12:30-1:00 Lunch
1:00-2:00pm Lab: Fabrication of Circumferential Wrist-Hand Orthosis
2:00-3:00pm Lab: Fabrication of Clamshell Elbow Splint
3:00-4:00pm Lab: Fabrication of CIMT Splint
4:00-5:00pm Review of splints, finishing, trouble shooting
5:00-5:30pm Question and answer
Instructor: Amanda Hall, PT, MPT, PCS, ATP
Key words: serial casting, splinting, orthotics, bracing, occupational therapy, pediatrics, cerebral palsy, stroke, muscular dystrophy, wrist, hand, elbow, manual therapy.