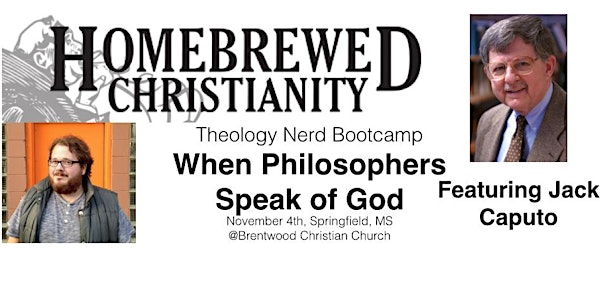 Theology Nerd Bootcamp w/ Jack Caputo
When and where
Location
Brentwood Christian Church 1900 East Barataria Street Springfield, MO 65804
Description
What happens at the collosion of Radical and Confessional theologies? What erupts when Jack and Tripp let the philosophical cat out of the bag? What or who is "God" when philosophers talk about God? Over the course of this fun-filled journey through the minds the most spectacular philosophers planet earth has seen, Jack and Tripp will be introducing you not only to what these philosphers mean when they speak the word "God," but also what these insights, images and insurrections could mean for our faith.
Pipes and elbow-patched tweed jacks are not necessary to attend.
Join us... the few, the proud, the nerds.
Noon - 1:30 Session 1 (Aquinas)
1:00 pm – 2:30 pm: Session 2 (Hegel)
2:30 pm – 3:00 pm: Break
3:00 pm - 4:30 : Session 3 (Derrida)
4:30 pm – 5:30 pm: Theology Nerd Throwdown (Q&A)
6:00 pm -> : Session 4: Dinner, beer, and Holy Spirit(s) fun at a local pub.