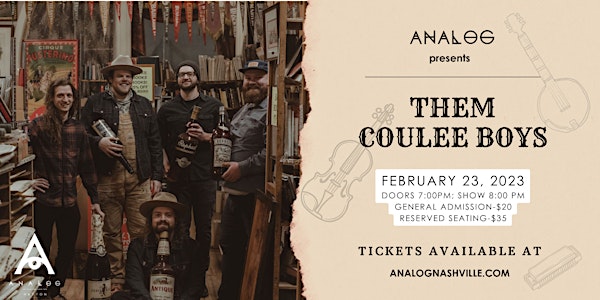 Them Coulee Boys live at Analog
Them Coulee Boys bring their high energy take on folk-grass and Americana to the Analog stage.
When and where
Location
Analog at Hutton Hotel 1808 West End Avenue #2nd Floor Nashville, TN 37203
Refund Policy
Contact the organizer to request a refund.
About this event
DOORS 7 PM/SHOW 8 PM
21+
GA - $20
Reserved Seating - $35
with opener Adrian + Meredith
ABOUT THEM COULEE BOYS
Them Coulee Boys craft a brand of Americana that blends folk, punk, bluegrass, and rock & roll. They sing their conversational songs in 4 part harmony, often with a banjo stomp and rhythm section punch that drives the audience onto the dance floor and into community. Their trusty van has propelled them thousands of miles across the country and into the hearts of strangers, who tend to leave each show as family. It's music that creates community through the shared experience of joy and giving a shit.
The story is true. Soren Staff and Beau Janke met as counselors at a bible camp in northern Wisconsin in 2011. Having both grown up amidst a stretch of glacial melt-carved river valleys in the upper Midwest (called coulees by French fur trappers), they were fast friends. At camp, another counselor took to teasing them saying "them coulee boys are at it again." The name stuck. Spending their weeks playing songs with kids around a campfire led to weekends figuring out an Avett Brothers tune or classic country song. In 2013, they added Soren's brother Jens on mandolin, and a rough-around-the-edges, stomping 3-piece folk band played their first show as Them Coulee Boys. Four years later Neil Krause joined to play acoustic and electric bass, and in 2019 when Stas Hable joined on drums, TCB evolved into the full-on Americana rock band they are today. The live band straddles the line between pure and genuine ballads and a sweaty, leaping take on countrified rock-n-roll.