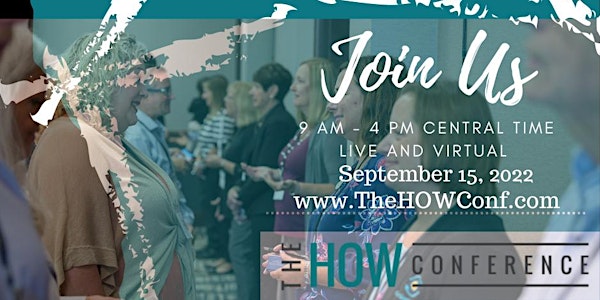 TheHOWConf
NETWORK, GROW! The HOW Conference brings the Help to YOU. We're all about Helping Others Win.
When and where
Location
Sheraton St. Paul Woodbury Hotel 676 Bielenberg Drive Woodbury, MN 55125
About this event
WHY should you attend TheHOWConf LIVE or VIRTUAL????
We get asked all the time. So before you read all the details below...
Ask YOURSELF this one question!
Am I where I want to be at in my business, career, life?
If you're not, what will you do?
HOW MANY DAYS, HOURS and minutes have you been grinding for new connections and searching forthe secret sauce to help you move ahead?
What's that ONE Thing you NEED. WHAT's missing in your biz?
We know! Yep, we do. When you get the HELP that you need, YOU move forward. In this crazy world we sometime think there's a badge of honor to do it ALL ALONE.
STOP the crazy talk!
Is this you?
Attention ENTREPRENEURS!
If you really have a product, service or idea that NEEDS to be out in the marketplace. Get to the conference!
More Confidence in connecting
Learn Accountability hacks
Increasae your Sales without being sales-y
Learn how to Negotiate in your business
Get the HELP you need to GROW - Really Grow!
TheHOWConf sells out LIVE every year. Limited seating LIVE!
Am I as far along as I planned to be? Could be? or Should be?
Virtual tickets available NOW!
What happens when you bring a team of some of the best minds in business together?
You get The HOW Conference. Join Kelly Jahner-Byrne and her A-list team, to offer solutions, achieve your goals, and take your business to the next level. The HOW Conf is a day-long experience that includes structured networking, learning from real life examples of struggle and success, and meet our Sponsor Partners with great ideas—and SOLUTIONS!
The HOW Conf is a unique collaboration between entrepreneurs from across the country and around the world, to meet, connect and grow.
WHAT"S THE BOTTOM LINE?
You will ...
Gain Confidence, Accountability, Sell with being Sales-y, LEARN HOW to implement
MEET industry experts that are Doing It day in and day out. Yes, Success!
LEARN cutting edge business-best practices that WORK!
FIND resources to grow, sell more, simplify more.
LEARN THE secret to building a REAL network to expand your customer base.
Experience coaching within your business that you can take to the office next day.
You will get inspired, do business planning and get on track.
See you September 15!
TheHOWConf Team
P.S. Don't wait! Don't let 2022 pass you by without grabbing that ONE thing you need to grow.
Need a place to stay?
Contact The Sheraton Hotel
676 Bielenberg Drive, Woodbury, MN, 55125
(651) 209-3280 TheHOWConference