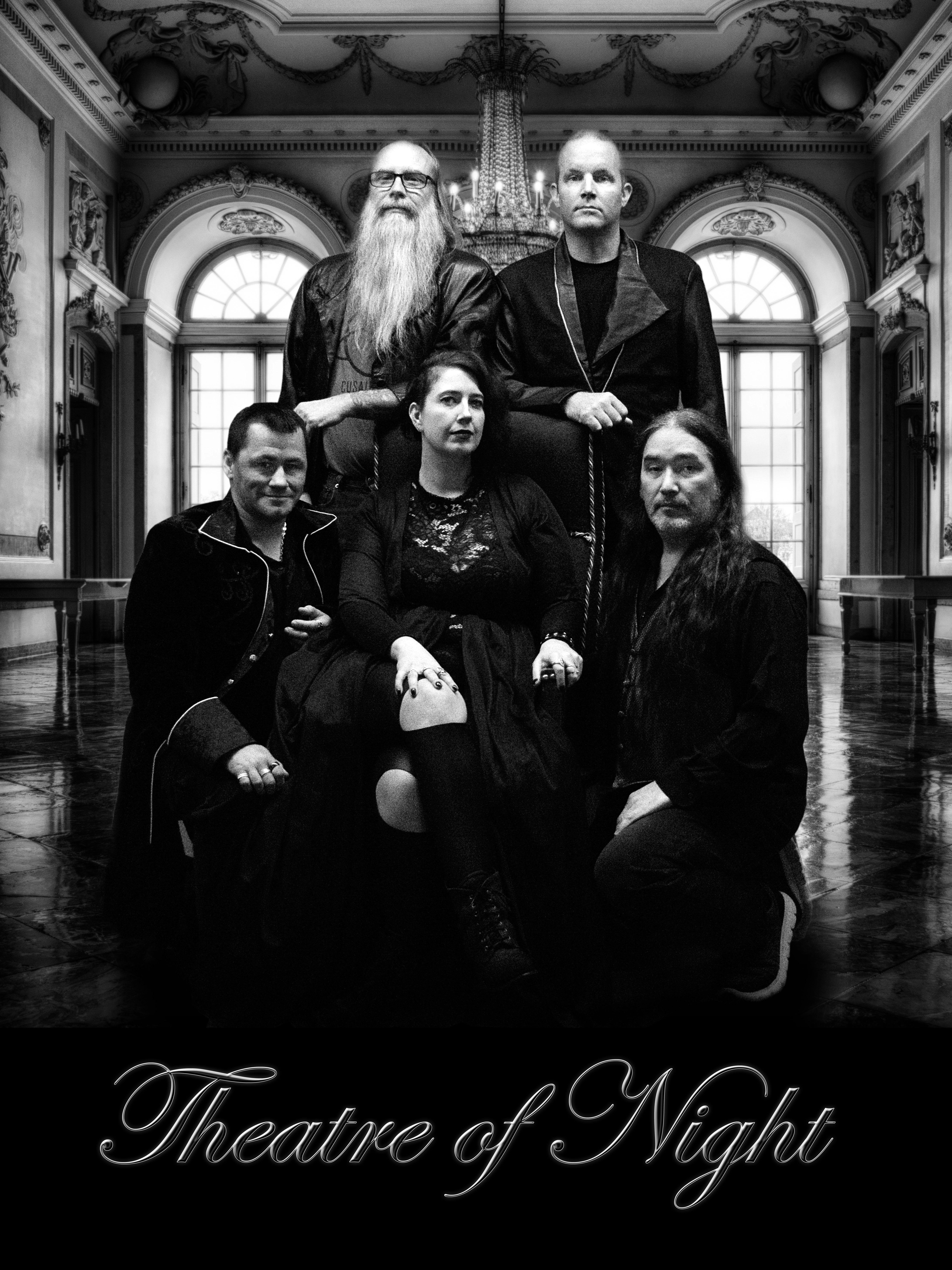 About this Event
West Michigan's
Very Own 'Trans Siberian Orchestra"
RETURNS!
Saturday December 21st
7:30 PM
Tickets:
$12/15
THEATRE OF NIGHT
I've had the idea for this project since I was a small child. I am passionate about music and I have been creating artwork for as long as I can remember. I love cinematic scores, classical music, and powerful imagery. I love the raw power of metal. In around 2006, I decided to call the project "Theatre of Night". The title came to me and just seemed to encompass all of the style of art and music I am so in to. While playing keyboards touring in a band called Integrated System of Machines, I met Steve Giles. This guy was the most amazing guitar player and creative talent I have ever met. in 2009, the band broke up and Steve and I decided to write and compose music together. It just seemed to work seamlessly. We always just know what to play on each other's parts, so writing with Steve became easy. Steve and I wrote several songs together and eventually I joined with Steve's band "End of Existence", along with singer Bob Helston, and drummer Greg Giles. In the mean time, Theatre of Night remained a side project for Steve and I to create and compose music. In 2011, Steve had created some acoustic guitar Christmas tracks for his parents. They were amazing. That sparked the idea to create an alternative metal symphonic Christmas album. "Christmas Night" was born. Steve's brother, Greg Giles joined as drummer on a few of the Christmas tracks, and our Christmas album came out in November 2011. This spiraled into us creating more than 70 new songs and writing inspired metal and classical symphonic tracks. In 2012 we released "the Dawn's Early Light", which is a patriotic tribute to those who serve. Eventually, End of Existence went on hiatus, and Theatre of Night became our main focus. We have since achieved many personal goals and are blessed to be continuing to create the music we love. In December 2013, we got the chance to have the great Gaby Koss (Cantus Lunaris, Nota Profana, Equilibrium, ex-Haggard, etc.) add her incredible vocals to two of our Christmas singles all the way from Helion Studios in Germany. We have become great friends with Annamaria Disanto (Metal Edge, Hit Parader, Poison, Iron Maiden, etc,) who is one of the best rock photographers on earth. We have also became acquainted with Andy Secher (Metal Edge, Hit Parader). In august 2014 we did a single called "the Killing" with Ida Elena (Bare Infinity, Cantus Lunaris) from Rome. We have also caught the attention of several famous people in the music industry, like Jeff Labar (Cinderella), Tina Turner, and many more. Greg Giles has since moved on to his own personal projects, but Steve and I continue to work on new material. We have already accomplished so much and we are very thankful for our fans, family, and friends. We are continuing to work with guest singers, and are creating new projects and art for the near future. Please enjoy and be part of our journey.
Theatre of Night is currently playing live on their Christmas Night tour. The band has added Scott Andringa on bass, Erik Sales on drums, and Rachel Mender on vocals. Theatre Of Night performs a cohesive christmas rock show that has been referred to as "Michigan's Trans-siberian orchestra." The band performs their own epic versions of Christmas classics like Carol of the Bells, What Child Is This, God Rest Ye Merry Gentlemen, etc. Our plan is to continue to grow each season and create a bigger and better shows each year. In the off season, we will be continuing to write and record new material, and hope to connect with as many new friends and fans as possible.
-Craig Harrison
"If Theatre of Night gets labeled as Michigan's version of Trans-Siberian Orchestra with a patriotic twist, then so be it. These guys rock impressively from sea to shining sea, turning "America the Beautiful," "Battle Hymn of the Republic," and yes, even your favorite Christmas carols, into heavy metal-infused symphonic gems"  
-John Sinkevics, Local Spins