Theatre Group Dzieci - Performances + Workshop in Toronto

Saturday, September 18, 2010 at 12:00 PM (EDT)
Event Details
a gypsy retelling of the shakespearean classic
Saturday, September 18, 8 pm - Majlis Arts, 163 Walnut Street
$20 in advance / $25 at door
"Wonderful!"
"Unexpected!"
"A true experience."
"Wowing, engulfing, just wow!"
"Spellbinding!"
"Wow!"
"Romantic!"
"Amazing!!!"
"The best!"
"My God!!!"
"Wow!"
"Remarkable!"
comments following a recent presentation of Makbet to a gathering of
students from the International Schools Theatre Association
Sunday, September 19, 11 am - Majlis Arts, 163 Walnut Street
$20 in advance / $25 at door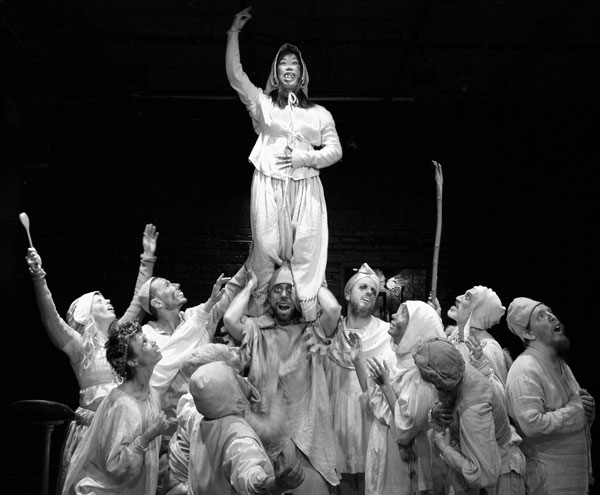 "The performers wear the vestments, not of priests but of
medieval bedlam idiots who are called upon by circumstance
to celebrate a Mass even though they do not know how. Moving
easily between the sublime and the ridiculous, drawing its audience
through laughter toward participation and contemplation, the work
resists being categorized as either theater or religion, becoming
both at once in an event experienced by many as transformative.
As they stand beside these grotesque characters in prayer, worshipers
begin to participate in the liturgy with new understanding."
The Encyclopedia of Religion
also on Dzieci's Fools Mass:

Para-Theatrical Workshop
Saturday, September 18, 12 - 3pm - Dovercourt House, 805 Dovercourt St, 2nd Floor

Sliding Scale - $75-125

All are welcome:
performers, healers, teachers,
spiritual leaders, health care practitioners,
& students of every pursuit.
dress to move
more on Dzieci's para-theatrical workshop
for more information and reservations:
call 416 799 6750 / 718 638 6037
or e-mail matt@dziecitheatre.org
---
About Dzieci
Founded by Matt Mitler in 1997, New York based experiemental theatre group Dzieci (djyeh-chee) uses techiques garnered from Jerzy Grotowski and the Polish Theatre Laboratory, Peter Brook, Eugenio Barba, humanistic psychology, and ritual forms derived from Native American and Eastern spiritual disciplines in its search for the "sacred" through the medium of theatre.
When & Where

Majlis Multidisciplinary Arts
163 Walnut Street
Toronto, Ontario
Canada

Saturday, September 18, 2010 at 12:00 PM (EDT)
Add to my calendar