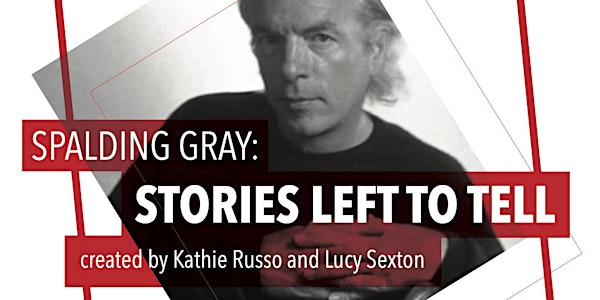 Multiple dates
Theatre Gigante presents SPALDING GRAY: STORIES LEFT TO TELL
Theatre Gigante presents the words of Spalding Gray re-imagined by a cast of Gigante regulars
Date and time
May 5 · 7:30pm - May 7 · 3:30pm CDT
Location
Kenilworth 508 Theatre 1925 E Kenilworth Place Milwaukee, WI 53211
Refund Policy
Contact the organizer to request a refund.
Eventbrite's fee is nonrefundable.
About this event
SPALDING GRAY: STORIES LEFT TO TELL
May 5th-7th
Friday and Saturday evening at 7:30 P.M.
Sunday afternoon 2:00 P.M.
All performances take place at Kenilworth 508 Theater: 1925 E Kenilworth Place, on Milwaukee's East Side
Spalding Gray: Stories Left To Tell is a theater piece made up of excerpts from Spalding Gray's monologues, journal entries, and letters, for five cast members representing different facets of Gray's life: LOVE, FAMILY, JOURNAL, ADVENTURE, and CAREER. Co-conceived by Gray's wife, Kathleen Russo and Lucy Sexton, Spalding Gray: Stories Left To Tell interweaves his well-loved stories, unpublished letters and journal entries, into a funny, poignant, and life-affirming evening of theater.
Spalding Gray: Stories Left To Tell includes a cast of Gigante regulars – Mark Anderson, David Flores, Isabelle Kralj, Shawn Smith, and special guest Jane Kaczmarek.
Tickets:
General Admission--$30
Senior Admission--$25
Student Admission--$20
ABOUT SPALDING GRAY
Spalding Gray (1941-2004), internationally acclaimed actor, writer and performer, was best known for his witty, distinct, and vigorous autobiographical monologues – a performance form he pioneered. Spalding turned his stories about life, love, pain, fear, adventure, and joy into evenings of pure theatrical delight for millions of fans. Gray achieved celebrity for his monologue Swimming to Cambodia (made into a film in 1987) based on his experience as an actor on the set of The Killing Fields.
Spalding Gray sat onstage at a table and talked, and told his stories – "poetic journalism" – about his life, and with charm and wit and vulnerability, he drew you into his world of awe and reflection and pain and humor. He opened his life and heart for inspection, revealed himself as someone just like you, who did what he did and then wondered about it, out loud, in public, at a table, on a stage.
Since his tragic death in 2004, his work and his words have been brought out to his public, in many ways, and with Spalding Gray: Stories Left To Tell, Theatre Gigante presents as much of Spalding as we can, for your viewing, thinking and feeling pleasure.
Special Guest: Jane Kaczmarek
Jane Kaczmarek is an awarded actress. Though she is best known for her role as Malcolm's mother Lois on the television sitcom Malcolm In The Middle, which earned her three Golden Globe nominations and seven Primetime Emmy nominations, she has an extensive career which includes a large number of roles on stage, in films, and in numerous television shows.
Mark Anderson
Mark Anderson, Theatre Gigante Artistic co-Director, is a writer, monologist, and actor, who has performed with PS 121 and others all over the U.S. He has been with Theatre Gigante since 1999, and has created and co-created, with Isabelle Kralj, over 60 theater pieces, which were presented in Milwaukee, Grinnell College, New York, North Carolina, Michigan, as well as Slovenia, EU.
David Flores
David Flores has performed extensively in the Milwaukee area with various companies large and small, and credits ranging from Albee to Die Zauberflöte. He has also served as stage director for several well-received productions. Previous appearances with Theatre Gigante include CRAVE and ENEMY OF THE PEOPLE.
Isabelle Kralj
Isabelle Kralj is Theatre Gigante's Founder, serving as its Artistic Director for 35 years, since 1999 jointly with Mark Anderson. Alone or in collaboration, she has created over 60 theater pieces, directed, choreographed, and performed throughout her career. Her work has been seen in cities throughout the U.S. and in Slovenia, where she also spent five years dancing with the Slovenian National Ballet.
Shawn Smith
Shawn Smith is thrilled to work with Theatre Gigante, experiencing the privilege and honor of working in several of Gigante's productions over the course of their storied history. Also, Shawn worked with Theatre X, Windfall, the Boulevard Theater on a variety of productions ranging from Shakespeare to Ionesco, and original works. 
ABOUT THEATRE GIGANTE
Now in its 35th Season, Theatre Gigante enlivens the local performance scene with its unique style of theater, combining text, movement and music in ways that are thought-provoking, compelling and entertaining. Gigante brings original theater to the stage, written by its creative team Artistic Directors Isabelle Kralj and Mark Anderson, and other established, innovative auteurs. The company has a strong history of dynamic collaborations with nationally and internationally known musicians, visual artists, composers, and performers. The theatre of big ideas, critically-acclaimed Theatre Gigante, is exciting, challenging, and fresh.
"He opened his life and heart for inspection, revealed himself as someone just like you, who did what he did and then wondered about it, out loud, in public, at a table, on a stage."
About the organizer
THEATRE GIGANTE is one of Milwaukee's liveliest and most innovative performing arts groups combining original theater, dance, text and music in ways that are thought provoking and always entertaining.