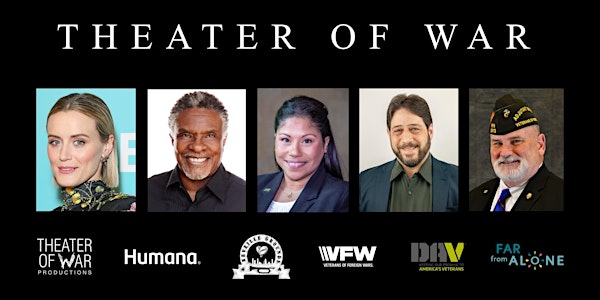 Theater of War: Global Loneliness Awareness Week
A dramatic reading of scenes from Sophocles' Ajax as a catalyst for a powerful audience discussion about loneliness and mental health.
By Theater of War Productions
Date and time
Monday, June 12 · 4 - 6pm PDT
About this event
Theater of War is an innovative public health project that presents acclaimed actors and Veterans reading scenes from Sophocles' Ajax—an ancient play about the suicide of a great, respected warrior—as a catalyst for guided audience discussions about loneliness, mental health, suicide, combat stress, moral injury, and the impact of military service on individuals, families, and communities. These dynamic events aim to generate compassion and understanding between diverse audiences by forging a common vocabulary for openly discussing the visible and invisible wounds of war. This special presentation is co-presented by Theater of War Productions, Humana, Reveille Grounds, VFW (Veterans of Foreign Wars), and DAV (Disabled American Veterans), as part of Global Loneliness Awareness Week.
To attend the ground site in-person in Baltimore RSVP here: https://www.reveillegrounds.com/muster
Featuring performances by Taylor Schilling (Orange is the New Black, Dear Edward), Keith David (Platoon, Armageddon, Nope), Naomi Mathis (Air Force Veteran, DAV Associate National Legislative Director), Dan West (Adjutant General, Veterans of Foreign Wars of the United States; Marine Veteran), and David Hanauer (Ensemble Manager of Olive Branch & Laurel Crown, Marine Veteran).
Support for our digital programming is provided, in part, by the Mellon Foundation.
Translated, directed, and facilitated by Bryan Doerries.
Theater of War will take place on Zoom Webinar and can be accessed on personal devices. The event Zoom link will be distributed via email and available to registered attendees starting two days prior to the event.
This event will be captioned in English.
All of Theater of War Productions' events follow the same format:
The performers will read the text.
Community panelists will kick off the discussion with their gut responses to what resonated with them across time.
We will open the discussion to the audience, facilitated by Bryan Doerries. During the discussion, please raise your hand using the button at the bottom center of the screen. If called upon, please accept the invitation to be promoted to speak and you will be visible and heard by the entire audience for the duration of your comments. If you would prefer not to be seen, please disable your video.
About the organizer
Theater of War Productions is a social impact company that uses theater and a variety of other media to address pressing public health and social issues, such as combat-related psychological injury, end of life care, prison reform, political violence and torture, domestic violence, and the de-stigmatization of the treatment of substance abuse and addiction. For more information about all of our projects, please visit: www.theaterofwar.com