Theater Games - improv acting classes in the San Francisco Bay Area

Multiple Dates
Event Details
Theater Games (Improv 101)
Improv comedy and improv acting classes in the East Bay at Oakland's Pan Theater.

Students learn the basics of improvisational theater (acting) in a small, relaxed improv class. Course material includes scene work, theater games, skill building exercises, and related acting exercises. Class size is limited to provide each student more personal attention. We remember what it was like to get lost in a big class. We won't let that happen to you. We'll be there for you.
Seven Reasons to Take Theater Games at Pan Theater
 
You want to have fun

You want to meet new people

You want to learn or review the basics of improv acting

You want to develop your talent and skills

You want to become less self conscious

You want to explore theater and acting

You want teachers that remember what it is like to be a beginner
Where:
Pan Theater
2135 Broadway
Oakland, CA 94612
For class related questions call: (415) 724-2433

Pan Theater is one block from BART in Oakland's Uptown.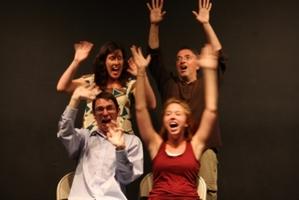 Pan is twenty minutes from San Francisco by BART.
Our classes are convenient to the entire SF Bay Area.
Specifics:
Classes: 
4 sessions plus:

Free bonus one - 4 sessions to our  drop in class included (Tuesdays Only) a $40 value.

Free bonus two - admission to Pan shows while
taking the class a $40 value.
Pan Theater Classes:
We focus on Improv Theater and trying to create strong characters in detailed situations. There is no need to be funny and no pressure to make people laugh. Humor may arise out of a scene or may not. Our approach is organic. The quality of the scenes is in character depth. Essentially, we focus on creating live theater minus the script. A well-done scene is one where no one would believe the work wasn't scripted. We've been teaching, performing and practicing the way of improv since 2002. We know what we're doing. We've taught members of the Screen Actors Guild (Northern California Chapter), members of Harvard's Immediate Gratification Players and local students, professionals, actors and improv curious.

Who takes classes at Pan?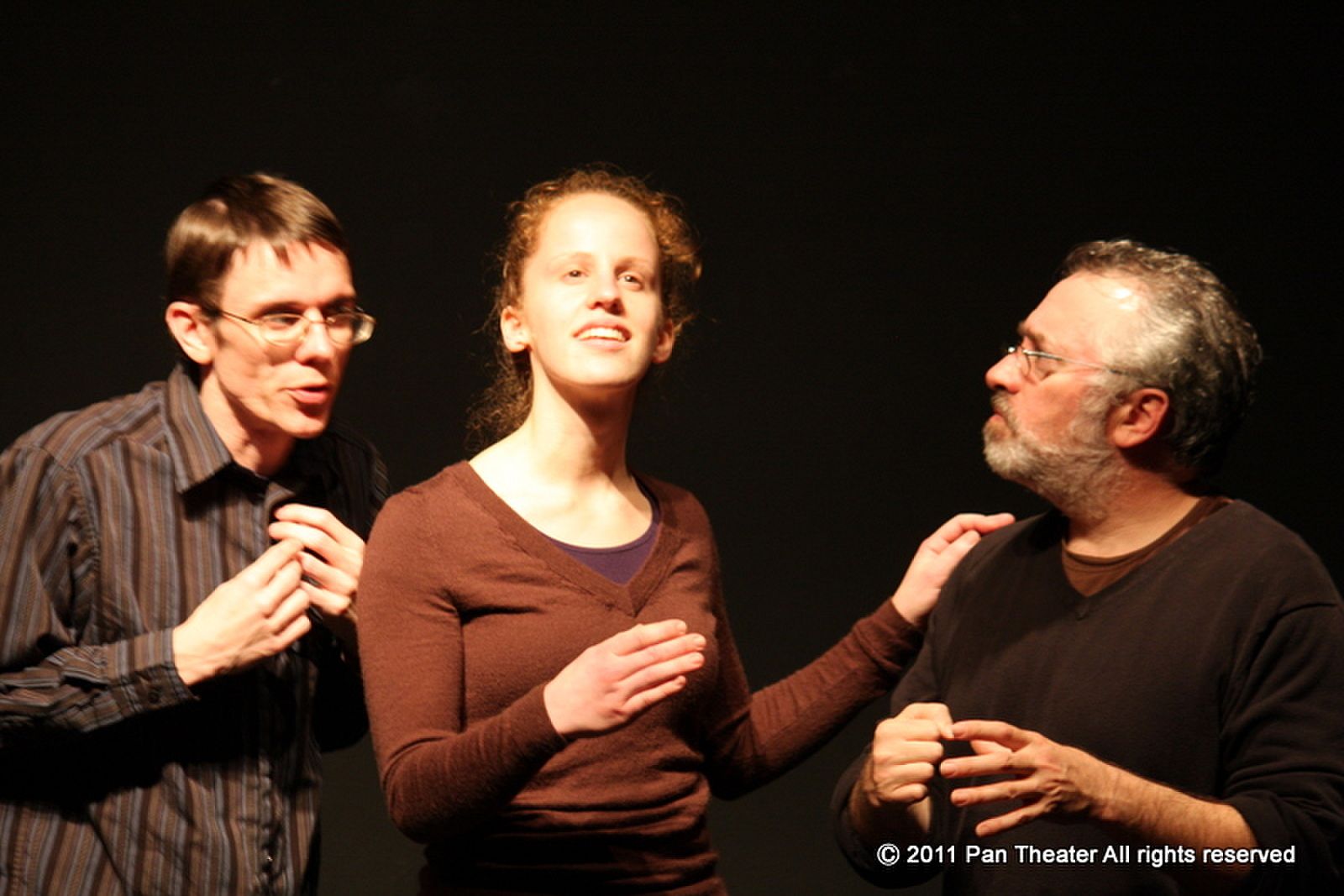 Professionals looking to improve their speaking skills, actors looking to deepen their ability to improvise for commercial and theater auditions, writers seeking to let go of judgment, teachers looking to learn theater games for use in class, people new to the area looking to have fun and make some new friends...... and many more. People that have done improv at other places looking for more, or improvisors new to the area looking for a performance home. People looking for an improv class that is close to BART. 
What do people do with their training?
We have had students go on to audition for local theaters and for commercials, we have had students further their own personal performance goals such as character work and solo performances, we've had students audition for both Pan and other improv and sketch groups. Many of the members of Pan's house teams, Awkward Face and the Afters, began their improv training with Theater Games.
Our students have formed their own sketch and improv groups or theater groups. We've had students return to their work world with a greater sense of freedom, and willingness to risk. Pan Theater performers have gone on to study with the Groundlings, perform with Shanghai San Francisco, pursue MFA or MA degrees in theater and to seek local professional representation. Pan has been described as warm and comfy, and as "Theater Bootcamp".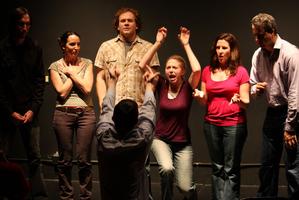 In short:
"Pan performers gain confidence in themselves and their work. They gain a willingness to take risks and make mistakes. A Pan performer will say yes, and try a new approach, style or way of doing things without resistance or letting fear overcome them. At Pan "yes, and" is a way of approaching life."
What past students say about our classes:
From Ian Campbell-Jones (Training Troupe Alumni)

David's teaching style is a precise and sublime guide into the practical and mystical sides of improvisational theater.
"Taking classes and performing at Pan has served me in more ways than I can count. I feel physically fit, mentally strong, and highly aware of my moral instincts."
Ian
From Betsy Aaron (Training Troupe Alumni)
David Alger's instruction and direction at Pan Theater is masterful. Having dabbled in improv in the past but not really getting it, I decided on a whim to try one more time with a class at Pan. David has a way of explaining improv and moving students and troupe members through the process that's metaphorical of life, showing how it's full of nuance and meaning. David makes learning improv a joy, and what I have learned has helped me far beyond the work I do in this performance art; I bring what I learn in my day to day life, and it has made my life brighter, more manageable and more fun. David creates a safe place to take risks and fail, to practice life, something we so rarely get to do. I'm grateful for all David and Pan have taught me!
Betsy Aaron
From Conor Allen (Awkward Face Troupe Member and Training Troupe Alumni):
Pan Theater is an exciting place to both study and perform improv. Classes are infused with a dynamic spirit rooted in the fundamentals of relationship based scene work and improvisation. The emphasis at Pan is on the student, with ample opportunities to perform in shows and in monthly jams with other troupe members of all levels. From the beginning, students at Pan will feel like they are a vital part of an improv community that is as unique as the individuals who walk through its doors. Whether you are looking to gain a greater understanding of theater and improv in general, or a looking to be a part of a dynamic ensemble, Pan is the place to go.
Conor
From Lauren Schaefer (guest performer- Awkward Face- Summer 2009)
While working at Pan I learned and got to experience what professionalism in improv looked like. Everyone was so friendly and welcoming and also really hardworking and focused. I learned as much at Pan in my short time there, than I learned in years of practice with other troupes. My time was well spent with Pan.
While at Pan I was able to highlight the skills I already possessed and improve them, as well as, find the skills I needed more work on and improve on those to become a balanced improviser. I also got to dabble in improv styles that I had never worked with before which was wonderful.
At Pan, I felt so comfortable and felt like I was able to experiment and stretch myself as a performer in ways I had not been able to before. After working at Pan I feel more comfortable performing in both Dramatic and Comedic Improvisational styles.
Thanks!!
Lauren Schaefer
David Davidson Berkeley, CA age 33
Pan Theater is a Great Place to open your Wings, Learn to Fly and Craft your Improv Skills. I've seen some world class performances here in the fleeting moments of "rehearsal" and in the tightly knit Awkward Faces performances. In rehearsal David's direction is relentlessly revealing. A performer is lucky to have such intense attention to detail, and surgical honesty from so serious a director, once... maybe twice... in one's life time. He is an Amazing Director with an eye for the subtleties of what is epic. He helps lead the Troupe into their finer moments with messages that will provide solace to listeners of stories who are all ages. The directors who accompany him are encouraging in their laughter and gentle direction! I will always value the lessons I have learned and continue to learn at Pan.
Pan Theater has shown me things I would not have seen otherwise. Become a better performer AND a better person! Pan Theater is.... Fun! I knew I had found my Never land, and experienced my Home Coming... when Deitrich did head stands as we confessed our silliness and shared secrets over slices of watermelon! For a moment there each person was who they really are! And at Pan this kind of lightening strikes more than once!
David Davidson Berkeley
David's improv class is fabulous! He reviews the basics differently each day so we can continue to anchor them - I enjoy being able to practice more due to the uncrowded classes. Great for anyone wishing to enhance improv skills; I'll definitely be back for more -
Rosalie Valerio,
Instructor, Western Career College
"I loved the Basic Improv class with David. I felt comfortable and free to play, and have since discovered that I also got a very good foundation in improv. It has helped my acting immensely."
--Rebecca Northen
I thought David's improv class was amazing I had so much fun and I recommend it for any actor it helps a lot in the future. David is a fun and great teacher and the class is GREAT!
A+ from Amy Roiland, Actor member of SAG (Screen Actors Guild)
Note: Amy is a working LA actor these days...
The Pan Theater Beginner Improv class was a lucky find for me. I had been away from theater altogether for about 18 years and was really itching to get back into it but was a bit scared of getting in over my head too fast.
The Pan Theater was an emotionally safe place for me to get back into the swing of things - David is a great teacher who provides very insightful feedback that has really allowed me to at first brush-up on and ultimately improve my acting skills as well as providing an excellent launching pad into the world of improvisational theater. Thank you David and thank you Pan Theater!
Chris
Ralph Thomas
(Improv Basics Graduate, Training Troupe Alumni, Awkward Face Member, Pan Coach)
Taking Beginning Improv at Pan Theater was one of the most playful fun things I've done in my adult life. David creates a wonderful safe learning environment that makes it easy to learn. I was always surprised when the time was up because the class went by so fast.
I ask many of my coaching clients to take an Improv class because it helps them become more spontaneous, less judgmental and more open for personal growth.
Ralph Thomas, Personal Life Coach
 Who have we taught?
We have taught local actors, performers including members of the Northern California Screen Actors Guild (SAG), local companies and organizations, non-profits and those new to improv that were nervous and scared. We believe in Yes' and as a way of life and art. We believe in humility, and hardwork.
Students

Teachers

Actors - theater and film

Directors

Social Workers

Techies

Artists - writers, painters, filmmakers, sculptors

City Officials

Professionals: lawyers, doctors, accountants

Life Coaches

Newpaper and Online Journalists

Marketing professionals

Retired folks

Unemployed

a formerly homeless man (true - very good story)

Housewives

House painters

Contractors

Restaurant and hotel staff members

Bartenders

Waiters and Waitresses

House dads

Moms

Dads

Non-Profit boards

Local professional organizations

Web designers

University students

Visiting students

MBA types

International students

Therapists

College professors

Mechanics

Carpenters

Engineers

Entrepreneurs

Retired bankers

Introverts

Extroverts

Dramatic Types

Quiet Types

Bookworms

Jocks

And now you?
Have questions about Theater Games - improv acting classes in the San Francisco Bay Area?
Contact Pan Theater
Organizer
Pan Theater
Oakland's Improv Theater.
Founded by improvisors from the four corners of the globe at a secret meeting in Oakland. Pan was launched in February of 2002, as a place to study, practice and perform improv theater.

It has since grown into a community theater focusing on a style that blends theater games and elements of Meisner Technique together to create confident, fun loving and risk taking actors.
Pan Alumni can be found throughout the Bay Area, and in NYC and L.A.
Theater Games - improv acting classes in the San Francisco Bay Area