Description
#The100DayProject is a free, global art project that anyone can participate in. To celebrate the completion of the 100 day Project this year, we have created the 100 Day Project Party.
Join us for AN EPIC CELEBRATION ON CREATIVITY. We have designed a BEAUTIFUL experience for you to step into your full creative & multidimensional self.
WHEN YOU JOIN US, YOU WILL EXPERIENCE YOUR FULL CREATIVE SELF, THROUGH A FEW MAGICAL EXPERIENCES WE HAVE PREPARED FOR YOU:
4pm - We will start promptly at 4pm, (please be on time so you won't miss anything!)
We will have music by artist and DJ Cornell Sanaa to start the event.
4:15pm - We will then introduce you to the 100 Day Project,
and will showcase the work of talented local artists.
4:30 pm - Yoga Trance Dance w/ Ariana Bates (+ music by Cornell Sanaa)
A beautiful movement workshop designed to connect with your creativity through
the body, in movement (please bring comfortable clothes so you can move easily!)
5:15 pm - Magic of Human Connection w/ Jessica Encell
A profound workshop where you will connect deeply with strangers in the most poetic
of ways.
6:00 pm - Free the Voice Workshop w/ Odeya Nini
The most amazing voice and expression worksop you will experience.
6:45 pm Music + Dance + Celebration.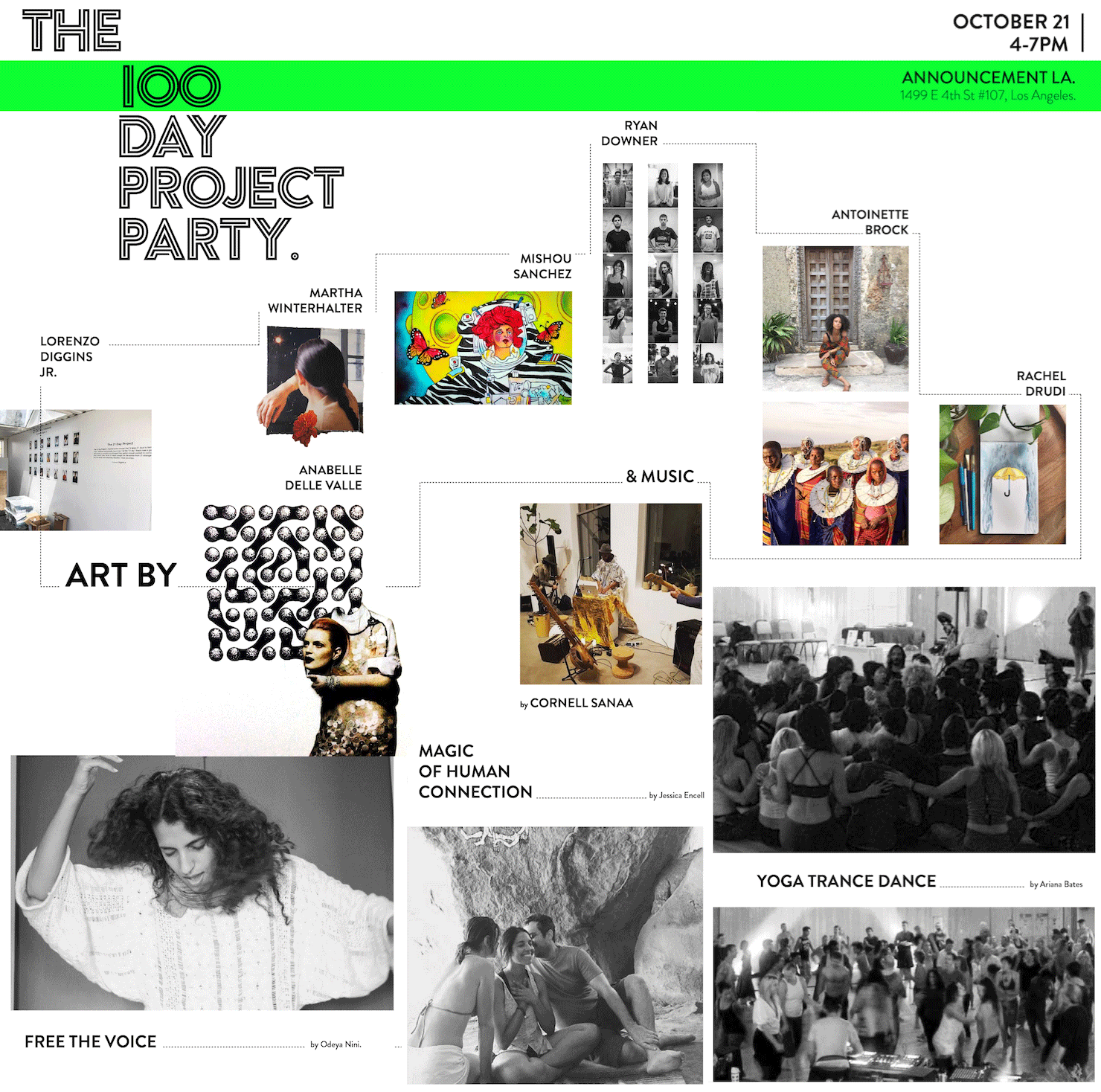 WE WILL HAVE BEAUTIFUL ARTWORK BY THE TALENTED:
•••• Anabelle delle Valle / @artforbella
•••• Rachel Drudi / @rchldrdi
•••• Ryan Downer / @ryandowner
•••• Mishou Sanchez / @mishousanchez
•••• Antoinette Brock / @aussieb
•••• Lorenzo Diggins / @essentialman_ld
•••• Martha Winterhalter / @marthawinterhalter
LOOKING FORWARD TO CELEBRATING WITH YOU.