The Zenith Art & Fashion Experience - Miami Art Week 2017

Saturday, December 9, 2017 at 7:00 PM

-

Sunday, December 10, 2017 at 2:00 AM (EST)
Event Details
Join us for MIAMI ART WEEK with

   

December 4 - 9
Miami Art Week 2017
An Art Festival uniting cultures through the Fusion of the Arts through a Week Full of Exciting Events
Bringin the Arts to You.
Experience a Week of incredible exhibitions featuring amazing art & fashion creations by unique emerging artists & designers. 
The Zenith Art & Fashion Experience, immerse yourself in the world of the arts through amazing live Music Performances, Fashion Shows, Dance Acts, Models in Wearable Art and unparalleled Live Art Shows.
Reserve your Ticket for the unique events you would like to join us for



Please reserve your ticket to EVERY event you wish to attend in order to ensure your name is on the list for that particular event.


SEE AN INCREDIBLE ART & FASHION COLLECTION BY ARTISTS & DESIGNERS FROM AROUND THE WORLD:

ARTISTS:
AFRICA AYCART (SPAIN)
ANDREA SBRA PEREGO (ITALY)
AIST (RUSSIA)
CID DE DIEGO (SPAIN)
DENNIZ VODOPIJA (SWEDEN)
ELENA KUPREEVA (SWITZERLAND)
FLOYD (CUBA)
GOOFY G. ART (THE NETHERLANDS)
GUSTAVO PUENTE (PANAMA)
HAMID-NICOLA KATRIB (ROMANIA)
JESSE NUSBAUM (USA)
KATIE O'SULLIVAN (USA)
MARIA CAMILA RODRIGUEZ (COLOMBIA)
MERETE STEINVIK HAUGEN (NORWAY)
MICHAEL WILLS (CANADA)
NOSCIRA (SPAIN)
PABLO BARRERA (ARGENTINA)
RAIDA LOPEZ (CUBA)
SILVIA SANGUINO (SPAIN)
SOLCZY (CANADA)
YOENLIS DELGADO (CUBA)

DESIGNERS:
ALEJANDRA KOHAN (ARGENTINA)
CARLA CID DE DIEGO (SPAIN)
M WITH LOVE (SPAIN)
MIO BILBAO (SPAIN)
PATRIZIA FALCONE (ITALY)
REY REY SHOES (DENMARK)


Monday: 
7pm - 12am : 12/4/2017
Art Me Up
The Grand Opening
Live Performance by Ana Villafane - Star of the Gloria Estefan Broadway Show "On Your Feet"
Mixology Contest                                                                                    Wearable Art & Fashion                                                                                        Live Music bands: Mustard Service and Sun & Soul Duo
DJ Seas



Tuesday
: 7pm - 12am : 
12/5/2017
Art Light District


Live Art Show - Performance Art

Dance performance by 2DWN
Dance performance by Stephanie Fuente's dancers
Abstract Live body painting
Live Music by The Wild Yams
Dance Performance by Jorday Salguedo



Featuring

: DJ Ruben (One of the first DJ's of Miami)




Wednesday
: 11am - 3pm
 : 
12/6/2017
Art For Brunch

Brunch prepared by young up & coming chefs
Art Talks & Participation in Panel discussions with Finance & Art Industry professionals.
Open mic for new entrepreneurs & creators to pitch their ideas and businesses to finance professionals.
Wednesday
: 8pm - 12am 
: 
12/6/2017
Destined for Film


Independent & Animated Films Screenings, supporting the new generations of filmmakers.



Special Guests

: Borscht Corp. Renowned for supporting local talent in Film celebrated for such incredible productions such as the academy award winning film "MOONLIGHT"

Live Body Painting by Artists Deborah & Juan
Live Music Performances
Art Institute Visual Art students presentation




Thursday
: 12pm - 3pm
: 
12/7/2017
Creation 


Live Art Show with our incredible Artists creating LIVE! 
Meet the artists, discover their methods in painting & sculpture and try it out for yourself!
Thursday
: 7pm - 1am 
: 
12/7/2017
Synesthesia Music in Color
A Fusion of Art & Music!
Live Music by "Z"
DJ Seas

Featuring

: Live Art & Music Performance with RioAluna: Mario Guini (the lead house guitarist of Marc Anthony) & Jackie Mendez.

Live Jazz & Blues Piano Session
with a special live Art performance , sponsored by Steinway & Sons
Friday: 6pm - 1am 
: 
12/8/2017

Evolution
Zenith's Art Moon Party
Drummers
DJ Ruben
Mike Montero
FYF Crew
FS Dance Project
Jorday Salguedo & Stephanie Fuentes dancers
2DWN
Live Music by: Lotus Hill, A.B.O.B, Vice Dali, Folktale San Pedro

...and many more surprises

Saturday
:
7pm - 2am
: 
12/9/2017
Origins


Miami Art Week 2017 Closing Party

DJ performances
Live Music by: Remyz, Coolpeeple
Dance performances

Featuring Special Live Music performance by H-OM

Wearable Art & Art Shows

......and much, much more!


Don't miss a week of unforgettable experiences, get your tickets now!



Special Thanks to our incredible sponsors and collaborators: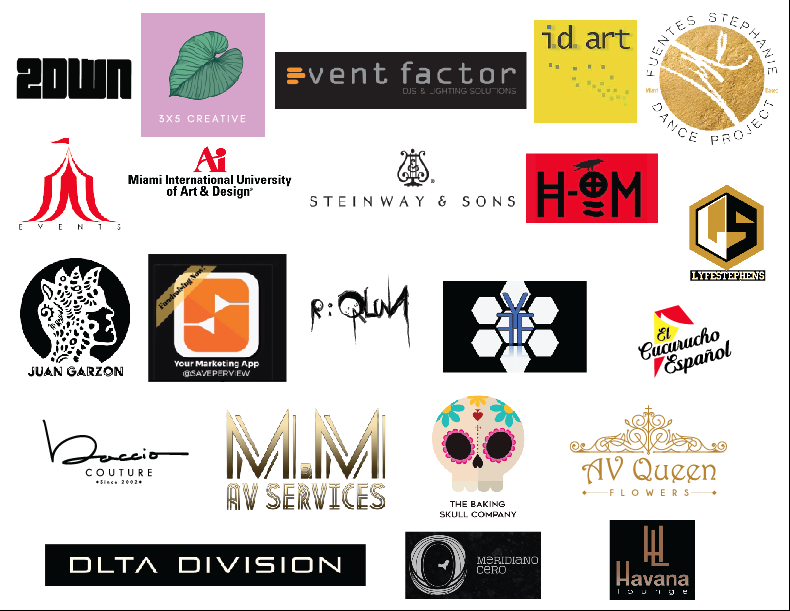 When & Where

Zenith Art & Fashion
1440 Biscayne Boulevard
Miami, FL 33132


Saturday, December 9, 2017 at 7:00 PM

-

Sunday, December 10, 2017 at 2:00 AM (EST)
Add to my calendar
Organizer
An Art and Fashion Concept…at Zenith Art & Fashion we fuse the arts and unite cultures from around the world, to bring you incredible creations, through collaboration with international emerging and established artists and designers. Zenith Art & Fashion was born from our desire as a luxury fashion and art brand (Carla Cid De Diego, Madrid) to unite cultures from around the world through the fusion of Art and Fashion while destroying the barriers that keeps them from our shores and converging to a single high-end gallery and retailer. We're offering them a platform to show, promote and sell their work in one of the Fashion and Art capitals cities of the world today, Miami.