Description
ZEITGEIST MEDIA FESTIVAL 2015 | SATURDAY DEC. 5TH, 5:00PM - 10:00PM

Opulen Studios - 1309 S. Flower St. Los Angeles CA 90015

"Transforming culture through the power of art"

Gallery | Social | Live Painting & Music | Food Drive | TZM Community | FREE EVENT - ALL AGES

The Zeitgeist Media Festival (ZMF) is back for its 5th annual L.A. event. This not-for-profit socially conscious Art Show features an art gallery, live painting & music, jam session, and food drive in partnership with the LA Food Bank.
5:00PM - Doors

7:00PM - Raw Legit
8:00PM - Blake McCowen
9:00PM - Open Jam
10:00PM - End

Artists:

SUJEY///RUIZ http://sjruiz.com/

Sujey Ruiz is a Bay Area activist artist and environmental advocate. Her connection to activist ideas merge into her art, illustrating the need for change and our connection to everything. She completed an internship and works with The Crucible an Industrial Art School in Oakland. Sujey also worked as a photo editor, later focusing on photojournalism to capture the human struggle. Her works are influenced by and created using photography. In college she took photojournalism, ceramics, design, painting and drawing. She uses oils, acrylics, ceramics, pencils, charcoals and photography to create paintings, drawings and sculptures. Sujey captures nature while combining abstract and surrealist elements for her work. Her work also weaves repeating forms with themes of nature, humanity and conflict.
Sujey states, "I'm interested in all forms of communication and art in particular provides a way to communicate in a multilayer way". "My work attempts to demonstrate we are part of a system process; a tapestry of arrangements creating larger unions of energy expression. I feel it is my obligation as an artist to show that, though modern humanity tries to separate itself from the process of nature, we are connected to everything and keeping our connected parts stabilized determines our survival".

BARRET///CRANE

Barret is a graphic artist who seeks to inspire others to make the world a better place. Recognizing the fact that everyone interprets the world in their own unique way, Barret attempts to appeal to simple common ground ideas that encourage a more unified and peaceful existence, sharing his broad vision of a future where everyone's lives as one to better themselves and the rest of humanity.
Brandon Kristy is a visual artist and social activist living in Los Angeles, California. His works have an underlying theme of social relevance, existing mostly in small art books consisting of intricate line work, paintings, and life sketches, interwoven with reflective writing on nature & society. Brandon's influences come from the great artists and thinkers of the past centuries; the long tradition of cultural aesthetic expression & social thought. In college he took scenic painting and sculpture. Professionally he has worked as a portrait artist, and ran a haunted attraction for 10 years. Currently his main focus is social activism, with daily additions to his art books.
He states, "Life Drawing is particularly interesting because of the honesty involved in attempting to translate the depth of the world's relationships from its raw observable state into some visual expression." In defining art, he says, "Art is the "new" thing, novelty. Artistic expression is a way of giving identity to our human experience; dramatizing it to better understand it and rediscover it.

Interactive Art Wall in Gallery: We invite you to come add your expression for a better world. Paints and various mediums available.
Performances by:

BLAKE MCCOWEN
https://soundcloud.com/blakemaster2000
Blake McCowan is a Southern California native, originally from the city of San Jacinto. After six years writing songs in the pop-punk band Sober Spike, Blake went on to form the Mechanical Profile, a rock band dedicated to social awareness and education through lyrics and Novelty; an experimental art project inspired by psychedelia and nature.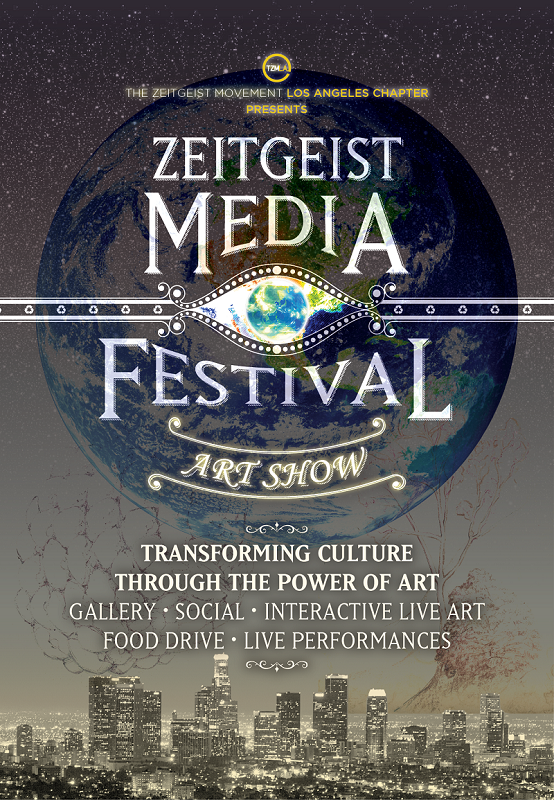 Don't forge to grab a food donation on your way out the door to the event.

*Recommended Food Items:
Canned Vegetables
Vegetable Juice
Tomato Sauce
Spaghetti Sauce
Canned Fruit (in its own juice)
Fruit Juice (100%)
Shelf-stable Fruit Cups
Canned Tuna
Canned Salmon
Canned Beef Stew
Canned Beans
Peanut Butter
Jelly
Nuts
Hot cereals
Whole Grain Crackers
Whole Wheat Pasta
Low Sugar/High Fiber Cereal
Whole grain rice
Dry Milk
*Recommended Personal Care Items:
Soap
Lotion
Toothpaste and Toothbrushes
Mouthwash
Shaving Cream
Deoderant
---
Recognizing the power of art and media to help shift consciousness, the Zeitgeist Media Festival bridges the artistic & activist communities in the hope to inspire change. It recognizes that deeply needed changes in the structural/economic workings of society can only manifest in tandem with a personal transformation within each of us.