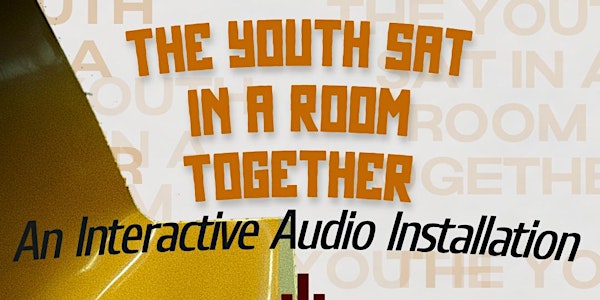 The Youth Sat in a Room Together NYC
The Youth Sat in a Room Together is an interactive audio installation. The audience is challenged to have a conversation using audio clips.
When and where
Location
77 E 3rd St 77 East 3rd Street New York, NY 10003
About this event
The Youth Sat in a Room Together is an interactive communication installation in which two people engage in prompted conversation using a combination of 64 audio samples.
This project grew from a moment when my interest in how we as humans communicate with each other peaked. Language means so much to the formal connection that we use to bond with the world around us. In this piece I wanted to create something that challenged an intentional communication, with the goal of expression using a completely foreign language. At its core, this project questions the relationship between knowledge and communication. As one increases how does the other get effected. I wanted to test this by taking away the knowledge of the traditional tools we use to engage in meaningful communication. With a new and limited set of tools, could real meaningful communication still occur? How quickly could two people establish meaning in a collection of seemingly random sounds?
The best case scenario as a performing music artist is being able to leave the show feeling as if the performance was a medium for connecting to the audience members. The worst case scenario is leaving feeling like I stood up on a soapbox and performed down without any regard for the presence they brought to the space. Art is a shared moment, a piece in time when the artist, in service, provides, and then the consumer/s agree.
In this installation the agreement was to physically join me on stage, as well as to trust in me to be open and adaptive in interaction. I remember at times adjusting my mind and focus in order to truly be present in the moment, allowing myself to receive and be moved by the message of the person sitting across from me. I rank the success of the interaction by the response it provoked in myself and the person interacting. Whether it was a laugh, a physical change, imitation, confusion, or consideration, it made me sure something happened as a result of the communication. It could especially be remembered by sensation.
- Jabari "Abe" Butler